from Tracey G.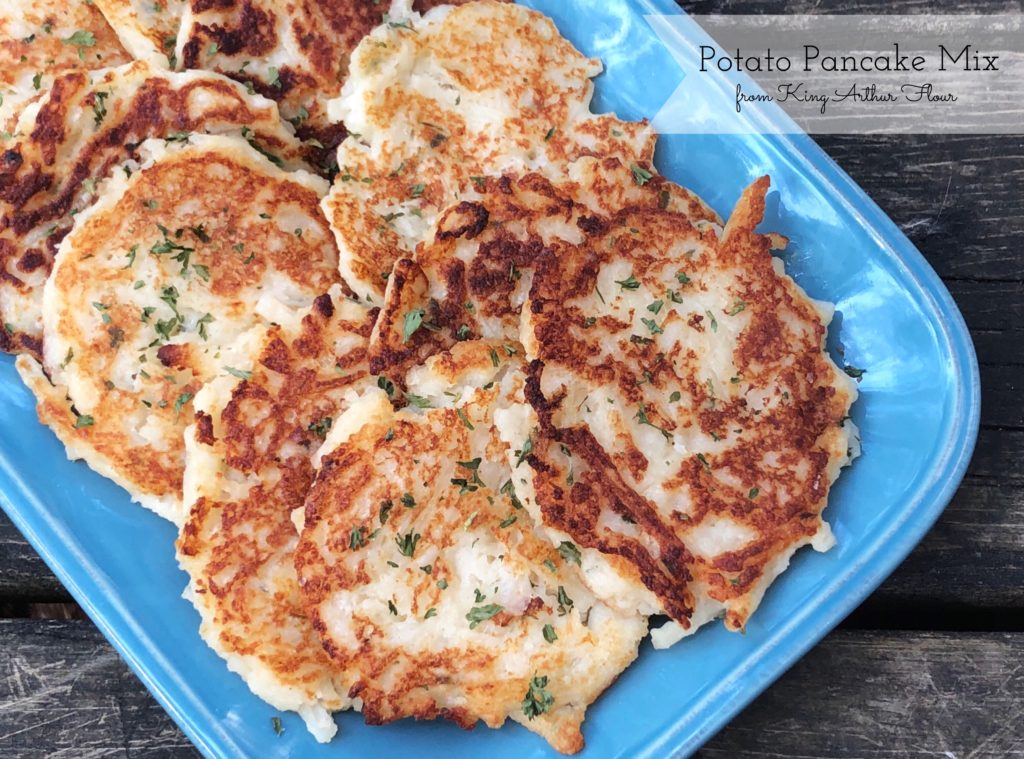 I have tried for years to make potato pancakes I actually like, lol. Mine always taste "too" whatever of the moment: too eggy, too floury, etc. and so forth. I've never been happy with any recipe at home I've tried, but always love them out in a restaurant. So, I was pretty excited to find this Potato Pancake Mix at King Arthur Flour!  Since I've yet to be disappointed in a mix of theirs, I was really excited for this one!
It's super easy to prepare – you just add water. If you want to, they list you can add some chopped onion, chives or scallions. I didn't do that, as my boys probably wouldn't have liked them (I would have loved chives though!) so I just added about a 1/4 teaspoon of extra onion powder and some parsley for the pretty green. After you add the water, you let the "batter" rest about 20 minutes to thicken up (they also state you can add more water to thin it down more if you like, I just went with the original amount called for). To cook them, you heat some oil in a skillet and use about 3 tablespoons of batter to make a pancake. I think I used slightly more because I didn't get the potential 18 out of it, I think I got 14. They cooked up easily, and browned nicely.
And I'd like to add here that my house smelled like the yummiest diner while I was making these! It even drew Harry's attention away from his XBox playing! "Mom, what do I smell? Are those hashbrowns?" This was his first introduction to a potato pancake, so when I said "no, they're potato pancakes", I got the craziest look from him "potato PANCAKES??" Then he came in to see what I was talking about and at that moment started bugging me for one. No no no, they need their photo taken first! Silly boy.
So, anyway, once done and photographed, now was the deciding moment – we get to taste them. I made Harry go first, lol!! I have no idea why, but I did. And when I got the thumbs up from him, I knew we had a keeper, lol. I then tried one and couldn't have been happier! I didn't even add the usual favorites of sour cream  & apple sauce to go with them – just ate them plain! They do remind me of potato pancakes I've had in restaurants, and that for me is huge, because that's the taste I was looking for (or thereabouts) and I've found a way to have it at home. Of course I'll keep trying to make them at home, it's one of those things I've been determined to master, but in the mean time, this is a fantastic substitute!!
from Kris B.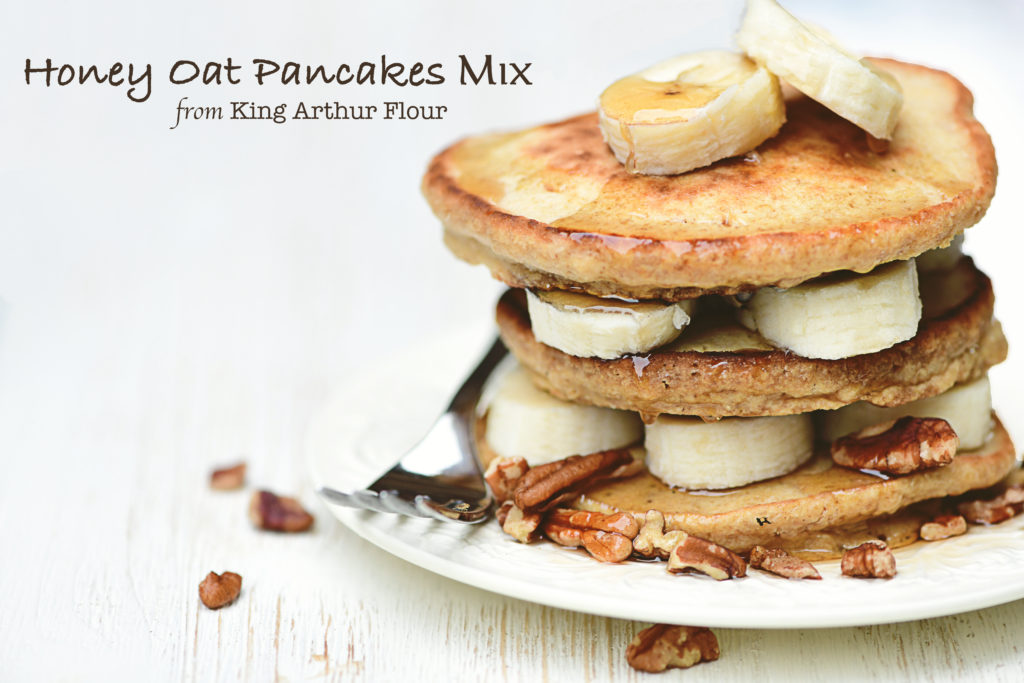 Honey Oat Pancake Mix
I have to say this upfront: Given the choice of pancakes or waffles, I much prefer waffles.  With that said, however, I am also willing to try almost anything that uses oats or oat flour.  So, I was onboard with these honey oat pancakes.  I even resisted the urge to follow the alternative on the mix box to make waffles instead of pancakes.  And because I am fairly sure that I was an adult before I knew that pancakes could be made from scratch and didn't come just from that big yellow box, I'm still OK with pancakes from a mix, though the purist in me likes most other baked goods from scratch.
The Honey Oat Pancake Mix requires that you add eggs, butter or oil, and milk to the mix.  Stir it all together until thoroughly mixed and then your are ready to go.  They are cooked on a lightly greased skillet like you would any other pancakes.  The instructions on the box suggest that you use 1/4 cup of batter per pancake.  I used a 1/3 cup measure.  This made ten 5-6′ pancakes.
When I was mixing the batter, it smelled very "grainy" and not in a good way, if that makes sense.  I don't know how to explain it other than that.  I tasted a bit of the uncooked batter.  It was not sweet at all, which is unlike most pancake recipes.  I figured that would not be a problem because I knew I would add fruit or syrup, which would sweeten them up.
As the pancakes cooked, they puffed up into nice thick cakes.  That made me think they would be light and fluffy.  Wrong!  They were super dense, not at all like the familiar "yellow-box" pancakes from a mix.  I soldiered on, layering them with bananas and pecans and drizzling a little maple syrup over the top, hoping that my lack of satisfaction with them thus far was the result of my admitted bias toward waffles.
I really wanted to like this mix.  I have to be honest here and say that I really didn't like it, even topped in my absolute favorite way.  If bananas, pecans, and maple syrup can't make a pancake taste good, nothing can!  I should say here that I did use almond milk instead of regular milk in the recipe; that could have made a difference in the texture, although I use that substitution all the time and have not noticed any major issues in the finished product.
I feel bad when I can't give something a positive review, but as Tracey said when I shared my honey oat pancake woes with her, "Not everything is going to be a winner.  There has got to be failures in there somewhere."
*****
UPDATE – When I went to grab the link for this mix from the King Arthur website for, I discovered that they no longer offer it.  Maybe I wasn't the only one who discovered that this was not their best mix.  🙂
I guess we'll all be trying the potato pancakes mix!
If nothing else, I highyly recommend the pancakes of your choice topped with bananas, pecans, and maple syrup!