from Tracey G.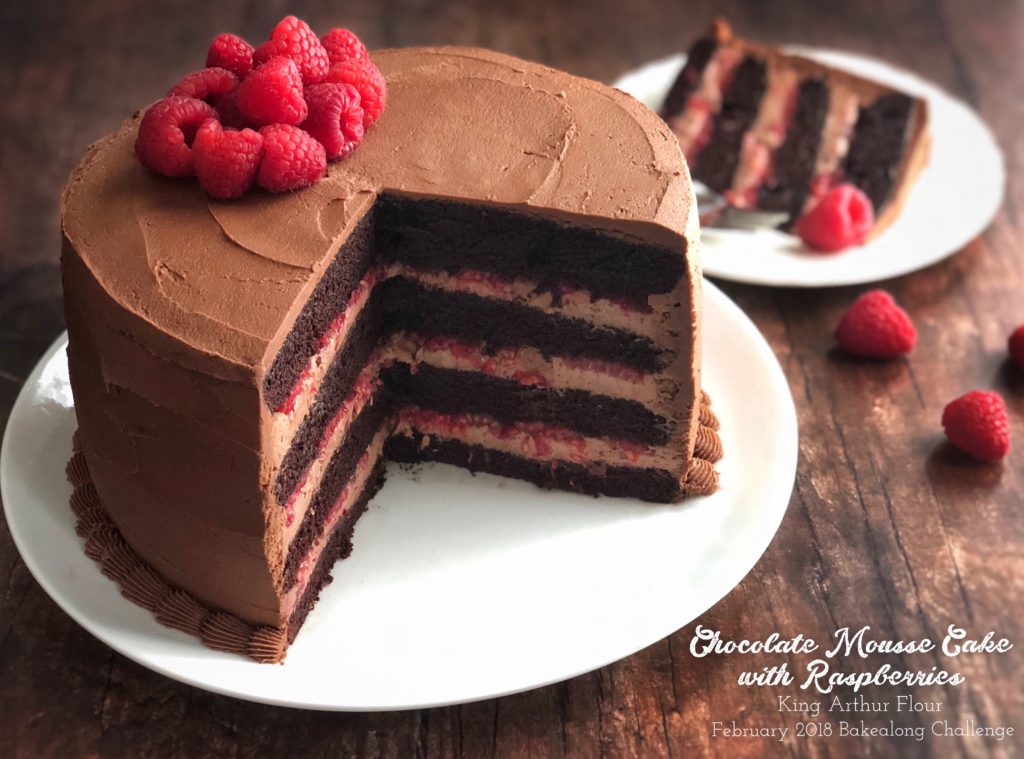 I'm on my own this week as my partner Kris had a crazy week – between work and travel on Thursday, and this would have put her on overload, so I had no issues going solo this go around! As we all know with the way life seems to go, I may be needing the help one week! LOL! 
Chocolate Mousse Cake with Raspberries
It's Bakealong Week! Due to circumstances beyond my control, I didn't get to do last month's Bakealong offering, so I was happy to get to do this month's! This is a recipe that I actually spotted last fall in the Holiday Baking articles on the King Arthur Flour website, it sounded fairly easy and yummy to me – that right there made me really glad to have an excuse now to make it! And it worked out perfectly to be my Valentine's Day treat for my boys – although Harry loves raspberries, he doesn't love their seeds – this meant more cake for me! Ha! I now introduce the Chocolate Mousse Cake with Raspberries Bakealong.
Anyway, while this is one of the yummier things I've eaten, it is a bit step-filled. To be honest, if I had to do it all in one day, I may not have enjoyed the process as much. As it was, I'd read that all the parts can be made up to 3 days in advance – keep the cake tightly wrapped and stored at room temperature, the mousse filling and frosting are kept in the refrigerator. This turned out to be the way to go for me – I made all the parts in one day, and then assembled it the next day. By doing that, I think I saved myself a lot of hassle, and by that I mean no pressure in hurrying along, I could take my time assembling it and that helped it to be more fun AND turn out much neater!
And it really was fun to put together and see this lovely creation take form that I'd made in my own kitchen! Nothing is complicated about any of the steps and stages, just there are a few of them – but don't let it be daunting and put you off of it. I recommend if you're going to make it, plan ahead so you can make and bake on one day, and assemble on another. It makes a lovely presentation, I still look at it in wonder!
The first step is to make the cake layers. Here you have options on what way to go achieve the four layers. I happened to have enough cake pans to make 4 layers vs. using  2 pans and then making those two into four layers via splitting them. I'm not very good at doing that, my layers are never straight so I went with the easy route – making four from the get-go. They do give you amounts for how much batter should be in each cake pan no matter how you choose to do it.
After your cake layers are made, you make the mousse filling. The mousse filling includes cream cheese, which surprised me, but works well. There are a couple optional ingredients as well – one is KAF's Instant ClearJel. I happened to have it, so I used it, it helps to stabilize the filling. The other optional ingredient is mini chocolate chips – I didn't have any on hand, so I skipped that addition.
Once you have the cake layers made and cooled and the mousse filling made, it's time to assemble the cake. It takes about 1.5 – 2 pints of raspberries for the filling and garnishing should you so choose. Wash, dry and halve some raspberries. It's recommended to halve them lengthwise – you get more coverage out of them that way. It's now time to assemble: start with one layer of cake, spread about 1 cup of the mousse filling over that, and then top that with halved raspberries. Repeat with more cake, filling and berries. Pop into the refrigerator to firm up so it's easier to frost.
The frosting is a basic buttercream and really easy, plus it's not too sweet. I really enjoyed it as you don't put a thick layer of frosting on the cake at all. It's rather thin, and that works wonderfully. They do direct you to do a crumb coat, meaning a super thin layer of frosting sealing the cake layers after it's been assembled. Then it goes in the refrigerator for a bit of time to set up, then you put the final coat of frosting on. Garnish as desired.
And then, you're done. It's time to eat – and I am thoroughly in love with this cake! It may take some time, but the end result does not disappoint. I do not feel like my time and energy were spent in vain at all – I think I could sit and eat the whole thing, by myself!
Again, it's a bit of work, step-wise. But each step is easy, and I am glad I spread it over a couple days. Made it much more enjoyable and relaxed when it came time to put it together. Otherwise, if I'd had to make it all in one day, I think by the end of everything I'd be anxious to just get it done and not care too much about what the end result looked like. This is the cake/dessert if you want to look like a rockstar – it's beautiful once it's all together, tall and impressive looking and doesn't need a lot of frill to make it look lovely. Some extra frosting piped on or around and a handful of raspberries work well for some lovely garnish. Even if it was ugly it would still taste wonderful!