Happy Birthday, Tracey!
from Tracey G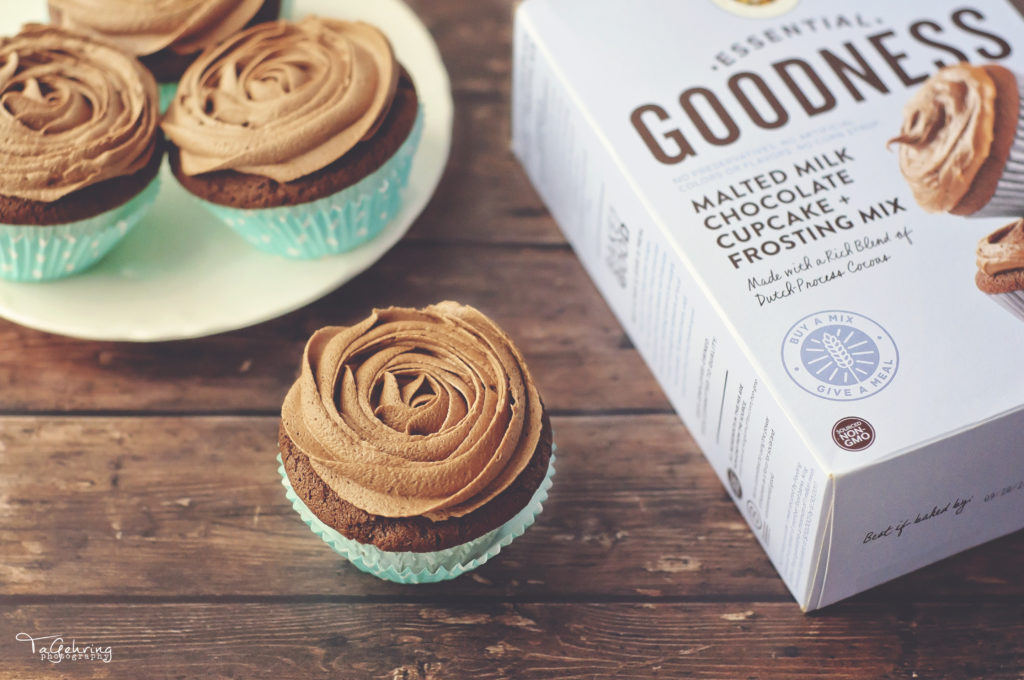 YAY – IT'S MIX WEEK!! I love mix week as much as I love Bakealong week, lol. I guess they both provide me with a couple things I love to do – play with a mix and make something from scratch, and by doing so with either, I'm usually trying something I've not had before or not made myself before. Either way, it's fun stuff!
This week I chose the King Arthur Flour mix for Malted Milk Chocolate Cupcakes + Frosting Mix.
I chose it because yesterday was Harry's birthday, and today is mine, so I thought cake/cupcakes would be appropriate for celebrating! This particular mix is only available at Target according to the King Arthur Flour website. And that's exactly where I bought this one! I didn't know at the time of purchase though, that that was the case. And I'm probably in the minority when to it comes to having a challenge regarding the availability of a Target store, lol – my closest one is about 2 hours away! So, hopefully you will have a much easier time getting a box or two!! Next time I may pick up a few because this box made only 6 cupcakes – which actually was a good amount, but there may be a time when I'll need a few more than 6 and extra package or two might come in handy!!
This was a super easy mix to prepare, and it turned out well despite the fact I totally messed up the mixing directions! I didn't realize the error of my ways until after I had dumped everything into the mixer bowl… I was just trucking along, gathering and adding as I would with any other cake mix, and I was about to flip on the mixer on when I noticed that, uh oh, I did it all wrong, lol. If I recall correctly the directions were to mix the butter and the cake mix first, then add in the egg, then add in the milk. Well, I just added everything in and turned it on because at that point I couldn't take them all back out, lol. But I have to say, despite that accident the cupcakes came out just fine. The icing was easy enough to mix up too – just mix it in with the butter and little bit of milk it calls for, adjusting milk amounts accordingly to get the consistency you'd like. It's just that simple, lol.
The cake was yummy and the frosting was equally yummy. I must say I absolutely loved the frosting, it had a really great malted milk ball taste. I am a huge fan of malted milk ball candy Whoppers, and this really fit the bill for that sort of flavor!! This is a definitely-will-make-again mix!!
Malted Milk Chocolate Cupcake + Frosting Mix
from Kris B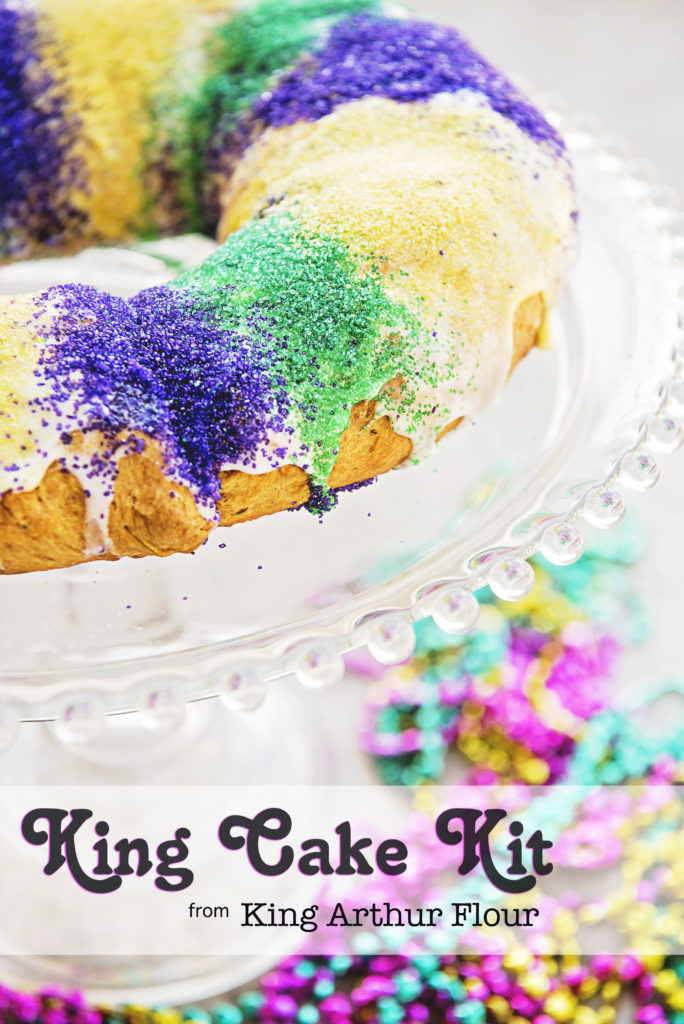 King Cakes are a tradition of carnival season, the time lasting from Epiphany (January 6th)  through Mardi Gras, Fat Tuesday, the day before Lent begins, which this year is next Wednesday, March 1.  The recipe for King Cakes has evolved over time as various countries and cultures have adopted the practice of celebrating Epiphany with a King Cake.
The King Cake tradition is thought to have been brought to New Orleans from France in 1870.   A King Cake is an oval-shaped bakery delicacy, crossed between a coffee cake and a French pastry… It's decorated in royal colors of PURPLE which signifies "Justice," GREEN for "Faith," and GOLD for "Power." These colors were chosen to resemble a jeweled crown honoring the Wise Men who visited the Christ Child on Epiphany. In the past such things as coins, beans, pecans, or peas were also hidden in each King Cake.  Today, a tiny plastic baby is the common prize. At a party, the King Cake is sliced and served. Each person looks to see if their piece contains the "baby." If so, then that person is named "King" for a day and bound by custom to host the next party and provide the King Cake.
When my girls were little, they would always be the "lucky" one to find the prize in their slice of cake.  That meant that I was the "unlucky" mom who had to make the cake for the next year's celebration.  There was a rule in our church that the same person would not be responsible for the cake two year's in a row.  That meant the same kid could not "win" two consecutive years.  That did not take into account two kids and one mother!  I think I made King Cakes three or four years in a row!  Well…that's not exactly true.  I'm certain that at least a couple of those years, I bought the cakes from a local bakery.  I wish the King Arthur Flour King Cake Kit had been there for me back then!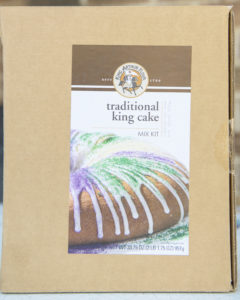 Notice that this is called the King Cake Kit.  The fact that it is a kit seems to mean that it requires a little more from us than does a mix.  The King Cake is constructed in three parts – the dough, the filling, and the glaze and sugar.  The dough requires only the addition of yeast, a stick of butter and water.  Because this is a yeast dough, it does have two rise periods.  The first is 30 minutes and occurs before the filling is added.  Where I was caught a little off guard with this kit was with the filling.  The filling for King Cakes is one of those things that is diverse and flexible, everything from cinnamon sugra to fruit and nuts.  The King Arthur King Cake Kit uses an almond paste filling.  The can of almond paste is included in the kit, but the instructions call for it to be mixed with butter, almond extract, sugar (none of which are included), and 2 cups of soft white fresh bread crumbs.  This ingredient brought me to a screeching halt late one night when I thought I would get a little ahead of the game – bake late at night and photograph early in the morning.  We don't eat white bread unless it is homemade and there was none of that in the house at this point.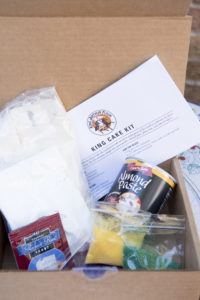 Fortunately, I had read through the complete instructions before starting so put off the baking until morning after a trip to the grocery store.  (I wasn't going to bake bread just for some bread crumb!  Call me lazy.)  Once I got the bread and made the bread crumbs, the King Cake went together easily.
The dough is rolled into a rectangle, the filling layered on top and then it is rolled like you would do when making cinnamon rolls.  The rolled "log" is placed on a baking sheet and then formed into a circle by pinching the ends together.  A circle is the traditional shape for a King Cake.  The cake then rises again before it bakes.
Once baked, the instructions call for the cake to cool for an hour before adding the glaze, which is provided as a dry mix that requires the addition of 2 TBS of either milk, half and half, or heavy cream.  After the cake is glazed and while the glaze is still sticky, the traditional purple, green, and gold sugars (included in the kit) are sprinkled on top of the glaze in alternating stripes around the entire cake.
NOTE: The King Cake should be placed on the intended serving plate before the glaze and sugar are added.   This encouraged me to be neat when I was adding the glaze and sprinkling the sugar.  Just know that you may not end up with a drip-free, crumb-free, or stray sugar granule-free serving plate! 🙂
This kit, and most commercial bakeries making King Cakes, do not include the traditional plastic baby or trinket in their cakes.  There are legal issues in that these small figures pose a choking hazard and also can be hard on the teeth when stumbled upon unexpectedly.  I know that the last time one of my girls got the piece of cake with "the baby," it was a green Skittle, a safe for swallowing and for your teeth alternative.  To this day, we laugh about the King Cake with the alien baby Jesus…perhaps a little sacrilegious, but a fun memory nonetheless.
Sadly, because the King Cake Kit is seasonal, it is no longer available on the King Arthur Flour website.  Sorry!  If, however, you feel the need to make a King Cake between now and the start of Lent next Wednesday, here is a link to a scratch King Cake recipe from the King Arthur Flour website.