from Kris B.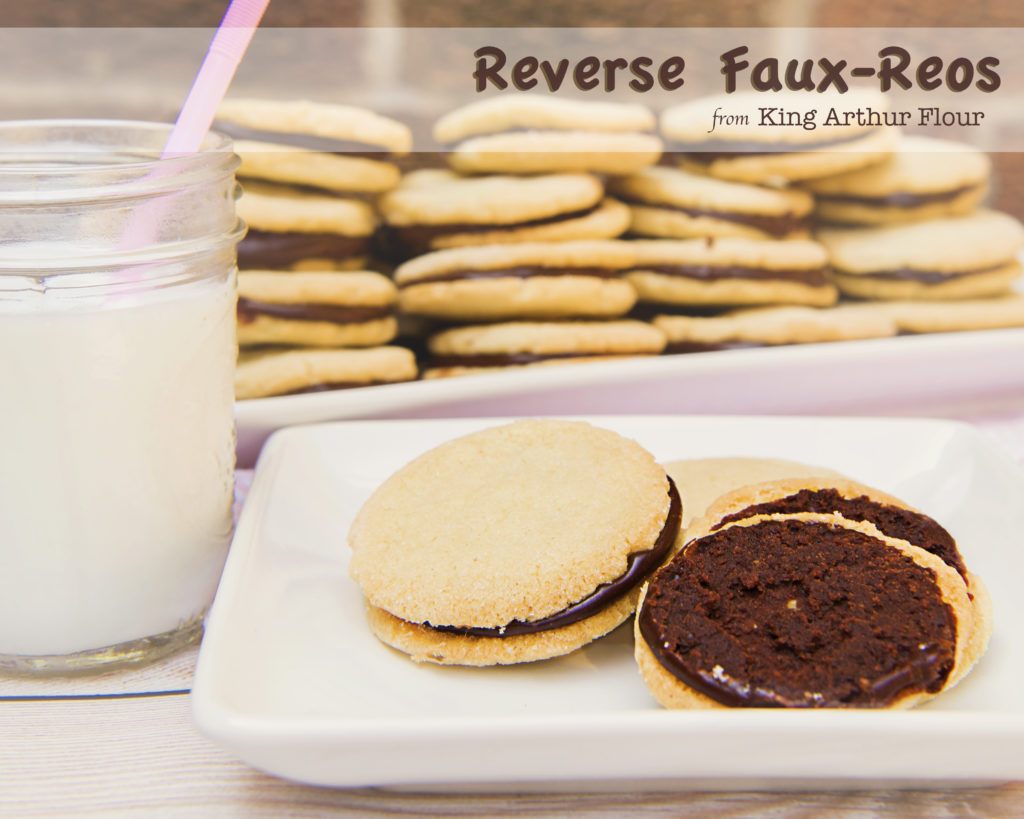 I am quickly approaching fifty-six years of life.  During those years, I have experienced  many changes and much growth, but with some things, not much is different at all.  My preferred dress is still jeans, t-shirts, and tennis shoes.  I still like to read, write, and draw in my "down" time.  And I still pack my lunch everyday to go to school.  My favorite lunchbox lunch has not changed over all these years either.  PB&J, carrots and celery, sliced apples, and cookies…I am never disappointed to find these things when I  sit down and zip open my lunch bag!  The one small change from my lunches as a child to those of today is that I do almost always have homemade cookies rather than store-bought.  In those occaisional instances where the homemade isn't happening, the one supermarket cookie that I do still love is Oreos.  When I take these iconic cookies apart and eat the creme filling first, I feel like I am about eight years old.
In most things, I am a purist.  That is true with my Oreos.  These days, Nabisco has been experimenting too much, in my opinion, with this classic cookie…Cotton Candy, Red Velvet, Root Beer, Key-Lime Pie, Blueberry Pie; these are not Oreos!!!  They may be tasty cookies, but they are not Oreos.  Having said that, I do make an exception for the limited edition Pumpkin Spice Oreos in the fall and the new Dunkin Donuts Mocha Oreos that were released over the summer.  My all-time favorite "non-traditional" Oreo,however, was the Uh-Oh Oreo, an Oreo that flip-flopped the traditional flavors using a vanilla cookie with chocolate creme filling.  Being that my  favorite kind of cake is also yellow cake with chocolate frosting, the "backwards" Oreos were a an acceptable alteration to the classic Oreo cookie.  Unfortunately, the Uh-Oh Oreos found themselves on the discontinued food list back in 2011.  They were, however, the catalyst for Nabisco using cookies other than chocolate in the Oreo family of cookies.  You can easily find Golden Oreos, vanilla cookies with the traditional white creme, on grocery store shelves.  Somehow, this just is not the same.
All that to say that I was super excited to find King Arthur Flour's recipe for Reverse Faux-Reos, vanilla cookies with chocolate cream filling!!!
The cookie in King Arthur's recipe is a simple sugar cookie-like recipe consisting of flour, sugar, butter, salt, vanilla, and baker's ammonia.  Baker's ammonia?  Why is there always one elusive ingredient???  The King Arthur recipe did say that baking powder could be substituted as the leavening agent in these cookies, but that the substitution would create a cookie with a different texture.  Because inquiring minds want to know, I had to do some research on baker's ammonia, an ingredient that I have not previously encountered in a recipe.  I found the following in an article by Cook's Illustrated:
Baker's ammonia, also known as ammonium bicarbonate (and often sold as ammonium carbonate), was the primary leavening agent used by bakers before the advent of baking soda and baking powder in the 19th century. In fact, certain recipes for European and Middle Eastern cookies and crackers still call for it today.   When we purchased the powder from a mail-order source (it can also be found at some Greek and Middle Eastern markets), we quickly discovered its biggest drawback: an extremely potent smell. (In fact, it turns out baker's ammonia is the stuff that was passed under Victorian ladies' noses to revive them when they swooned.) Because of its noxious scent, it is used to leaven only low-moisture baked goods like crisp cookies and crackers that thoroughly dry out during baking, lest the ammonia linger.

When we tried trading baker's ammonia for baking powder in a recipe for crisp sugar cookies, we found that not only can the two products be used interchangeably, but the baker's ammonia produced a lighter, crunchier crumb. This is because when its tiny crystals decompose in the heat of the oven, they leave minuscule air cells in their wake from which moisture easily escapes. Furthermore, this leavener leaves none of the soapy-tasting residue of baking powder or baking soda. It works so well, we'd be tempted to use it for crisp baked goods all the time if it were more readily available.
I used baking powder.
Having never used baker's ammonia, I have no means for comparison as to the cookies' texture.  All I can say is that they taste just fine to me.
Once the cookie dough is mixed, it is scooped by teaspoonful onto a parchment-lined baking pan and then flattened to a thickness of 1/4 inch.  Using a cookie stamp to flatten your cookies would make for a pretty final product.  Unfortunately, I could not find my small cookie stamps so my cookies are just pure and simple flattened sugar cookies.  Looks aren't everything and the taste is not affected at all, so I'm good with my plain-Jane looking cookies.  Lol!
Real Oreo creme has a unique texture.  My biggest curiosity about this recipe was whether or not the chocolate creme used in the Reverse Faux-Reos would be close enough to my beloved Uh-Oh Oreos.
The chocolate creme filling consists of semi-sweet chocolate chips, corn syrup, vanilla, espresso powder (a definite bonus!), heavy cream, and confectioner's sugar.  The first five ingredients are heated together and then the confectioner's sugar is beat into it.  At this point in the process, I was a bit concerned about what the texture of the filling would be like as it was fairly runny while still hot.  I let it cool for several minutes before beginning the cookie assembly.
The chocolate filling began to stiffen after several minutes of cooling.  With half of the cookies placed with their flat sides up, I used a small scoop (about a TBS) to place a dollop of chocolate in the middle of each cookie. The top cookie of the "sandwich" is then placed on top.  Gently pressing on it pushes the filling out to the edges of the cookies, creating the classic sandwich cookie look.  The filling continued to cool and harden and after several hours, it had the exact same consistency as the Oreo creme filling.  Score!!!
I am one happy kid fifty-five year old grown woman. 🙂
from Tracey G.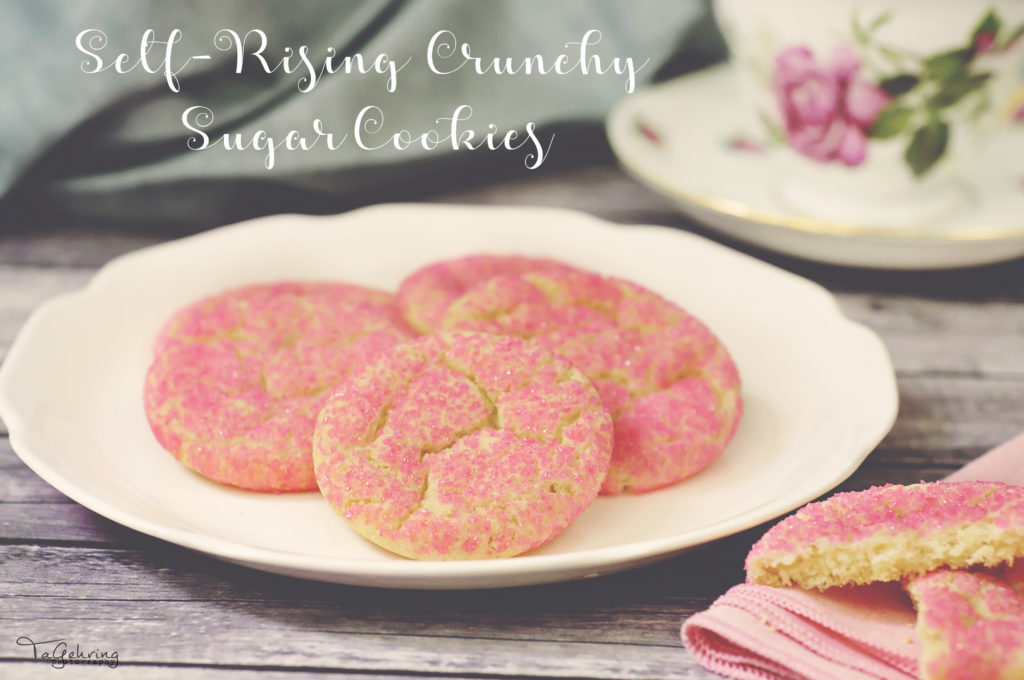 I know I've said it a million times, and just to give you all fair warning, I'll probably say it a million times more – but I love finding uses for my KAF Self-Rising Flour! This has got to be one of the neatest products in my opinion and I am having great fun finding ways to use it! I ran across this recipe when I was on the hunt for my cookie recipe offering this week: Self-Rising Crunchy Sugar Cookies.
Sugar cookies are loved around here – me, I prefer to do a rolled out fancy (or not so fancy) cut-out cookie. But, the oldest "boy" around here, a.k.a. Jeremy, loves plain, old fashioned rolled/dipped in sugar, sugar cookies. The kind Grandma used to make. Which, unfortunately are the kind I never think to make! This recipe was perfect – his favorite cookie and so simple, it's criminal!
This recipe involves five ingredients. Six, if you include the extra garnish of sugar to roll them in. That's it. It's self-rising flour, shortening (or butter), sugar, vanilla and an egg. It's a basic cookie recipe, you mix it in the usual way – cream shortening (or butter), vanilla and sugar until fluffy, then beat in your egg, and lastly add in your flour. You scrape down the sides and bottom of the bowl, and mix until thoroughly combined. After you have it mixed, you chill the dough for at least 30 minutes – this step makes it easy to work with.
To bake, you can either grease or line baking sheets with parchment paper. Place your garnishing sugar in a bowl to dip the cookies it before baking. Make 1 to 1.5-inch balls and dip them in the sugar before placing them, sugar side up, on the prepared cookie/baking sheet. Bake them 8-10 minutes in a 375° F oven.
They do puff as they bake, but once you remove them from the oven and let them sit on the cookie sheet 5 minutes before removing them to a rack to completely cool, they fall and start to crisp up.
They were a big hit around here, both for eating and with me for how easy they were! This would be an ideal recipe if you need something in a hurry – either last minute class treat or bake sale treat etc. I've not tried to freeze them, but they do say that they are freezable.
Self-Rising Crunchy Sugar Cookies from King Arthur Flour are another wonderfully tasty and easy recipe to add to your recipe collection when you need a nice old-fashioned style sugar cookie!