from Tracey G.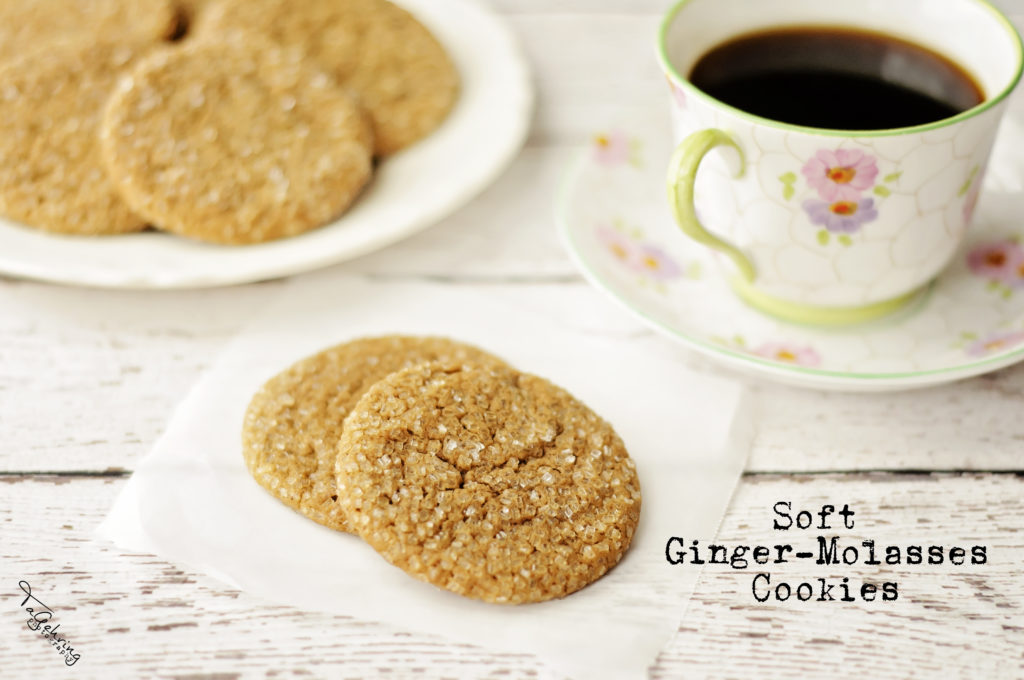 I will preface this by saying that this is my second time making this recipe for Soft Ginger-Molasses Cookies. I tried it a few weeks ago and fell in love with it, which, actually has a story itself…
I had never made molasses cookies and I'm not even sure I'd ever had them before! Which is odd for me, because I love molasses. Usually this sort of "spiced" cookie seems to be around or made, only in the fall or during the Holidays. But in my mind, they can be an anytime cookie! So, on a whim, one day I decided to make some, and of course I headed to King Arthur Flour's website to see what I could find. They had a few, and I had to look through them to make sure I found one with the most molasses AND the one that I had all the ingredients to make it with. And that was how I decided on this particular recipe, it fit perfectly into my cookie recipe criteria. This particular one has a variation along with it using a homemade ginger syrup along with the molasses. But, since I was after max molasses, I didn't bother with the ginger syrup variation. And I didn't have the ingredients to make the syrup with, even if I'd wanted to!
I was delighted to see that I had everything required to make these gems and the ingredients were things I would always have on hand anyway, no matter what. All of course, except for the fresh ginger used in the syrup variation – that can be a hit and miss ingredient as far as being  "in stock" in my kitchen.
The ingredients for these are:
Butter
Sugar
Molasses
Baking Soda
Salt
Ground Cinnamon – as for cinnamon, I have become a total convert to King Arthur Flour's Vietnamese Cinnamon. I will never go back to the stuff I buy in the grocery store! I do remember though, last fall when I purchased my first container of the stuff (reasonably priced too by the way, you get quite a bit!), I was a bit nervous I'd not use it up before its expiration date. Ha! I was so wrong! I just had to buy another container the other day!
Ground Cloves
Ground Ginger
Eggs
Flour
Sugar for Coating – I used the King Arthur Flour White Sparkling Sugar
If you're interested in the Ginger Syrup, the ingredients are:
The recipe is easy to follow and using my cookie scoop, it was quick to go from dough to baking sheet as well! But, before you bake, you're to roll the dough balls in sugar – so, I put my sugar-of-choice in a pie pan, and then drop the scoops of dough in the pan. I then shake/roll them around until they are coated. After their sugar-coating, it's onto the prepared baking sheet – I use parchment all the time, it's so much easier and lining the baking sheets gets me through the whole baking session without needing to re-parchment my sheets. One of these days I am going to "treat" myself to KAF's pack of 100 Pre-cut Parchment Sheets (they also have a pack of 50 Pre-cut Parchment Sheets). I really do get tired of the parchment roll and the cutting to fit while fighting with the tendency for it curl back up on me, lol.
And as a side-note on the sugar coating – my household is divided when it comes to the "type" of sugar that's used. I prefer the bigger sparkling sugar crystals and Harry and Jeremy prefer the regular granulated as they don't like the crunch the bigger crystals contribute. So, I do some for me in the big crystals and some in regular granulated for them. It's no big deal and makes every happy in a really easy way!!
After they are sugar-coated, they then go into the oven, and bake for 10 minutes at 350°. When they come out, they sit on the baking sheet for 10 minutes before you move them to a rack to finish cooling. This works out really well, as they are ready to be transferred to the rack as soon as your next batch it done. Cool completely and store in an airtight container. And they really are soft and chewy-ish, and they do stay that way. I made them on Tuesday and since I am back to sensible eating (HA!), there are some still around today and they are just as good if not better than the day they were made. The spice factor is fantastic in my opinion!
This seems to be one of those cookie recipes that most people have already in their collection that was either their mom's or their grandma's and so forth. Since I didn't have either, I am so glad I found them at KAF! It's a recipe that will become my go-to for a molasses cookie – they're easy, tasty and pretty and not just for the holidays either.  And now, I think I'll go have a cookie!
from Kris B.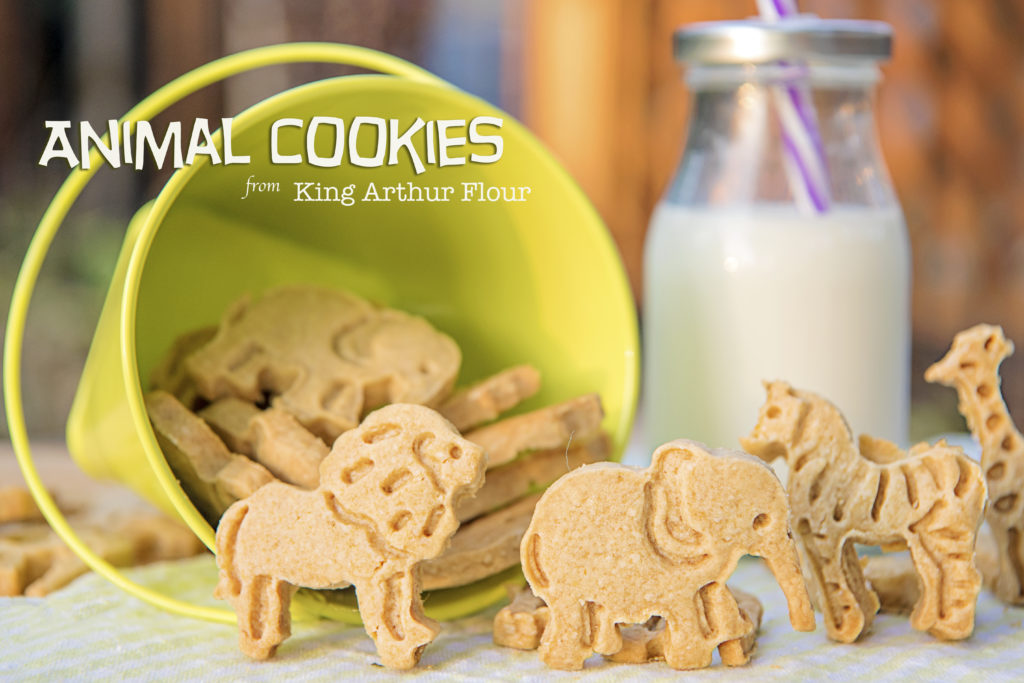 Cookies!  Cookie Monster and I definitely have something in common.  For me, cookies  are my number one comfort food.  They are what I want after a bad day, after a long day, when I need a quick pick-me-up during the workday, and as a snack almost anytime of the day.  And I don't need grown-up cookies.  Animal crackers/cookies are my all-time favorite.  I'm not sure why that is.  I can't remember any event from my childhood for which they are an integral part or hold special memories.
My most vivid memories of animal crackers as comfort food come from my college days.  This may be because they were cheap and I could get a lot of bang for my poor college student buck.  We could buy a big tub of them for next to nothing.  I also remember that when we were feeling rich and decadent, at least a decadent as you can feel as a student, my roommate and I would buy canned chocolate frosting to dip our animal cookies in.  It is amazing how comforting this combination was on those late nights studying for music history exams!
When my kids were little, animal crackers were a staple.  My girls got them because I liked them…you know, kind of like the sweater you had to wear because your mom was cold.  Animal crackers with coffee are delicious…and with coffee they become a more mature snack.  That's my story and I'm sticking to it!  My girls are now grown up and are in charge of their own snacks and cookie choices.  All I can say is that as the animal cookies that I made for today's post came out of the oven, my oldest (now twenty-seven) was waiting to get her hands on a lion, elephant, zebra, and giraffe!
During my lifelong fondness for animal cookies, I have never made them.  I've made cookies from a similar dough, but never have I made the animal shapes.  I think I bought some small animal shaped cutters when the girls were small and tried once.  This attempt went into the category of #momfail.  The dough stuck in the plastic cutters and I ended up with a whole slew of decapitated and an amputee animals.  It was not a pretty sight!  From that point on, animal cookies have been one of the only  cookies that I consistently buy rather than make.
Then I found these animal cookie cutters on the King Arthur Flour website.
These cutters – a lion, zebra, giraffe, and elephant – are spring-loaded so the shapes are cut by pressing the outer edges of the cutters into your 1/4″ thick dough and then the plunger embosses the animal details, which are fantastic, and releases the dough onto your parchment lined baking pan.  I had a few casualties in terms of lost heads and limbs, but not enough for the process to even seem remotely frustrating.  These cutters are fantastic!
I used King Arthur's recipe for Animal Cookies.  The recipe uses all-purpose flour, oat flour (or rolled oats finely ground in a food processor), honey, sugar, butter, salt, baking soda, and King Arthur's Princess Cake and Cookie Flavor, which I did not have. I substituted homemade vanilla extract, though after learning how stress=free these animal cookies are to make, I am going to order some of the Princess Cake and Cookie Flavor for my next batch.  "Princess Cake Flavor has a light, nutty taste, accented with overtones of citrus and rich vanilla.  [It is] an alcohol-free emulsion, [which] is stronger than an extract flavor [and] won't bake out."  You could also substitute your favorite extract.
The Animal Cookies bake for 8-10 minutes on a parchment lined baking sheet in a 350 degree oven.  They cool for a few minutes on the pan to "set" and then they are ready to be eaten!
If you are not an Animal Cookie fan, or you need a fun savory treat, these cutters can be used with most rolled and cut recipes – graham crackers, cheese crackers, herbed wheat crackers, etc.
Have fun with these!