from Tracey G.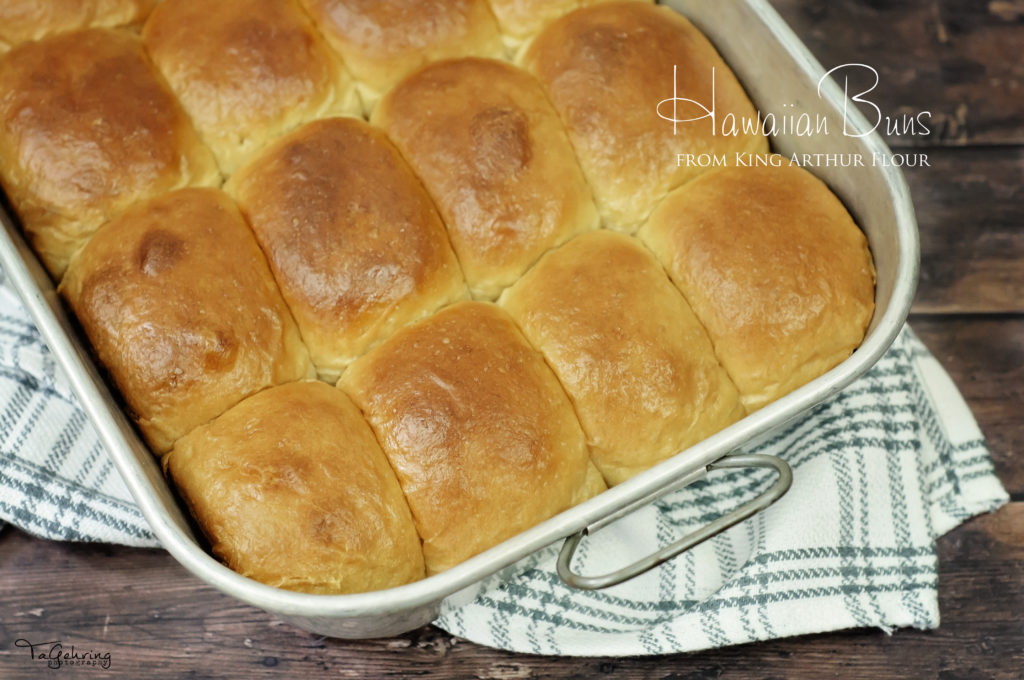 I love bread, and that means in all its forms, lol. I love a good sweet bread, which is why I really loved the KAF recipe for Portuguese Sweet Bread I made a few posts back. That bread was really reminiscent of the Hawaiian Rolls you buy at the store – and that made me realize I really wanted a recipe a LOT like the rolls at the store. Enter King Arthur Flour's Hawaiian Buns. They are perfect in every way – the most important part of that perfection is that they are very easy to make!! Very, very easy! Plus, there's a great walk-thru for them!
I will say that I used the SAF Gold instant yeast that I'd purchased from KAF as a way to help my sweet bread recipes rise a bit faster, but it's not a necessary thing to have – regular instant yeast is just fine too. If you use a regular yeast, it will just take a bit longer to rise. And even then, this recipe is worth the wait! This recipe also uses a bit of canned pineapple juice. I made sure to purchase a six-pack of the little cans so I could have it on hand for when the mood hits to make this recipe!
This recipe starts with a sponge. You mix a bit of your flour, water and all of your yeast in a bowl or the bowl of your mixer etc, and let it stand about 15 minutes. After it's rested, you add: pineapple juice, butter, brown sugar, eggs and yolk, and vanilla. In another bowl, you whisk together the rest of the flour, potato flour and salt.
Now, I'll stop right here to say I never have potato flour on hand, but I DO have instant potato flakes always on hand, so those were substituted for the potato flour.  
Alright, moving forward… You add the dry ingredients to the mixer and start with your flat beater attachment for a few minutes, then the recipe has you switch to the dough hook and knead for a few more.
Place the dough in a lightly greased bowl to rise until it's very puffy – 1 1/2 to 2 hours. Near the end of the rise, you grease a 9×13-inch baking pan. After gently deflating your dough, it's now to time to shape your rolls.
Again, I'll stop here to say it's a sticky dough, and they recommend keeping your hands oiled when working with it if you're having trouble – I had to keep mine oiled and it really helped!
Divide your dough into 16 portions, shape each into a nice smooth ball and place in the baking pan and they get to rise for about another hour. Before you bake the rolls in a 350°F oven for about 20-25 minutes, you brush the tops with a mixture of egg white and water so they get a nice shiny top.
This is another one of those creations that I can't believe came out of my kitchen – they look and taste like they just had to have been by a "professional" somewhere else, lol!! They are so yummy it's hard to stop eating them – I finally popped them into the freezer, to curb that! And I can say that they freeze AND thaw beautifully!! I know I won't be buying the rolls/buns this year around the Holidays – I'll be making them! Give the KAF Hawaiian Buns a try – you will not be sorry!!!
from Kris B.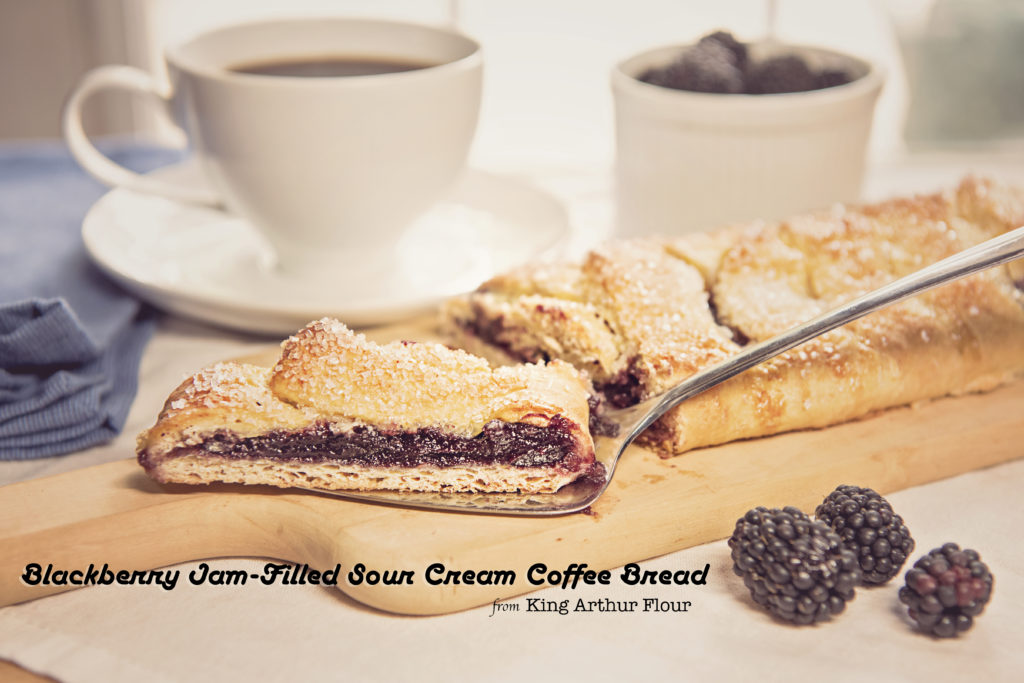 Lately, I have been trying to curb my addiction to sweets, particularly sweet carbs.  So when it came time to choose my recipe for this week's sweet bread offering, I wanted to make it something that I would really enjoy.  Two things factored heavily into my choice of King Arthur Flours's Jam-filled Sour Cream Coffee Bread: The first was the mention of coffee in the name.  Anything that goes with coffee certainly must be delicious.  Secondly, my daughter and her family had just been blackberry picking and I had blackberries on my mind.  And, Weber loves blackberries.  I figured if I made something that he particularly liked, I would not feel obligated to eat it all myself.  Having said all that about the blackberries, the recipe does not specify what kind of jam that you use, so you can use whatever kind is your family's favorite.
The Jam-filled Sour Cream Coffee Bread is much like a danish with its braided crust and filling of fruit and cream cheese.  The dough recipe calls for pastry flour, which I did not have.  The difference between all-purpose flour and pastry flour is in the protein content of the two.  Pastry flour contains 9% protein whereas all-purpose has 10-12%.  For comparison, bread flour has the highest protein amounts at 14-16% and cake flour has the lowest at 7-8%.  To compensate for the fact that I had no pastry flour on hand, I used a mixture of all-purpose and cake flours.  This recipe calls for three cups of pastry flour.  I used two cups of all-purpose and one cup of cake flour.  Having never made this particular dough before, I have no means of comparison with the pastry flour version.  All I can say is that the dough was light and delicious.  Interestingly, this recipe did not call for SAF Gold instant yeast, often used for sweet breads, that Tracey mentioned above.  The dough only uses 3 TBS of sugars so perhaps it is not sweet enough to benefit from this yeast.
Both the dough recipe and the cream cheese filling call for KAF's Buttery Sweet Dough Flavor.  "Our Buttery Sweet Dough Flavor is extra-buttery, with hints of vanilla and citrus; add a few drops of this flavoring to your favorite sweet bread recipe, and your family and friends will be clamoring for the name of the bakery you visited."  I did not have this flavoring either, so I substituted vanilla, but I am going to order some Buttery Sweet Dough Flavor before I make this recipe again!
Once the dough has rested for 90 minutes, the Jam-filled Sour Cream Coffee Bread is ready to be assembled.  The filling consists of a layer of your jam of choice and a cream cheese mixture.  I mixed both of these during the last few minutes of the dough's rise time.  Again, I was lacking an ingredient called for.  The recipe calls for Instant Clear Gel to be mixed with the jam to help congeal the fruit juices.  The recipe offers an alternative of mixing all-purpose flour with the jam if you don't have the Instant Clear Gel.
The final layer is a cream cheese base to which butter, egg, sugar, and flavoring are added.
To assemble, the dough is first divided into to pieces.  The first piece is rolled into a 10×15 rectangle.  In the recipe, a crucial step is left out at this point.  Put your dough on the parchment lined pan before you fill and assemble it!!!  It is almost impossible to move if you try to move it onto the baking sheet after it is assembled.  
Continue on.
Half of the jam mixture is spread down the center 2 1/2 inches of the dough, leaving one each clear on each end.  Half of the cream cheese mixture is then spread atop the jam.  The remaining dough on each side of the filling is cut about every 3/4 inches and folded onto the filling to create a braided top.  Honestly, the instructions in the recipe for this finishing step were not the greatest.  They leave out the fact that you have to discard the dough on each side of the center at both ends to avoid a big dough-y end to your pastry.  If you have never made a braided pastry before, here is the link with instructions that shows just how simple it really is.  Incidentally, in this video, the chef assembles the pastry on parchment and then moves the completed pastry to the pan.  You can see the potential for disaster as she does this.  This is why I suggest the entire assembly be done on your baking sheet.
This process is then repeated with your second piece of dough.
This is one of those recipes that sounds, and the final product looks, harder than it really is.  Sliced in about inch pieces, The Jam-filled Sour Cream Coffee Bread is a delicious light treat to have alongside your morning, or afternoon or evening, coffee.  (Coffee is an all-the-time thing at our house.)  I'm looking forward to trying it with some different kinds of jam.  Watch for my version with pumpkin butter in the fall!!!
***
As an aside, I have also made the Hawaiian Buns that Tracey wrote about this week.  I was making a recipe for Asian Sliders that called for store-bough Hawaiian rolls.  At Tracey's suggestion, I made King Arthur's Hawaiian Buns instead of using the store=bought.  Everything that she says about them is absolutely true!