Tags
baking, blueberries, blueberry muffins, Chocolate, chocolate chip cookies, cookies, easy, King Arthur Flour, muffins, white whole wheat, whole grain, whole wheat flour
From Kris B.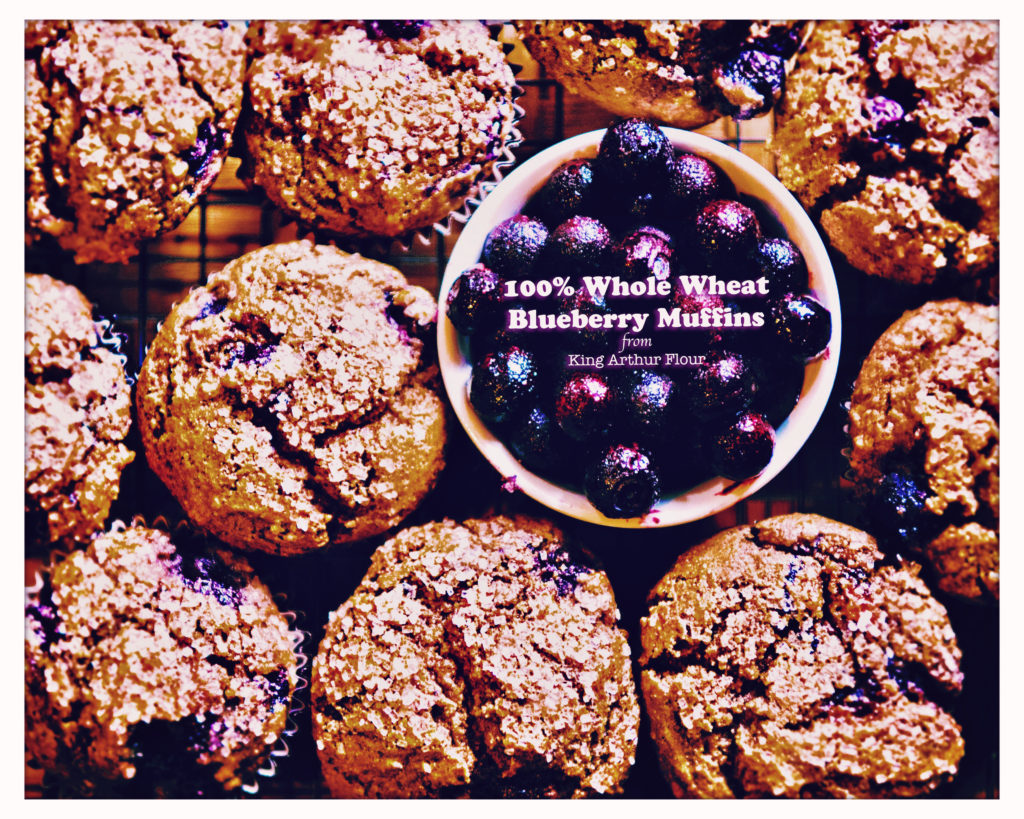 Whenever I bake with whole grains, I feel like I am making an honest attempt at being healthy. Add some blueberries to that, with their antioxidant properties, and I'm feeling even better about my choices.  And add to all that that on June 10th my husband is celebrating a "big" birthday and blueberries are a favorite of his, King Arthur Flour's 100% Whole Wheat Blueberry Muffins were a win-win recipe for me this week. Oh…and they come together quickly and easily, which is also a good thing since I am having twenty-five people for dinner at my house on Saturday to help celebrate the big birthday. Needless to say, my mind has been on a million other things this week.  I needed a recipe that called for pantry staples and was easily executed.
The dry ingredients – whole wheat flour, brown sugar, salt, baking soda, baking powder, cinnamon, and the blueberries (I know, they aren't a dry ingredient! :-)) – are whisked together in a large bowl. In another bowl, the wet ingredients – buttermilk or yogurt, vegetable oil, and vanilla – are whisked together and then added to the dry ingredients and the blueberries. They are mixed until the ingredients are evenly combined.
I must say that at this point, the batter did not look appetizing at all! The whole wheat flour and brown sugar made the batter much darker than what you expect for "normal" muffins. On top of that, the grayish hue from the blueberries and it looked like I was mixing cement in the bowl. Remember the husband for whom I specifically chose blueberry muffins? He said that the batter looked like canned dog food. Let's just say that at this point in the process, I was a little, or maybe a lot, concerned about what the final outcome would be.
I soldiered on, scooping the batter into twelve prepared muffin cups and baked the muffins nineteen minutes, splitting the recommended 18-20 minutes down the middle. When I pulled them from the oven, miraculously their color had improved.
The muffins cooled enough to be removed from the muffin tin to the cooling rack where they finished cooling completely. I looked for the best possible light that I could find to photograph. This too was difficult in that it was pouring rain and my kitchen is fairly dark on a good day!
My family knows that once the photos are taken, whatever I made for the weekly blog post is up for grabs. We were all pleasantly surprised! Despite making fun of the uncooked batter, everyone sang the praises of the cooked muffins. Let's just say that four of us took care of eight of the muffins with no problem! Whew! What looked at first like it might be a disaster turned out to be a success! Yes!!!
Thanks, King Arthur, for a new healthy-ish family favorite!
100% Whole Wheat Blueberry Muffins
from Tracey G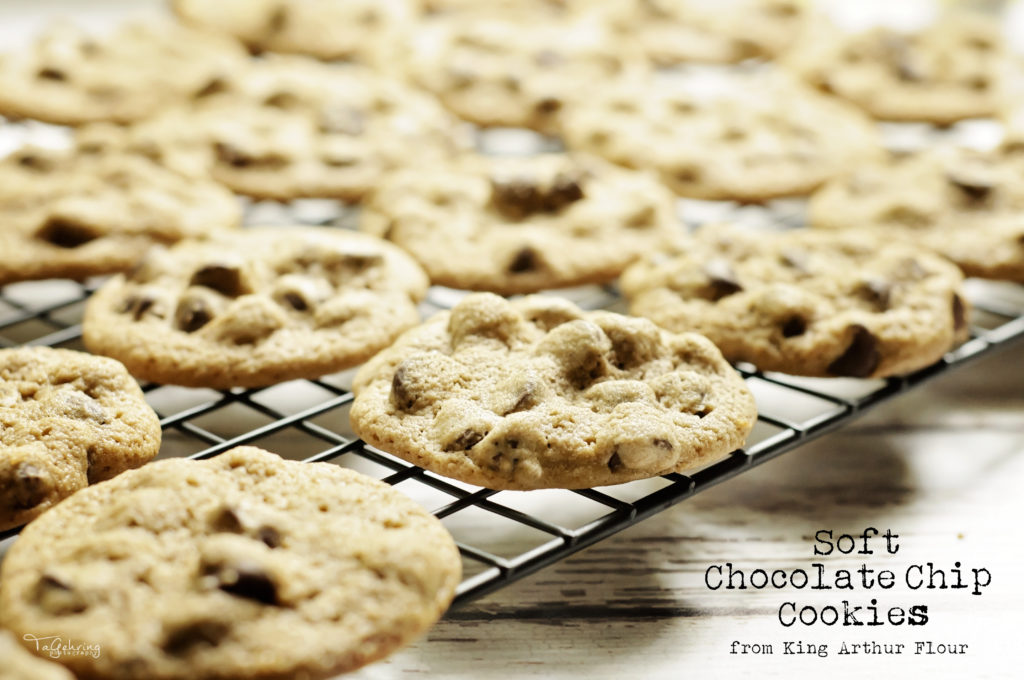 After last week's pastry recipe, I was in the mood for something that really didn't involve a whole lot of effort. Not that the Tasty Toaster Tarts were all that "labor intensive" by any means, I guess I was just wanting a no-brainer this week! LOL! The chocolate chip cookies I made for Harry's class at school last week, disappeared quick around here. I'd made enough for a small army, so after packaging up the treats for his class, I had PLENTY left over, but you'd never know it – I think they were all gone in a matter of two days. I believe I only had one or two out of all of them!
So, as I started my research for a Whole Grain/Whole Wheat recipe, I wanted something that's not the first thing you'd think to make with whole wheat etc., my brain immediately went to cookies. I then ran across this cookie recipe for Soft Chocolate Chip Cookies using KAF White Whole Wheat Flour, it totally filled the bill! I was really eager to give it try, but I wondered would the boys know something was different? What would the texture be like?
The recipe had a few things different that I've never added to a chocolate chip cookie. Of course it had all the usual suspects: butter, chips, vanilla, an egg, and so forth. But it also included some different things like a wee bit of espresso powder (which I can tell you I am going to try experimenting with it in a non-whole wheat chocolate chip recipe, I really liked the bit of extra "something" it gave them!), a teensy bit of cider vinegar and the addition of honey.
It all came together easily, and let me say the dough tasted extremely promising, lol. I know, I know, not supposed to eat raw cookie dough blah blah blah, but there was no way I could help myself, lol. Cookie dough and I have a long-standing relationship! So, I thought if the dough is this good, the final cooked version of it must be as equally good, and it was!! And if you follow the baking directions – they stay super soft, wow, really yummy!
The boys loved them, and neither knew or could tell they were made with a whole wheat flour until I told them, well, I told Jeremy – not Harry! LOL! That's a big score for me, I can get some healthy whole grains into Harrison without him being the wiser – he just thinks he's eating cookies! Sneaky yes, but totally worth it!! 😉 If you're looking for a sweet and yummy way to get your grains on, do try the Soft Chocolate Chip Cookie recipe a try!!!