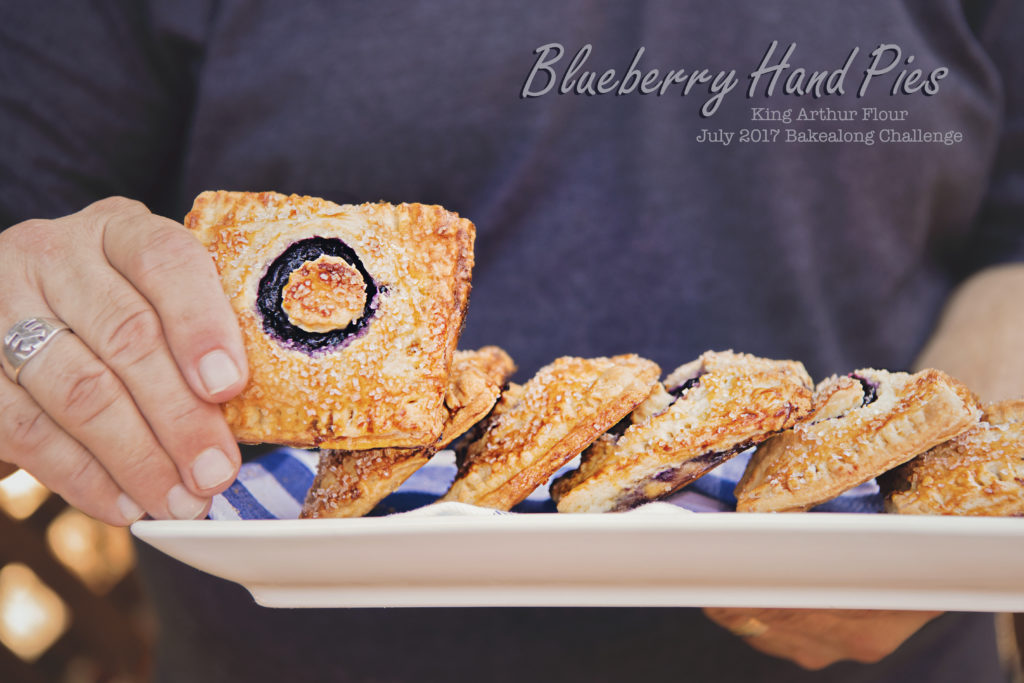 I have come to love the week's where we share our experiences with King Arthur Flour's Monthly Bakealong Challenge.  I don't have to figure out what to make and, often times, I am encouraged to make something that I may not have chosen to do on my own.  The July Bakealong Challenge, Blueberry Hand Pies, is one of those things that I probably would not have been drawn to immediately.  Pies are not "my thing."  I love to eat them, but have never enjoyed making them as much as I do cakes, bread, or cookies.  My experience with this month's Bakealong Challenge has changed my experience a bit toward the positive.
On first reading, the recipe may sound a little tedious, perhaps even daunting in that you first have to make the blueberry filling, make the crust and then cut all of the pieces, and then finally assemble the individual hand pies.  This is one of those recipes where the words are more cumbersome than the actual process of making the pies.  And, even if the process feels a bit cumbersome to you, the final product is well worth the effort!
The crust for these hand pies is rich, containing a full cup of butter as well as sour cream.  The dry ingredients are whisked together, the butter is cut in and then the sour cream is added.  The recipe says that once all of the ingredients are combined the dough should be turned out on a floured board and it should come together "with a few quick kneads."  It definitely took more than a few quick kneads for me to get the pastry to come together.  I resisted the urge to add a little more liquid.  Eventually I had a nice crust that was easy with which to work.
For the blueberry filling, either fresh or frozen blueberries will work.  I used frozen because all the fresh blueberries at our house were used to top yogurt or in morning smoothies.  The berries, along with some lemon juice, sugar, salt, and a thickening agent are cooked down over medium heat.  They must cool to room temperature before the pies can be assembled.
I made my crust and put it in the fridge to chill while I made the filling and waited for it to cool.
To assemble, the pastry dough is rolled out to a 14v14 square and cut into sixteen 3 1/2″ squares.  Because I am a perfectionist, I used a 3 1/2″ square cutter for this step,  You can also use a ruler and a pizza cutter.  A heaping tablespoon is placed in the center of eight of the dough squares.  The edges of these pieces are then brushed with whisked egg.  The top pieces of the pies must be vented.  I used a small scalloped cutter to cut a hole in the center of each top.  I then placed the top crust, as well as the cut out piece, atop each of the eight pies.  The decorative aspect of the particular cutter that I used was lost in the baking.  something a little more pronounced, a star or a heart, might be a little prettier in the end.  The tines of a fork are used to seal the edges of the two pieces of crust.  The tops are then brushed with more of the egg mixture and sprinkled with sparkling sugar.  The pies are then transferred to a parchment lined baking sheet at baked for 18-20 minutes.  I split the difference and set my timer for 19 minutes.  The pies were perfectly done at that point.  I share this because I often have to cook things a bit longer in my oven.  So, if your oven tends to be "hot" you may want to check your pies before the eighteen minute mark.
I must say that the Blueberry Hand Pies were a HUGE hit with my husband.  Let's just say that after my daughter and I sampled a pie, the other six were gone in two days.  Weber is not a big sweets person.  I think the fact that he enjoyed these so much is because the filling is not overly sweet; they are just sweet enough.
This recipe has been deemed "A Keeper."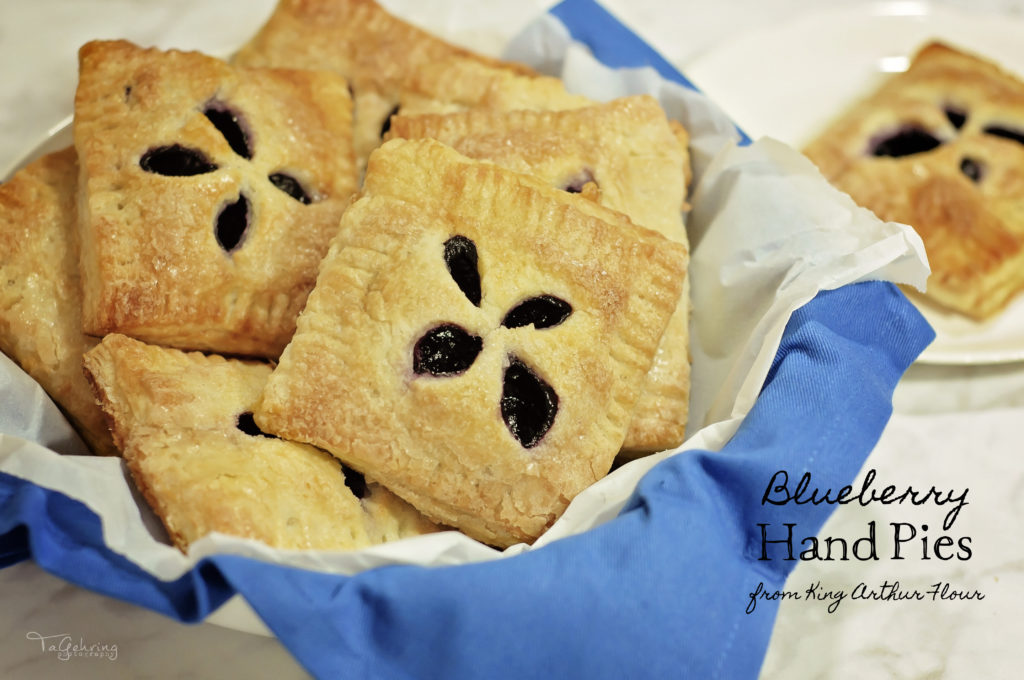 I am in complete agreement with Kris, I too have come to love the Bakealong weeks for the same reasons – I don't have to think about what to make, and it does make me try something I may never have thought to make on my own. With this month's Bakealong Challenge recipe though, for the Blueberry Hand Pies, the funny thing was I'd had the recipe printed off for a couple months and placed in my "to try" folder of King Arthur Flour recipes. I was exceptionally pleased to see it for this month's Bakealong Challenge as it gave me the push and excuse to get it out and get going on it!
I won't go into to much repetition here on the hows  – Kris did an excellent job describing the process, there was nothing different there for me! I too had that same thought of "a few kneads?", when trying to get the crust ingredients to come together – and  I too resisted the urge to add more liquid, lol. I really loved working with this dough, though, it was so easy, even despite the work to get it to come together. Rolling was really easy, it wasn't sticky and it wasn't too dry, it was just right for easy working. They also came together easily, I used a ruler to cut my squares and my tablespoon cookie scoop to plop the filling in the middle. I used a knife to cut the steam-vent patterns on the top crust squares, sealed them up, brushed the top with beaten egg and dusted with regular table sugar because both of my guys dislike the large sparkling sugar. They don't care for the crunch. I on the other hand love it, but since I was making these mostly for them, I chose the sugar they like.
And to say they like them, I think, is an understatement. Jeremy has eaten almost every one of them. I have only had a half, lol! The other night when I was getting his lunch together for him as he was running late, he didn't ask if I put FOOD in it, he was more concerned with whether or not I put in the HAND PIES! It was hilarious. He's declared them better than PopTarts, lol, which I take as a high compliment to be sure! I already have all kinds of fruit variations running through my head for these, they are just so perfect for easy eating and travel! No need to cut, no need for plates or forks etc. My next experiment with them is to try freezing the baked pies for future eating – to take a day and stock the freezer with them.
I, like Kris have discovered these to be a keeper, and something I will make often. I am so glad that this month's Bakealong Challenge was the Blueberry Hand Pies recipe, it was fun to make and even more fun to eat! And there are oh so many variation possibilities!!!
And here's a link for the walk-through and just the recipe:
Blueberry Hand Pie Walk-Through