from Kris B.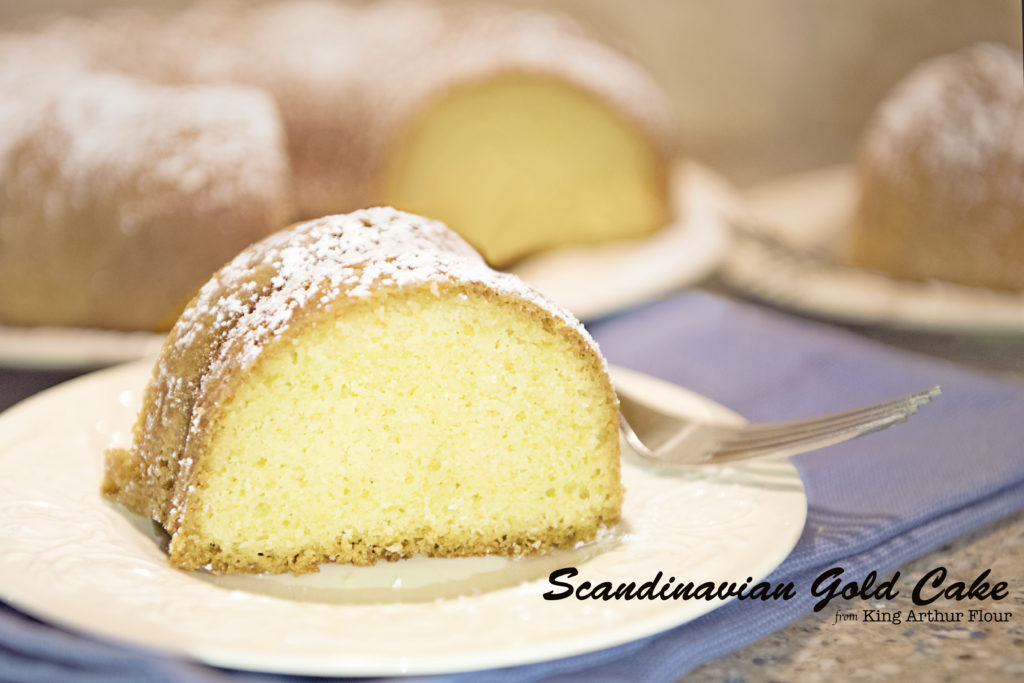 Have you ever thought about how your food choices, both what you like to eat and what you like to prepare, reflect your personality?  Over the almost three years that Tracey and I have been choosing recipes to write about, I have noticed a distinct pattern in my selections.  I am a down to earth, simple, no frills kind of girl.  In the kitchen, that translates into my preferences are really for home cooking and comfort food kinds of things.  That becomes blatantly obvious in my cake choice for this week's post.
Though the Scandinavian Gold Cake has kind of a fancy sounding name, it really is a fairly basic cake, almost poundcake-like.  It uses the usual cast of characters – flour, sugar, butter, lots of eggs (6), salt and baking powder.  This cake gets its flavor from almond extract and King Arthur Flour's Princess Cake and Cookie Flavoring.  Use of this specialty flavoring is not necessary; vanilla extract can be substituted.  I wanted to give it a try because the King Arthur Animal Cookies recipe that a made awhile back called for it.  At that time I didn't have it and did use the vanilla substitution.  I absolutely loved the animal cookies and wanted to make them again, so I ordered the Princess Cake and Cookie Flavoring to get the "full effect" of that recipe. The flavoring adds a bit of citrus overtone to the vanilla flavor.  In my opinion, it is a worthy purchase.
The one "secret ingredient" called for in the Scandinavian Gold Cake is a cup of toasted almond flour used in addition to the all-purpose flour.  King Arthur Flour does sell Toasted Almond Flour, but I didn't have any.  (There's always one ingredient!)  I had only regular almond flour.  What's a girl to do?  Toast her own!  Spread the almond flour on a parchment lined baking sheet and bake it at 350 degrees for 5-10 minutes.  You will see the flour start to toast and you will smell the nutty aroma.  I toasted mine for the full ten minutes.
The making of the cake is super easy.  Cream butter and add sugar.  Mix in the salt, soda and flavorings.  Then add the flours, followed by the eggs, one at a time.  Pour the batter into a greased and floured 10″ bundt pan and bake for an hour at 325 degrees. Cool the cake in the pan for fifteen minutes and then turn it out of the pan to continue cooling on a baking rack.
Confession time:  I actually had to make this cake twice because of the last step – the turning out of the pan part.  With my first attempt, I used a fancy "cathedral-shaped" bundt pan.  Apparently I did not get all of the nooks and crannies greased and floured well enough and the cake stuck.  It tasted great, but was not photo worthy. Lol!  Perhaps my failure with the fancy pan goes back to what I said at the beginning of this post about being a simple kind of girl.  With my second attempt, I used a regular bundt pan and made sure no surface was left un-greased.  This cake turned out of the pan perfectly.  All that said, my family was perfectly happy to eat the first cake that was served in "chunks" rather than slices.
The Scandinavian Gold Cake recipe includes a glaze that further amplifies the cake's  flavors by using both the almond extract and the Princess Cake and Cookie Flavoring that were used in the cake itself.  Because I am not an icing fan, I did not make the glaze.  I simply dusted the cake with powdered sugar before serving.  For me, this was just enough sweetness.  If, however, you are an icing person, I have no doubt that the glaze would be a nice addition to the cake itself.
The Scandinavian Gold Cake has a satisfying flavor on its own, but it is not overpowering or overwhelming.  The cake could also be served with fruit or with ice cream.  If you are looking for a quick and simple summer dessert for a get together or a treat for yourself and your family, give this cake a try.  Its flexibility with toppings and garnishes make it easy to accomodate everyone's likes.
from Tracey G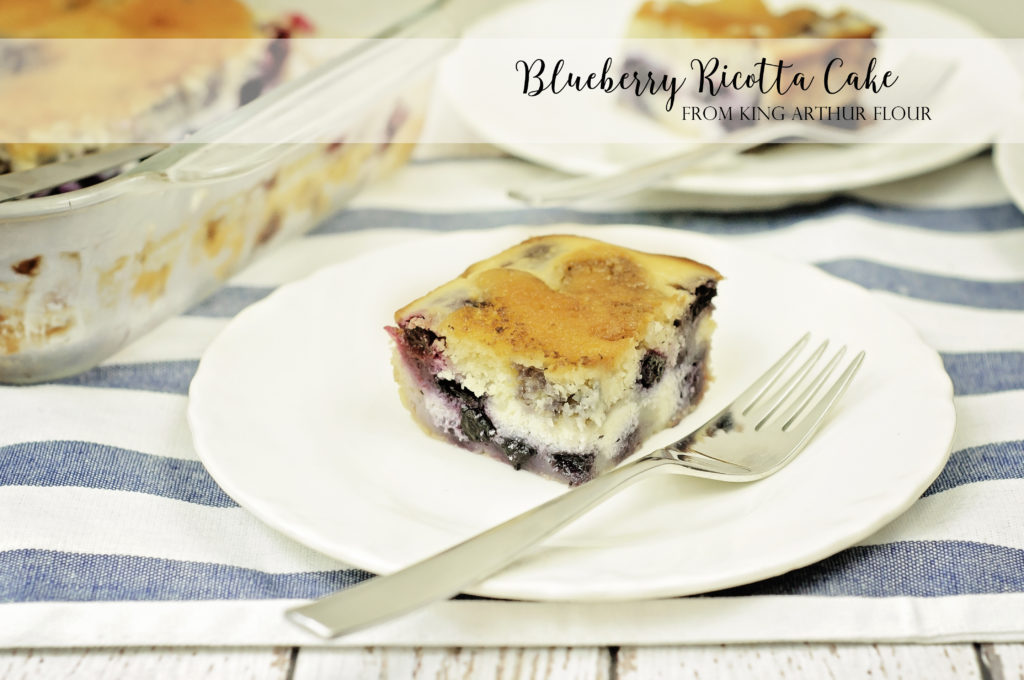 Before I get into my offering this week, reading the about the trouble Kris had with the cake sticking reminded me of an excellent article on the King Arthur Flour blog, Flourish. It's an article devoted to preventing your Bundt cakes from sticking! Lots of handy tips, like using sugar instead of flour for the greasing/flouring step. It's definitely worth a look! Here's the link: How To Prevent Bundt Cakes From Sticking: 10 Simple Tips
And now onto my recipe of the week!
Ever since I was a little kid, blueberries have been one of my favorite things – in pies, desserts, muffins etc. And it's funny because Harry is the same way – only he'll not even wait for them to be made into anything, he loves just grabbing a bowl of frozen blueberries to eat as-is, lol! August here, as I've said before, is prime-time blueberry season for us, lots of local places to pick your own if you're so inclined. Me, I prefer to send Jeremy and Harry to pick, then I'll process them! They are also something I always have in my freezer, and again that actually goes back to when Harry was a baby, I made all his baby food, so frozen fruits – namely blueberries were a staple. And still are.
I was pleased to find another recipe to utilize them in, in the form of Blueberry Ricotta Cake on the King Arthur Flour website, in their recipe collection. Funnily enough, this is similar to last week's Blueberry Breakfast Cake, but this is more "cakey", lol. I've no other way to describe it! But it's equally delicious!
The recipe is also very simple as well as delicious, which is always a good thing in book! It's done in a few steps, but it's super easy stuff. The batter ingredients include: flour, sugar, baking powder, salt, milk, shortening, egg and vanilla. Once you get the batter mixed, you pour it into your prepared pan and then layer the blueberries on top of the batter. Next, you make a "topping". The ingredients for it include: eggs, ricotta cheese, sugar and vanilla. That gets mixed together, then poured over top the blueberry "layer".  It then gets baked at 350° F for about 55-60 minutes or until the edges are golden brown.
You can eat it as soon as it's cooled to lukewarm, and I did. Let me say it's become a favorite of mine – I will make this again!  You can, once again, use fresh or frozen blueberries, and I imagine you could experiment with other berries as well. I think raspberry would be a nice variation. This cake also keeps well, you can keep it in the refrigerator up to 5 days – and let me say it just gets better as it ages, in my opinion!
To sum it up, if you're looking for a recipe to use up some of your bountiful blueberries or just in the mood for something with blueberries – this recipe for Blueberry Ricotta Cake is one to try!