from Kris B.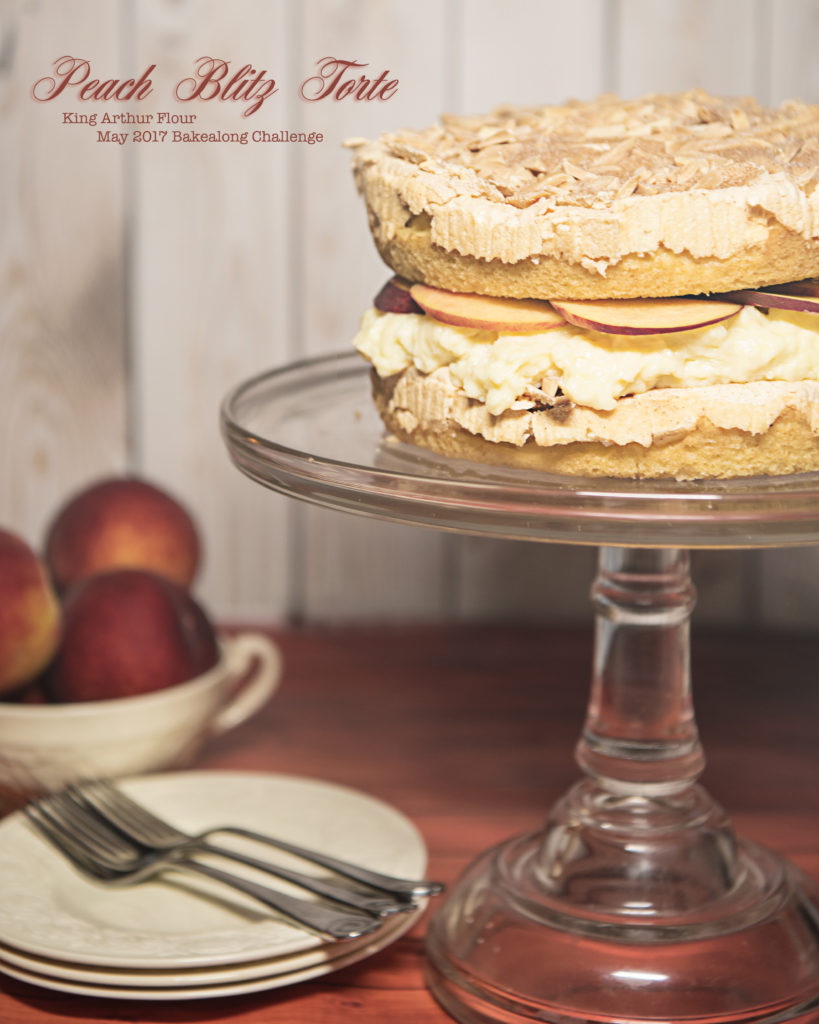 When I first read the recipe for Berry Blitz Torte, this month's King Arthur Flour Bakealong Challenge, I was not sure that I was onboard for making this one. It contains two things, meringue and pastry cream, of which I am not overly fond. I even texted Tracey and asked if we could ditch this month's Bakealong recipe for one of King Arthur's bundt cake recipes instead since King Arthur has deemed this year the Year of the Bundt Cake. Because Tracey is a braver soul than I, she said we should go ahead with the Berry Blitz Torte, So we did. One of us has to be the grownup in this outfit and it is not me!
This recipe has three components – the cream, the cake, and the meringue. On first reading, the more lengthy then usual recipe may seem a bit daunting, but when the instructions for each individual component are taken individually, the process is rather simple. The pastry cream is made first and placed in the refrigerator to chill while the cake and the meringue are made and baked.
Two 8″ cake layers are made. The recipe says that the batter will barely cover the bottom of the pans. This is true! Spread the batter evenly in the pan and move forward in faith. Lol! This thin layer of batter is then topped with the meringue, cinnamon sugar, and slivered almonds. The cakes cook for 30 minutes in a 350 degree oven. After cooling for a few minutes in the pans, they are then turned out onto a rack to finish cooling. This involves an interesting flip-flopping with the layers. They are first turned out meringue side down, causing some of the almonds to fall off, and then flipped again so that they are right side up. The almonds can then be replaced. I was grateful for no cake casualties in this flip-flop process!
The Berry Blitz Torte should not be assembles until right before you are ready to serve it. To assemble, a layer of the cake, meringue side up, is placed on a serving plate. All of the pastry cream is then evenly spread across this layer. The berries are placed atop the cream. And then finally, the second layer of the cake goes on top. I used peaches instead of berries as they are a favorite at my house and they sounded good with the cinnamon and almonds used atop the meringue.
The assembly of this dessert was the most difficult and disappointing part of making this recipe. I think that my cream was a bit too gelatinous. Though I used the amount called for in the recipe, this may be due to too much corn starch. The consistency made it a challenge to spread evenly. The recipe gives the option of whipping in some heavy cream before spreading. I opted not to do that. Even without adding that extra volume, I had more cream than seemed necessary. I placed a generous layer of thinly sliced peaches on top of the cream. When I placed the final layer of the cake on top of the peaches, I realized that there was nothing to hold it in place. Basically, it was free floating across the peaches. I wondered if had I used berries would they have sunk into the cream, providing a little bit of cream to work its way up and stabilize that top layer? I'm fairly sure that with the consistency of my cream, the berries would have rested on top just as the peaches did. In hindsight, I would have reserved a few dollops of the cream and placed it on top of the fruit to hold that top layer in place.
The greatest disappointment came when I tried to slice this cake. I basically ended up with a cake wreck. 😊 All the layers went slip sliding away in different directions. Fortunately, I was making this just for the blog and not as a dessert with which to try and impress anyone. Everyone at my house ate it and said that it tastes OK, but no one seemed overly impressed. In my opinion, a nice pound cake or angel food cake topped with fresh fruit and whipped cream would have tasted better and been a whole lot less work!
I'm glad that I gave the recipe a try as it forced me to use skills and make things that I probably would not choose to do without some prodding. I wish the final product had been a little more satisfying. Every recipe can't be a winner. And so, we look forward to the June Bakealong Challenge hoping for a better outcome!
If any of you try this recipe, and I hope that you will, please share your experience with us.
From Tracey G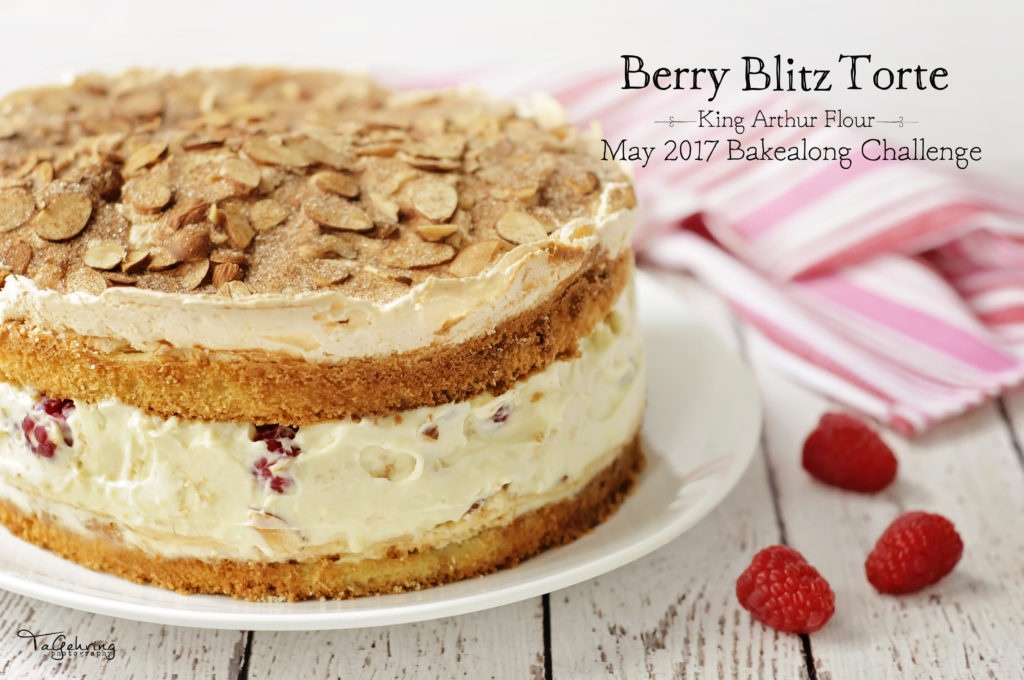 This month's King Arthur Flour Bakealong Challenge, the Berry Blitz Torte, really WAS  a "challenge"! I am one of those that darn it, I want my creation to look JUST like the photo of the original recipe. And well, it just didn't quite happen that way for me!
I won't go into the "making process" too much, because Kris did a really great job with that, and if I do it will be really redundant, but, I can & will relate my experience. And for some reason, the 2 days I had to work on this recipe were THE two hottest days of the year so far, both in the 80's. I think that was strike one against me!
As Kris said, when you break it down into its individual steps, it's super easy to execute. Pastry Cream, check. Cake batter check. Meringue to put on top of cake batter layer, check! So, into the oven the cakes go, wearing their sliced almond and cinnamon sugar top layers. When they came out, they were poofed as they said they would be and yes, they did deflate as they cooled as they also stated they would do. Only mine really deflated. I didn't have those wonderful  high meringue sides that the photo did. But as I said, it was the hottest day of the year so far, in the 80's, and I am sure it wasn't really friendly and/or conducive to good and pretty meringue sides, but it bummed me out anyway.
I made my pastry cream and baked my cakes the day before I assembled it. It was a few hours in the kitchen project and I knew I'd run out of time as I had to go pick up Harry at the bus stop, so I saved the assembly for the next day. That is something that this cake held up to well, sitting overnight waiting for finishing.
Of course, the next day was another 80 degree day. What the heck was Mother Nature up to???  As it's still too early in the year to have the AC out and installed, by the afternoon it was reaching 80 in here. I did choose to add the 1/2 cup of cream that they suggest, you simply whip up the 1/2 cup and then fold into your pastry cream. Ok, all good. But then, I said to myself "wow, that's a LOT of filling…but, it's what they call for so, okie dokie…" Well, I should have listened to my gut instincts and maybe used 1/2 to 3/4 total of the filling. It was a sloppy mess. LOL! Oh my gosh, and at the point I realized this was NOT going well, it was too late. I have no idea how much I lost out the edges when I put the other layer on top. And I too had the issue of my top cake layer just "floating" on the berries, I used the raspberries as they did in their photo. So, I took the top layer carefully off and smooshed some custard over the raspberries, with my small offset spatula, so they'd sort of be buried in the cream, and help hold the top on. And once again, lost more filling out the sides, lol.
When it was time to cut the cake, I had the same trouble that Kris did – it did NOT cut well at all, lol. It just ended up smooshing apart more. There were no pretty slices of this at all, lol. I am so glad I managed to capture a fairly decent shot of it uncut, as, I can't tell you how many slices I tried getting to look even somewhat neat and tidy for a photo! Oh my gosh, I finally realized that it was an exercise in futility. I was not going to get that lovely piece for a photo, now that I had probably cut 5 of the 8 servings/pieces that the recipe suggest you'll get.
We all had a piece of it for our dessert yesterday evening, and it was rated just "Ok", nothing that they'd request me to make. But, I will say that we each had another piece this evening for dessert, and it was better, Jeremy and I both came to that consensus  – so, I'm not sure what to think, lol. I did mention to Kris I may like to try this one again in the Fall or Winter, when the temps are cool/cold and the humidity is down!! Not to mention the 2nd time around I'll be ready for the battle of the filling – I'll know not to use the whole shebang, lol. Maybe save some for another use, or whatever, but don't, I repeat, DO NOT use it all in the middle of the cake!
Would I make it again because I wanted to? I don't honestly know. Like I said, I do want to revisit it in different weather conditions, and if it works out better then, it might be a winter special occasion cake, although the berries won't be very tasty that time of year, I guess it would be a trade-off!
But, all in all, I do look at these monthly challenges as a way to use baking/cooking muscles I don't use very often. It's fun to branch out and try something I might not think about trying or might not think I can even do! That's rather fun to say, "yep, I did it! It may not be pretty, lol, but I tried and I know I can now do it better the next time!!"