from Kris B.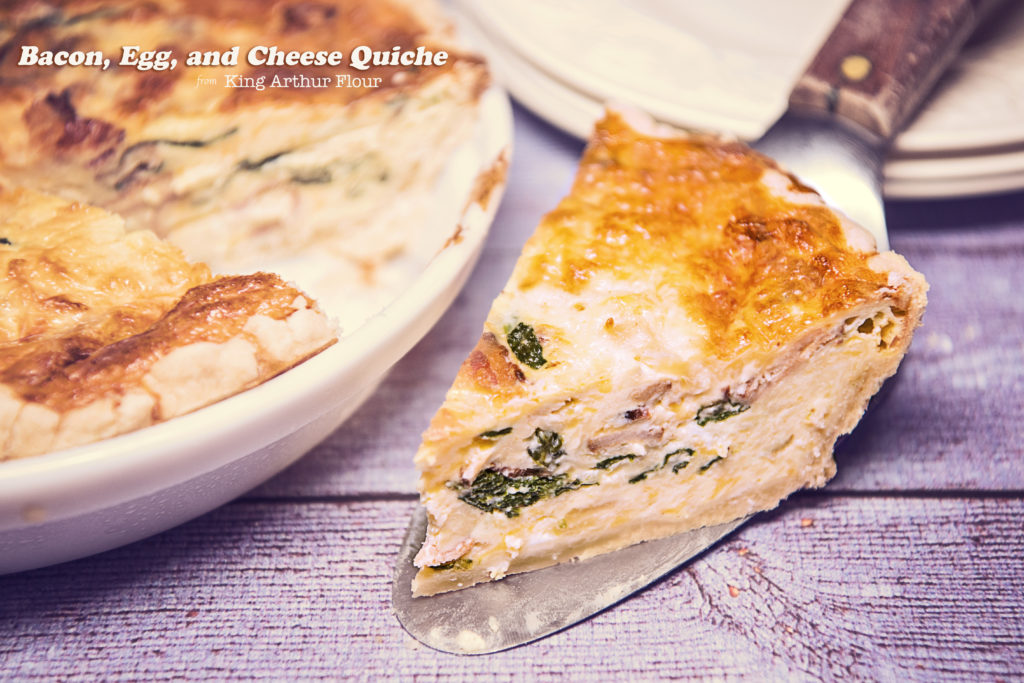 Now that the lazy days of summer are mine to enjoy, I find that I have more time to fix, eat, and savor breakfast.  And once we make it to "real" summer here in Texas, morning is about the only time of day where a hot meal sounds the least bit satisfying.  Enter King Arthur Flour's Bacon, Egg, and Cheese Quiche, with a bit of spinach added because a little green always makes a meal feel healthier.  Lol!
There really is nothing special about this recipe.  It is a Classic Single Pie Crust made from scratch, which should be obvious from my less than perfect crimping around the edge.  But hey, I don't often…ever?…have people over for breakfast so I wasn't too concerned about the aesthetic here.  This crust was totatlly a utilitarian crust!  It won't be winning any bakeoff awards, but it tastes just fine!
To make the filling, 3/4 of a pound of bacon is fried and then drained.  The recipe calls for onion to be sauteed in butter using another pan.  I cooked the onion in the same pan as the bacon using a tiny bit of the bacon drippings and omitting the butter.  When the onion was almost translucent, I threw a couple handlfuls of spinach on top and let it wilt.  I then let this veggie mixture drain on a paper towel with the bacon.
To assemble the quiche, the eggs, cream, and milk are whisked to gether in a bowl.  The bacon, veggie mixture, cheese and seasonings are added and then this is poured into the prepared pie shell. The quiche then bakes for 40 minutes.  I did bake mine an extra 6 minutes because it did not seem set in the middle after the initial 40 minutes.
Since there are only two of us at my house and we did not eat an entire 9″ quiche for breakfast, I can report that the quiche reheats well and makes for a good lunch and/or dinner as well as breakfast!
from Tracey G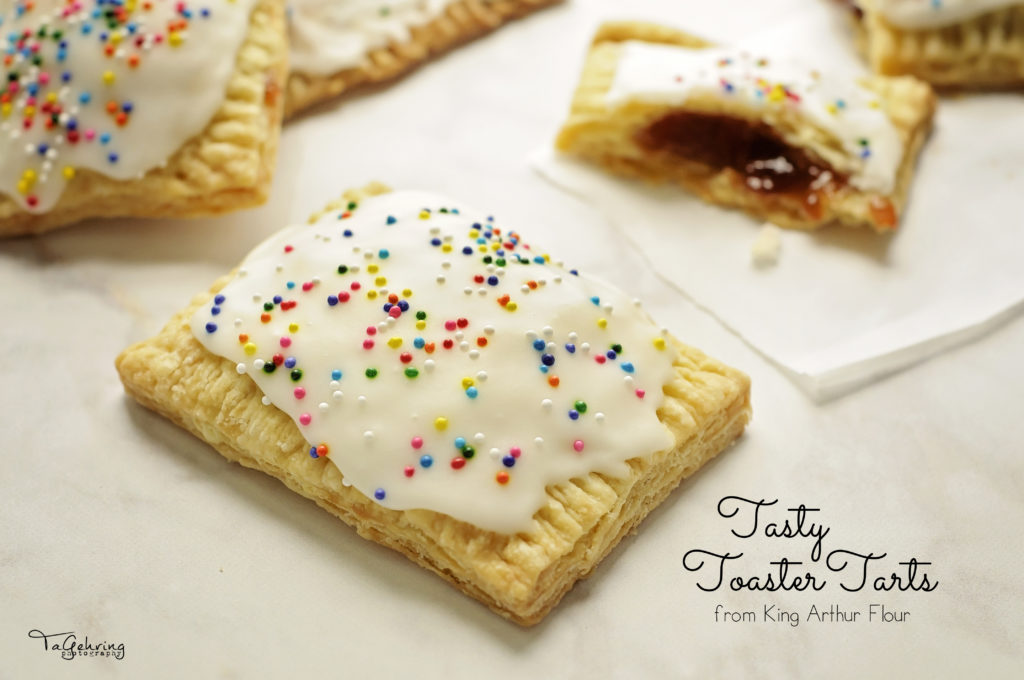 There's kind of a funny story to how I ended up choosing this particular recipe for Tasty Toaster Tarts….
We were all sitting around one day, and I noticed Jeremy eating store bought toaster pastries, which is ok in itself, but I'd had a bunch of homemade treats laying about and I said so. To which, Jeremy, replied to me with "but there's no homemade Pop Tarts now is there?" Um. Nope. Had me there. So, when this week's recipe rotation came around to Pies, Tarts and Turnovers, it was a no-brainer for me as to what kind of recipe I was after! I'd show him! Ha! Homemade toaster pastries here we come!
This is a pretty easy recipe to make, nothing complicated – a very simple crust and simple fillings. Basically it's like making 9 big ravioli, lol. I went two different ways for fillings, the original in the recipe is brown sugar and cinnamon, then they also give you the directions for a jam/fruit filling which I also tried. As if there's not enough variations on filling, there's also provided an alternate crust recipe, using their White Whole Wheat flour, and less fat, by substituting some of the butter with vegetable shortening. So, I tried that route too! This is the crust version that is used in the Flourish Blog walk-through of the Tasty Toaster Tarts.
Both the crust variations mixed up well, and were easy to work with, only trouble I had was feeling like I didn't have "enough" dough to work with, but it was not a big deal. They rolled out well and it was easy to cut the rolled dough into the directed measurements. You then brush the bottom crust with a beaten egg, fill, and top with second sheet of rolled out dough, and seal around the individual tarts. Now, you can score, bake and then cut them apart, but I preferred to cut them apart and bake individually.
After they've baked and cooled completely, you can frost them if you choose – I frosted maybe half of each batch, which was just an simple powdered sugar icing that I added little bit of vanilla to for flavor. I loved the look of the rainbow sprinkles in KAF's photo so I decided to do that too on my iced tarts.
As for the taste? They are fantastic, I think the first thing Jeremy asked me was "now, can these be frozen?" – I interpret that to mean "can you make more to have on hand?" I loved both crust versions and both filling versions, but I think my favorite filling was the brown sugar & cinnamon one. I think that wound up being my favorite because on the occasions I do eat the store-bought versions, that's my favorite!
If you have some time, do give KAF's Tasty Toaster Tarts (say that 5 times fast!) a try – these are definitely a bit more of a grown-up version of the old favorites, the crust is more pie crust than whatever you'd describe the store-bought crust obviously, and wow are they good!!!