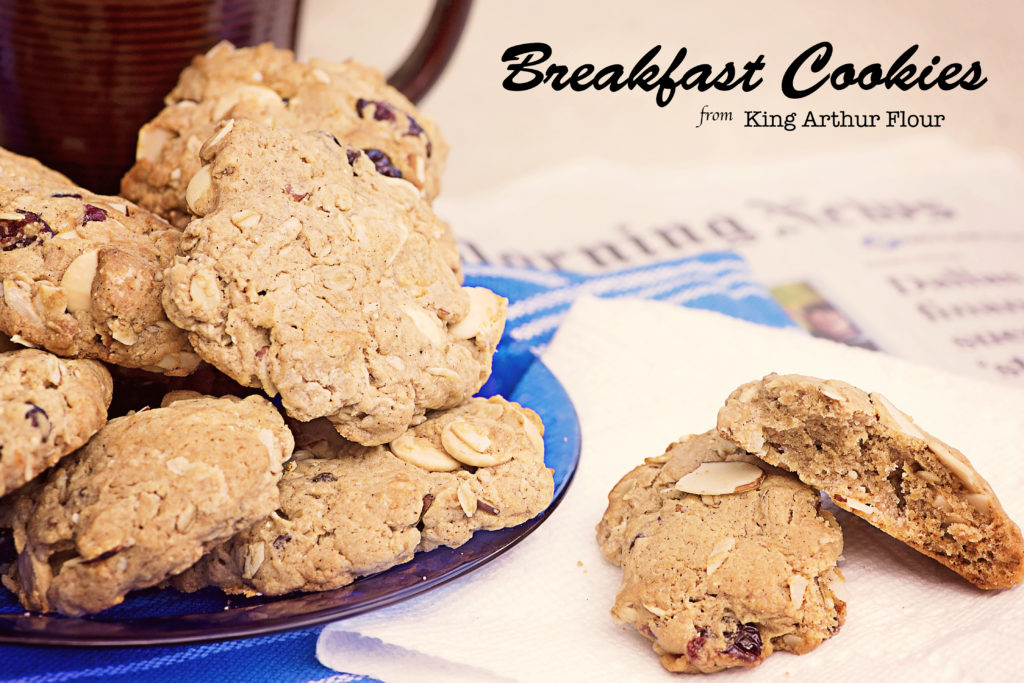 Two words…breakfast and cookies…that when combined scream "you must try this" to me!  Breakfast is hands down my favorite meal of the day and when forced to play favorites with baked goods, cookies will always take the cake! 🙂  That said, sweet is not usually my norm for the first meal of the day.  Not because I don't like sweets (obviously), but because if I start the day with sweets, I crave them all day long.  That said, I had to give the Breakfast Cookies from King Arthur Flour a try.
The base of these breakfast cookies is much like any cookie – flour, butter, eggs, milk (both liquid and powdered), vanilla, brown sugar, peanut butter, and a touch of cinnamon; it's what's added to these basic ingredients that gives these breakfast cookies their unique character.  The only ingredient called for that is out of the ordinary is Hi-maize Fiber.  Derived from corn, this dietary fiber acts as a resistant starch and aids in digestive health.  Hi-maize fiber can be ordered from King Arthur Flour.  A 12oz bag is $7.95.  This recipe uses 1/3 of a cup.  Once you've addressed this one not-so-mainstream ingredient, then the fun with making this recipe begins!
After you make this base, you add 4 1/2 cups of "add-ins."  What are add-ins?  Almost anything that you like – seeds, dried fruits, nuts, grains, baking chips of any flavor, granola…  There is no specific ratio of types of ingredients suggested, only the 4 1/2 cup measurement.  Therefore, these breakfast cookies can be "customized" for you and your family.  In the batch that I made, I added oatmeal, coconut, dried cranberries, greek yogurt flavored chips, almonds, and some dates.  The recipe instructions warn you to not overbake these cookies as they will become dry and crumbly.  One of the reasons that I used the dates (3/4 cup), was to help retain some moisture.
When I make a recipe for the first time, I usually follow the instructions exactly as given.  That said however, after reading the comments about this recipe on the King Arthur website, I did make one adjustment.  The original recipe does not call for any leavening agents.  A number of people found this problematic and recommended adding a 1/2 tsp. of both baking powder and baking soda.  I did do that.
These Breakfast Cookies are hearty dense cookies.  The recipe suggest 1/4 cup of batter for each cookie, yielding 18-20 cookies.  Mine were a little smaller because I got 27 cookies.  Despite that, even for this cookie monster, one cookie is quite filling.  I ate a cookie and a banana (with my requisite big cup of coffee) at 7:30 in the morning and that was enough to hold me until after 1 pm.  Based on that, I think these will be a good breakfast for me once I go back to school and teach a six-hour stretch from 7:30-1:30. 🙁
This first time, I did bake off the whole batch and froze the already baked cookies  I think, however, that you could also freeze the pre-portioned but unbaked dough and pull it out in the morning and pop it in the toaster oven for a "fresh-baked" breakfast on those mornings when you may not be feeling totally fresh yourself.  Yes.  That is personal experience speaking! 🙂
I hope you will give the King Arthur Flour Breakfast Cookies a try.  If you do, please share your customized "add-ins" combinations with us!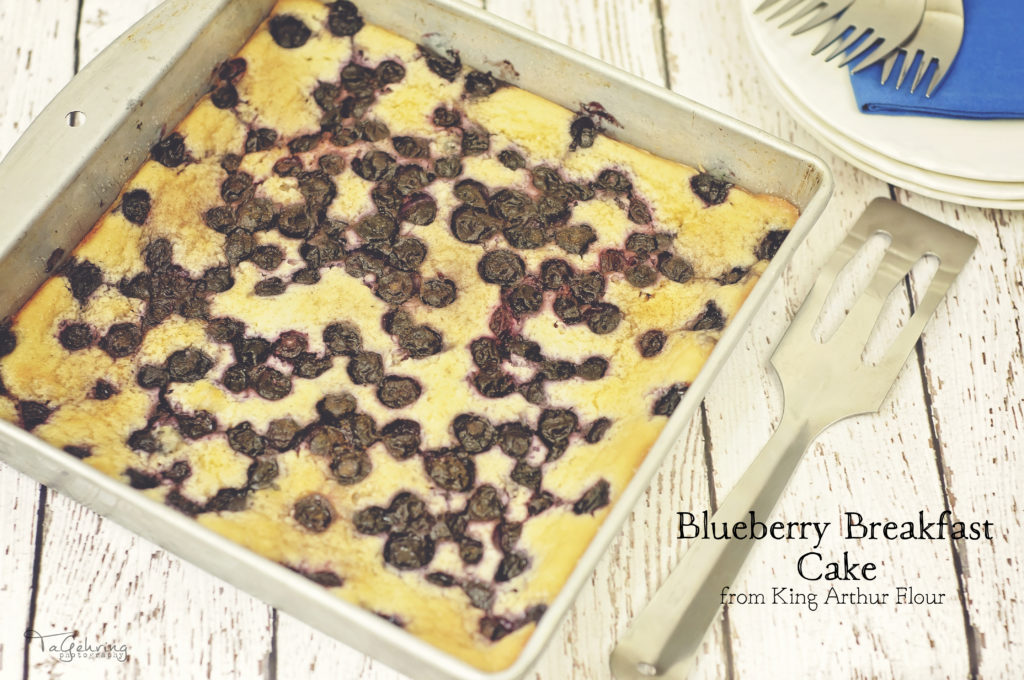 When wondering what to do for our Breakfast offering for this week, I decided to flop around and see what recipes King Arthur Flour had using blueberries since August, here, is when they seem to really come out. That, and I was looking for a recipe that a I could also utilize frozen berries in, so it could be a recipe I could make year-round with fresh if I wanted or frozen, if that's all I had. And that is how I discovered the Blueberry Breakfast Cake. (Here's also a blog post on this recipe too from KAF's blog, Flourish – Breakfast Blueberry Cake Flourish Post)
And it really is super easy to put together, and very yummy to eat! It uses basic ingredients that I normally have on hand, well, except for one. I just happened to have some ricotta on hand from another recipe, so this was a great way to use that up – no waste, but it's not the norm for me to have it in the fridge, but after this recipe – maybe it will be!
The ingredients involved are: eggs, sugar, butter, small-curd cottage cheese OR ricotta, sour cream, Buttery Sweet Dough Flavor (you can find this on the KAF website if you want it) or vanilla (I used vanilla), flour, salt, baking powder, fresh or frozen blueberries and cinnamon sugar for topping.
Once you get everything thing all mixed up, you pour the batter into a lightly greased 8-inch cake pan – with sides at least 2 inches tall, or you can use either a 8-inch square pan or a 9-inch round pan. You then bake it for about 50 minutes in a 350° F oven, until a tester comes out clean. Cool for about 30 minutes then serve. It's just that easy! I might also add here that while it's excellent warm, it's good out of the fridge cold – plus the in between of out-of-the-fridge-and-warmed-back-up is fine too!! Once it was cooled in the fridge it almost reminded me of slightly aerated sort of cheese cake-like texture, it's hard to explain! But it's good to eat!
So, if you you're looking for a different kind of breakfast fare, instead of muffins, quick breads etc, do give the Blueberry Breakfast Cake a try – it's cake! For breakfast! Yay!