Tags
baking, bread, breakfast, cheesecake, cream cheese, dessert, easy, King Arthur Flour, King Arthur Flour baking mix, oats, snack
from Kris Baker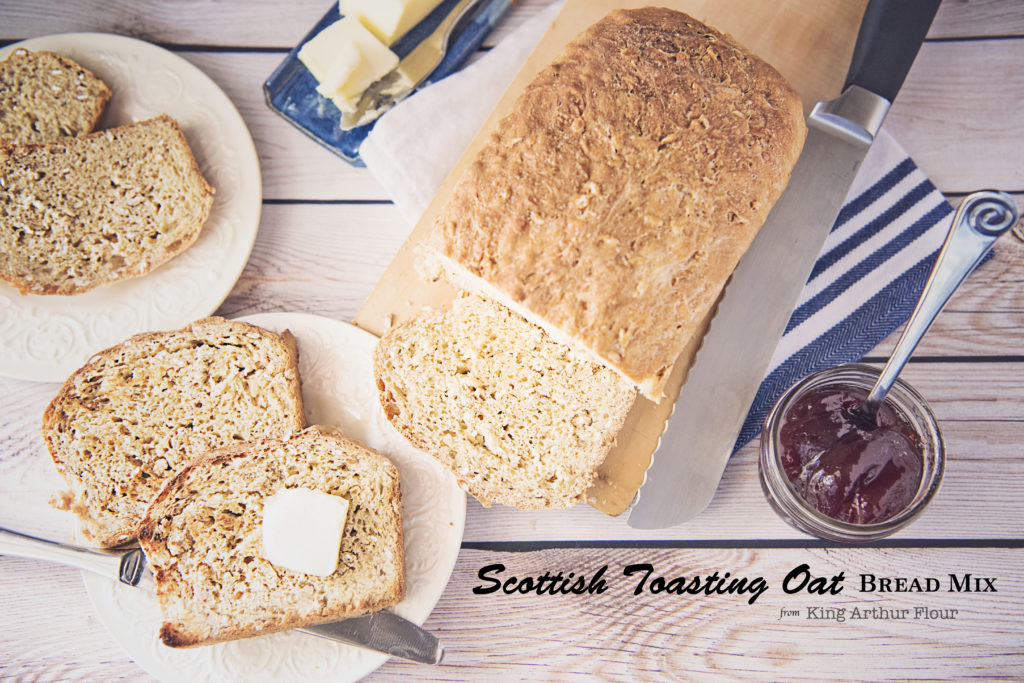 Mix It Up Fridays often feel like "cheat days" for me because I don't normally bake from mixes.  We all know, however, that sometimes you need for life to give you a break and reaching for a box is a reasonable compromise between homemade and store-bought.  I must admit that I felt a little guilty about making bread from a mix because bread baking is such a meditative, even cathartic, process for me.  I thought that I was slacking, or perhaps gypping myself, by not baking entirely from scratch.  After pondering these thoughts for a bit, I came to the following conclusions:
It is really the kneading and shaping process that, for me, that provides the majority of the meditative quality with regard to bread baking.  That is still a part of making bread from a mix.  The convenience that the mix provides is knowing before you start that you have all of the necessary dry ingredients and that they are all pre-measured.  For me, having to pull all of the ingredients from the pantry is often the factor that determines whether I will make bread or not.  Perhaps I'm just lazy sometimes.
The second positive for bread baking from a mix is that it provides the opportunity to try breads with ingredients that may not be staple items in your pantry.  That is the case for me with this week's Mix It Up Scottish Toasting Oat Bread Mix.  This hearty bread contains barley flakes and oat berries, both things I enjoy in bread, but don't regularly have on hand.
All that said, I totally enjoyed the process of this bread from start to finish, from the mixing, kneading, and shaping to the eating!
Honestly, I was surprised at how simple making bread really is when you don't have to gather and measure ingredients.  Literally all I had to do was dump the package of dry ingredients and the included yeast into the bowl, add a cup of warm water and 2 tablespoons of water, mix it up, and then knead the dough.
The dough rises in a lightly greased covered bowl for about an hour before it is shaped and placed in a greased loaf pan for the shorter 30 minute second rise.  With the second rise, the loaf should crown about an inch over the pan.
The Scottish Toasting Oat Bread bakes for 35-45 minutes in a 350 degree oven and then cools on a wire rack.
It is no secret that anything with oats or oatmeal in it is a favorite of mine.  So, it goes without saying that I love this bread.  And since I mentioned above my potential for laziness, I must add here that when I am feeling lazy in the morning and don't want to expend the energy to make a "real" breakfast (eggs, hot cereal, even a smoothie), I am always content with toast, made with pretty much any kind of bread, with a little butter and jelly or peanut butter.  The Scottish Toasting Oat Bread feels like decadent toast. Lol!  It has flavor and substance.
I should add here that the "toasting" part of its name is important.  We tried a slice of the bread with just a little butter spread on it and found that it crumbled a bit, which did not happen when it was toasted.  Save and enjoy this bread toasted in the morning, but plan on another bread for your lunchtime sandwich.
Though I was leery of bread from a mix, I have to say that I am sold on this one.  It may become a pantry regular for me, sitting right next to the flour bin.  I have enjoyed not teaching this summer and being able to bake whenever I feel the urge.  When I go back to work in a few weeks (aargh), having this compromise option for freshly baked bread in the pantry may help ease me back into the real world of work!
Scottish Toasting Oat Bread Mix
from Tracey G.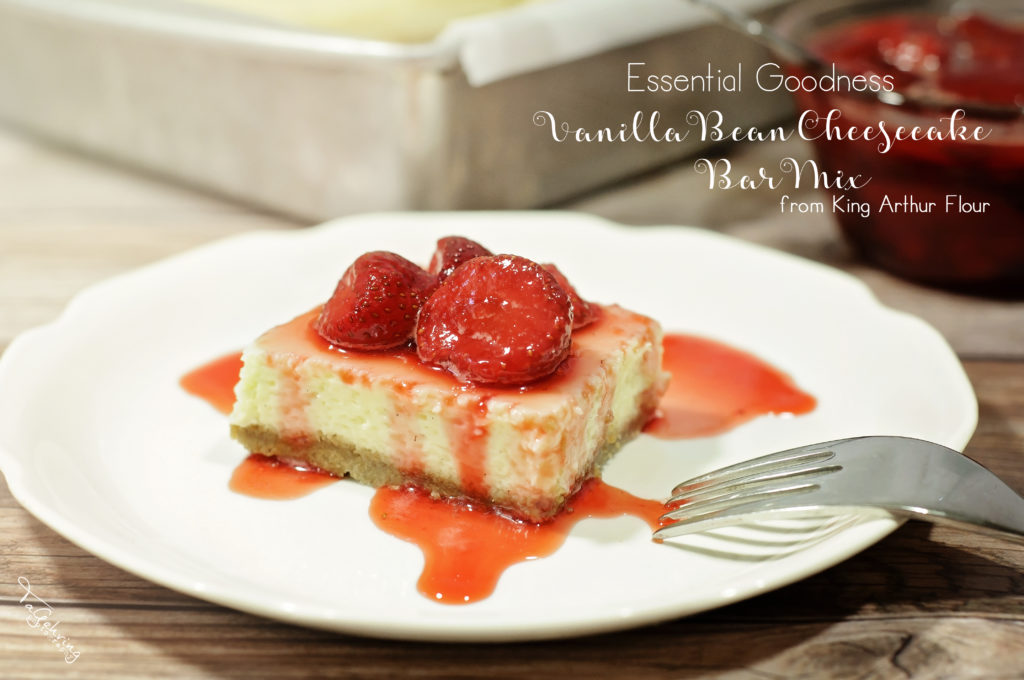 I'm a cheesecake lover from WAY back! Ever since childhood, this was, I think, my first favorite dessert, until I met Tiramisu, but that's another story for another time… LOL 😉 But, even with Tiramisu in the picture, cheesecake is still beloved by me no matter what. It's one of the desserts I'll order out after a nice dinner. I also discovered on a trip once that it goes great with a Sam Adams Cherry Wheat Ale! Which, by the way, I just looked something up at the Sam Adams site, and the list of food pairings for this particular beer included cheesecake! LOL! So, I wasn't imagining it was a great combo!
Anyway, this week I decided to try King Arthur Flour's mix for Vanilla Bean Cheesecake, from their Essential Goodness Line. I had been dreaming of pairing it with some of those fresh local strawberries I'd put in the freezer a few weeks ago, so that's what I did.
The mix is super easy to make, I mean, super easy. And as Kris said, it's nice to deal with a mix sometimes for the ease and for the fact that you may only have to add a few ingredients, and that's it. It may contain some of those pantry items I don't necessarily keep around, so it's nice to not have to buy a whole lot of something I may only use once and then be stuck with, wondering what to do with.
The only things you provide with this mix is the cream cheese (and honestly, I used Neufchatel and it was just fine!), eggs and butter. It does call for two 8 oz. packages of cream cheese, so I did buy those special for it. But of course, the butter and eggs I had on hand. I prepared mine in a 9-inch square pan, it's kind of nice it doesn't make a huge quantity for our household, which means none went to waste.
Putting together is easy, the butter gets added to the crust mix, pressed into the pan and baked for about 15 minutes. While it's baking, you combine the cream cheese and filling mix, then add your eggs in one at a time until each are combined. When the crust comes out of oven, you pour the filling over the hot crust and bake for the time prescribed depending on the size of your pan, a bit longer for 8-inch than for 9-inch, but even the longest bake-time is about 36 minutes. After baking you cool at room temperature for an hour, then refrigerate at least 3 hours, or overnight, before cutting. Due to that cooling-then-chilling step, it's best to plan ahead for making this particular mix.
Now, for the eating – not much to say here but YUMMY!! Wow, it far exceeded my expectations of a cheesecake-from-a-mix, I would love to serve this to anyone and let them think it's homemade because it's that good! It reminded me of cheesecakes I've had out in restaurants that I've adored. It's not that expensive (under 5 bucks), easy to make and fabulous to eat. It will now forever hold a special place in my pantry and my heart!!! Do give the Essential Goodness Vanilla Bean Cheesecake Mix a chance, I'm confident you'll love it as much as I do!
P.S. Here's a link to the product page that has some links on how to make some variations using this particular mix! There's also some great ideas on the online catalog page for it too, I'll share that link again as wel!
Essential Goodness Vanilla Bean Cheesecake Mix Product Page
Essential Goodness Vanilla Bean Cheesecake Mix Online Catalog Page