from Tracey G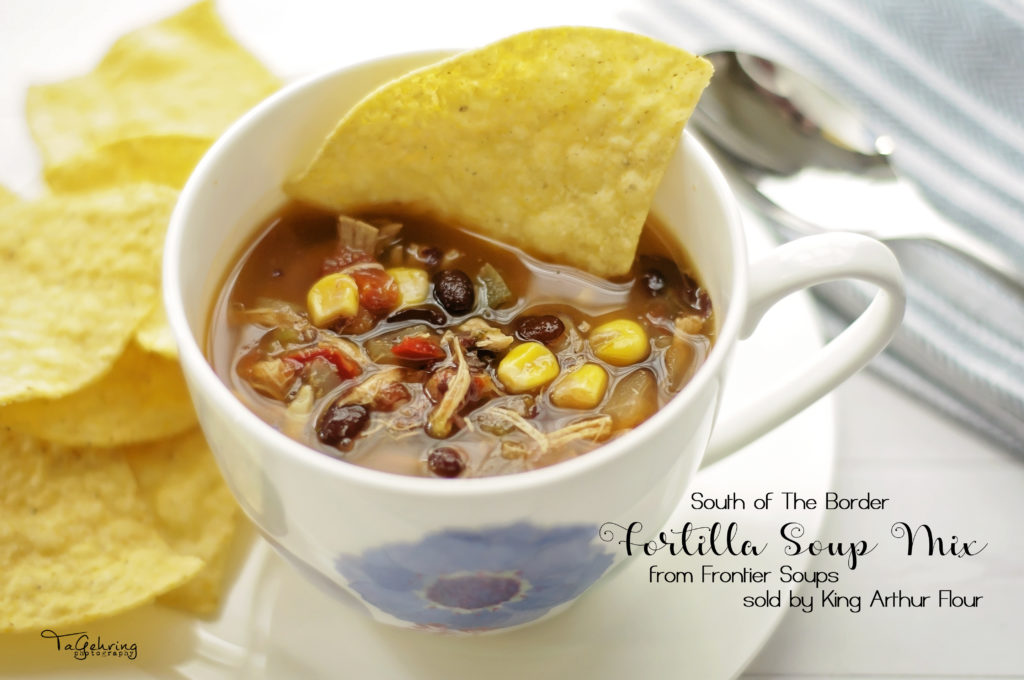 This is the first time I've tried a non-baked good mix from King Arthur Flour – a soup mix is my mix of choice this week. When I was shopping for mixes to try out, I remembered Kris had tried a soup mix back in December, it was the Sausage and Lentil Soup Mix, so that's what I decided to look for – a soup to try. I actually found two, and the one I tried this time is the South Of The Border Tortilla Soup Mix. It's from Frontier Soups (as is the Sausage and Lentil Soup Mix) and I am very glad King Arthur Flour carries it! I can see why the description states: "Named a finalist in the National Association for the Specialty Food Trades' Outstanding Product competition", it's one of the best soups I've had, regardless of being a mix or totally homemade-from-scratch! I fell completely in love with it – it's as good as I've had in any restaurant.
The mix is a combination of freeze-dried corn, dehydrated black beans, red bell pepper, green bell pepper and onion. All this with a combination seasonings that pulls it all together wonderfully – you can customize spicy heat if you wanted by what kind of salsa you use. I used mild this time and loved it, and likely wouldn't do it any different the next time I make it.
It's super simple, and I made it even simpler by purchasing an already-prepared rotisserie chicken from the grocery store – all I had to do was get the meat off and shred it. The other ingredients you provide aside from the cooked & shredded chicken are: 12-16 ounces of salsa, 6 cup chicken broth and 1 cup of water. That's it. And since they're ready-to-go items, it makes this soup a snap to put together.
You start by combining the chicken broth and water, which you bring to a boil. Then you add the soup mix, salsa and chicken. You then cover the pan simmer for about 25 minutes. And that it's it.
For serving they suggest tortilla chips, crumbled, or tortilla strips in the bottom of the bowl, then ladle soup on top – I used tortilla chips, but I crumbled them on top of the soup already in the bowl, and they really added to the whole soup experience, so I highly recommend serving them with it either way. I also served extra salsa and chips on the table as a "side dish" that was rather fun, more like being out a restaurant. While we were eating it, we discussed the different ways you could change it up – you could try using a yellow corn tortilla chips in it, garnishing with sour cream and/or cheese. It would be good with cheddar cheese, queso fresco – or if you're feeling adventurous, both! For supper I served it in bowls, for my photo, I opted for a cup – it's a lovely large teacup that Kris got me from her trip to the U.K. last year, unfortunately the saucer didn't survive, but the cup was totally unscathed! It's absolutely gorgeous, and was so excited to use it for my photo!
Bottom line, this is definitely a soup mix I will purchase again, it was so easy and so tasty, a serious win-win!!!
South Of The Border Tortilla Soup Mix
from Kris B.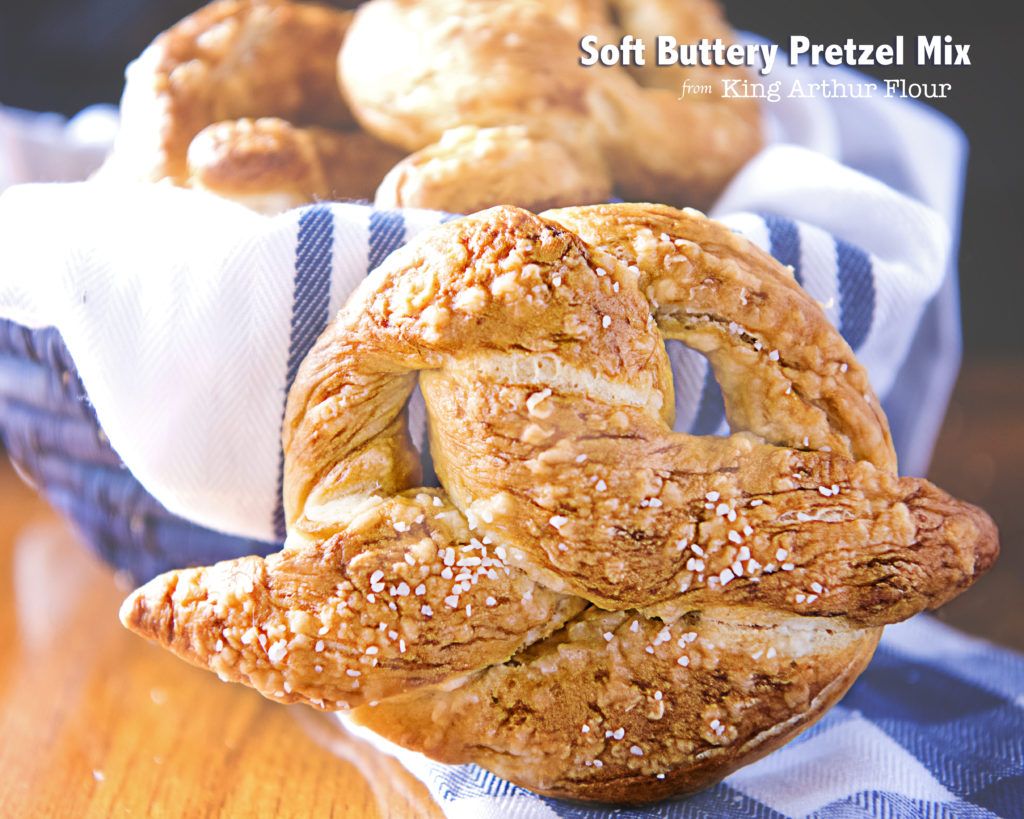 Soft pretzels have always been a "go to" snack for me, especially when I am away from home.  When I need a quick pick-me-up while shopping at the mall, I'll usually search out one of the chain soft pretzel shops and have a cinnamon sugar coated pretzel.  This may not be the healthiest snack choice, but in my opinion, it is definitely a delicious one.  Lol!
Soft pretzels are also a favorite airport "meal."  When my dad was sick and we were making so many trips between Dallas and Delaware, soft pretzels became my treat in the Philadelphia airport.  They were what I looked forward to after our early morning flights out of Dallas.  We had to change terminals in Philly.  In the terminal where the small commuter planes flew in and out, there was a food court with some of the best soft pretzels I've ever had!  They were an easy grab and go between flights.  My monthly airport pretzels are one of the few things I miss about making those all too frequent trips back to the east coast.
This summer, we are not traveling at all.  It seems like we have not had much time in the past few years to just be at home.  It's like home has just been a springboard launching us toward our next trip.  I enjoy going and doing, but I'm looking forward to the entire summer at home!  Maybe I will actually take the opportunity to clean out all the closets and drawers that have neglected for way too long.
The downside to this year's summer plan???  No airport pretzels!
Yes, I can and have made soft pretzels myself, but when I want them, I usually want them "right now."  Enter King Arthur Flour's boxed mix for Soft Buttery Pretzels.  They do require a little work in that, as with all soft pretzels, they have to be blanched before baking; the mixing, however, is a piece of cake.  Bad analogy there…sorry!  🙂
The Soft Buttery Pretzel Mix comes with a package of dry ingredients, yeast, and coarse salt for topping.  To that you add 2 TBS of soft butter and a cup plus 2 TBS of water.  Knead that all together and then let the dough rest for 30 minutes.  After this resting period, the dough is divided into eight equal parts.  Mine were approximately 3 oz. each.  The pieces are rolled into 20-24 inch ropes and shaped into pretzels.  The mix instructions give easy to follow instructions for how to shape traditional pretzels.  The formed pretzels rest for fifteen minutes and are then blanched in a bath of simmering water and baking soda.  They are placed on a parchment lined baking sheet  and baked for 20-24 minutes in a 400 degree oven.
After completing my pretzels, I read the comments and reviews on the King Arthur website.  Several people complained that the pretzels stuck to the parchment…to such a degree that they were inedible.  I will say that unexpected sticking is something with which I am plagued in my baking, but I had absolutely no issues with my pretzels sticking.  The only suggestion that I have to avoid potential sticking is to use a slotted spoon to remove your pretzels from the water bath, making sure to get rid of all excess water.
Serve the pretzels with your favorite mustard, cheese sauce, or other dipping sauce.  The King Arthur Soft Buttery Pretzel mix comes with coarse salt for topping the pretzels.  For a sweet treat, omit the salt.  After the pretzels come out of the oven, let them cool slightly, brush them with butter, and then dredge them in cinnamon sugar.  Yum!
You can also vary the shape of the pretzels, making everything from pretzel bites to hamburger buns.
This is a versatile mix to have on hand.  Appetizers, snacks, treats, sandwich rolls – all covered in this one little box!
Soft Buttery Pretzel Mix from King Arthur Flour