Tags
appetizer, baking, Cheddar Cheese, cheese, easy, entree, KAF Everything Bagel Topping, KAF Vermont Cheese Powder, King Arthur Flour, pasta, pastry, savory, side dish, snack
from Tracey G.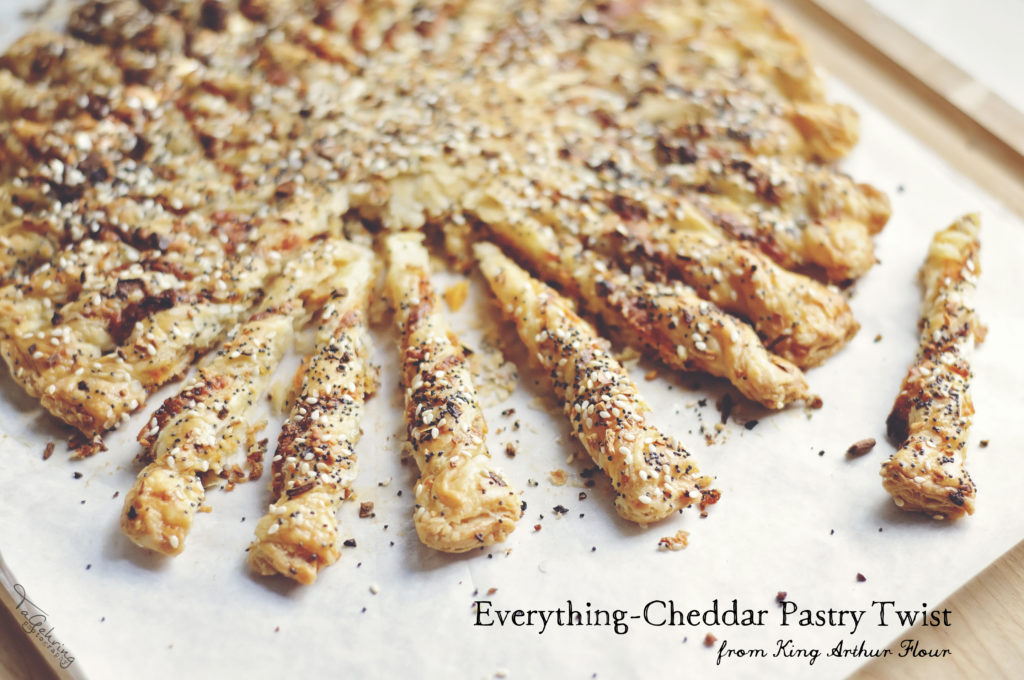 Presenting the King Arthur Flour Everything-Cheddar Pastry Twist – easy to make and easy to eat. I was a bit intimidated by it when I read it, but once I actually started the doing, it was really painless to make something that looks pretty fancy and labor-intensive.
I will admit it, I'd bought a couple of the special ingredients needed for this few months ago for other purposes. The Vermont Cheese Powder I'd bought for making my own homemade cheese popcorn with my air popper to dress up my healthy snack a little and the Everything Bagel Topping, I'd bought to well, make bagels with. But after reading and making the recipe, if you wanted to use other flavors etc, the technique would still be suitable. It also called for the Pastry Flour Blend, which I happened to have, but it also gives you the option to use regular all-purpose flour as well.
The recipe is executed in a few steps, but easy ones they are. First you make your pastry dough, which consists of: flour (either the Pastry Flour Blend or AP flour), salt, baking powder, Vermont Cheese Powder, butter and ice water. Once you get it made, divide it into two equal portions, and then refrigerate for at least 30 minutes.
While that's doing it's thing chilling in the refrigerator, you make up the filling. This involves: Vermont Cheese Powder, Everything Bagel Topping, water, a bit of butter and grated sharp Cheddar cheese. I only had shredded Cheddar, so I went over it quickly with a knife to make the pieces smaller and closer to a grated-style. The cheese powder, bagel topping, butter and water get mixed together. The grated cheese stays separate.
To start the assembly, you roll out one of the disks of dough, to approximately 11-inches. It then gets trimmed down to a 10-inch circle via using a pie plate or a dinner plate that's 10-inches as a template. Once you've done that, you pop it onto a piece parchment paper. Spread the dough with the filling mixture within about a 1/2-inch from the edge, then sprinkle on the grated cheese. At this point, you beat an egg with a tablespoon of water and brush the edge of the disk with it.
Next is to roll-out the other disk of dough, in the same manner: roll to an 11-inch circle, then trim to a 10-inch one using pie plate or dinner plate as guide for a perfect circle. This now gets placed on top of the other, and over the filling.
Now here's where it gets interesting and rather fun! At this point you use a 2 1/2 to 3-inch round cutter (or anything you happen to have that could substitute for that, maybe a glass?) and set it in the center of the circle, it's a guide so don't cut with it. Working from the center out, you now cut the pastry circle into 32 wedges. I marked it off in quarters, then divided those up into 8 to make sure I stayed fairly even. You cut through both layers from the edge of the circle cutter all the way to each edge. Once you've done that, you take each little wedge and twist it in the same direction 3 times. That's it. Proceed all the way around doing that with each little wedge.
Lastly, once you've twisted them all, brush the whole with some of the beaten egg and sprinkle it with the remaining Everything Bagel Topping. Bake for 30-35 minutes, let cool for 15 and serve!! I should note here that in the actual recipe, it doesn't mention sliding the parchment onto a baking sheet for baking – but after I did the cutting, I put it on a baking sheet, then did the twisting – and then the baking while on the sheet.
This recipe has a lot going for it – especially if you need an appetizer/snack. It's simple and very stand-alone, meaning it doesn't need a dip or anything of that nature to go with it. It would be easy to transport and plate for serving and look pretty as well! They mention it would go well with beer, cocktail or any beverage – with or without alcohol – that you choose or are serving, and I agree. Once I started taste-testing this, I couldn't stop! I am so excited to find something this easy that looks like you know what you're doing as far as pretty presentation!! Don't be intimidated like I was at first, do try it, and now that I've gone through it once, it will be even easier/faster the next time! And on that note, you could vary the fillings anyway you like, just keep it fairly dry so it doesn't ooze out while baking. I imagine you could leave out the cheese powder in the dough, that's something I'd like to experiment with. You could use your own mixture of seasonings instead of the Everything Bagel Topping for example – I see lots of possibilities for this recipe technique.
But, this is one yummy snack/appetizer just as it is and I can highly recommend it!
Everything-Cheddar Pastry Twist
from Kris B.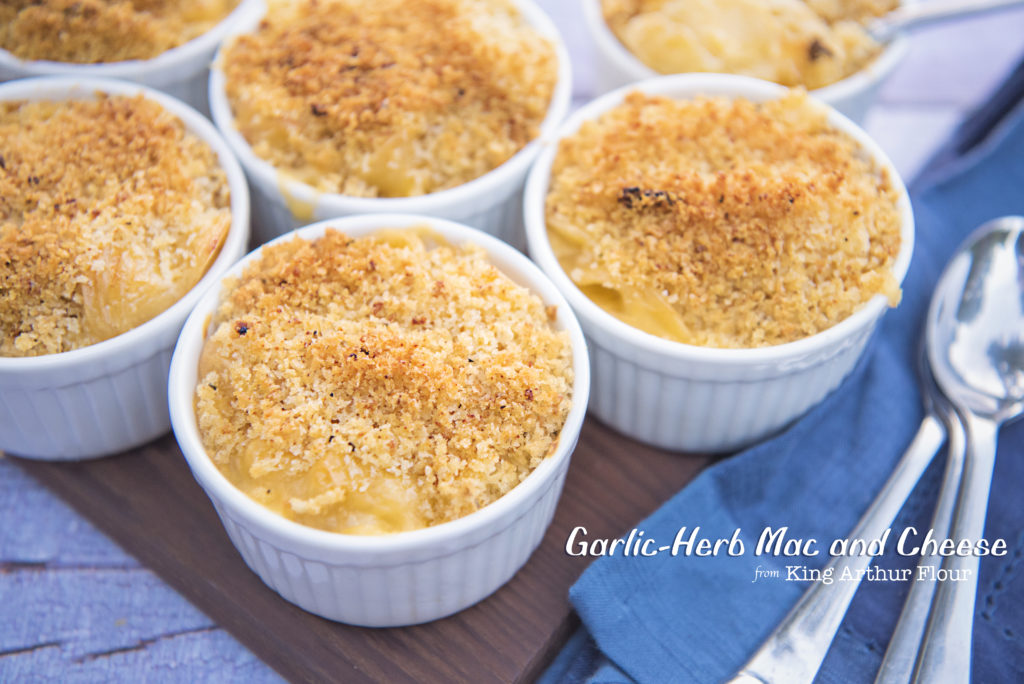 This week's offerings are from King Arthur Flour's broad category, "Entrees, Sides, and Appetizers."  To me, that translates to "real" food, something beyond sweet treats.  I think it says something about the way that Tracey and I think in that we both chose recipes that rely heavily on cheese.  This was not a planned theme for the week, but it sure is nice when it happens this way!
I often feel like a child when it comes to my food choices.  I still love simple foods, finger foods, comfort foods.  And, despite having eaten many a box of ten for a dollar "fake" macaroni and cheese when I was in college, I still love Mac and Cheese.  I am happy to say though that my palate and my wallet have "upgraded" from the poor college student version of this deliciousness!
I have been in several nicer restaurants lately where "gourmet" mac and cheese has been offered on the menu.  What makes it "gourmet?"  Usually it is the type of cheese or cheeses used and the specialty "add-ins."  Gruyere, asiago, Roquefort, Fontina, and even smoked Gouda, my personal favorite, add a bit of grown-up flavor to this traditional comfort food dish.  Add-ins such as crab meat or bacon to any number of different kinds of vegetables also help to "adult" your mac and cheese.  The truth is that any macaroni and cheese made from scratch rather than from a box takes a huge leap in its gourmet factor.
I tried King Arthur Flour's Garlic-Herb Mac and Cheese this week.  Made from scratch macaroni and cheese is definitely more time consuming than that from the box.  It took me more time to make this recipe than it took my husband to cook two rotisserie chickens on the grill, but, it was well worth the time.  Some of my extra prep time was because I always grate my own cheese; and the recipe calls for garlic oil, which I did not have so I had to make that too.  To do that, I used this simple recipe for garlic oil from Ina Garten.  It makes much more than you need for this mac and cheese, but since I know you will be making King Arthur's Garlic-Herb Mac and Cheese again, having extra will save you a step next time!
Any type of smallish shaped pasta can be used in making this Garlic-herb Mac and Cheese.  It's funny to me how the shape of the pasta can elevate the dish from looking like child's food to a grown-up side.  Small shells are a favorite at my house because the cheesy goodness works its way into the center of the pasta, but this time I used a 12 oz. bag of orecchiette, ear-shaped pasta.  They acted like little cheese scoops  I should note that the recipe calls for 8 ounces of pasta.  The ratio of cheese to pasta was just fine despite having used four ounces more pasta than called for.
The pasta is cooked to al dente, drained, rinsed with cold water and set aside.
The cheese sauce begins as a basic béchamel, but it has no additional fat (butter).  The base is 2 3/4 cups of milk and 1/4 cup of flour.  I have to confess here that I used two cups of whole milk and 3/4 cups of heavy cream because I only had a pint of milk on hand.  Thus, I had a little extra fat in mine. 🙂  The recipe calls for you to add 1/2 cup of King Arthur Flour's Vermont Country Cheese Powder to the white sauce as it thickens.  I did not have any so I used an equal amount of grated Parmesan, but waited to add it at the same time as the grated cheddar, salt, pepper, and ground mustard powder, which are stirred in after the white sauce has thickened and been removed from the heat.
Once all of the cheese has melted into the sauce, the pasta is stirred in.  The Mac and Cheese is then poured into baking dishes.  It can be baked in a small casserole dish or individual ramekins.  By using the 12 ounce bag of pasta, I made eight 3/4 cup ramekin servings.
It is the topping that kicks this mac and cheese recipe up a notch! The topping consists of panko, butter, the garlic oil, and King Arthur Flour Pizza Seasoning (or rosemary and thyme).  The butter and oil are melted together.  The panko and seasoning is then stirred in.  A generous layer of this crispy topping is then spread on top of the macaroni and cheese and the dishes a placed in the oven to bake for 25-35 minutes.
When they come out of the oven you have piping hot creamy cheesy goodness.  This recipe is most certainly worth the time.  It will also serve as a great base for trying your hand at some of your own sideside dishgourmet mac and cheese combinations.  I often add spinach to mine, tossing the fresh spinach in with the pasta in its last two minutes of cooking.  Kielbasa is a favorite meat add-in here.  Be creative!  Make it your own!  Experiment with different cheeses.
If you create a combination that you'd like to share, we'd love to post it here!
Say cheese!  And, enjoy your weekend.