Tags
apples, autumn, baking, blueberries, cinnamon, comfort food, dessert, easy, fall, King Arthur Flour, lemon, pastry, pie, pie crust, snack, streusel
from Kris B.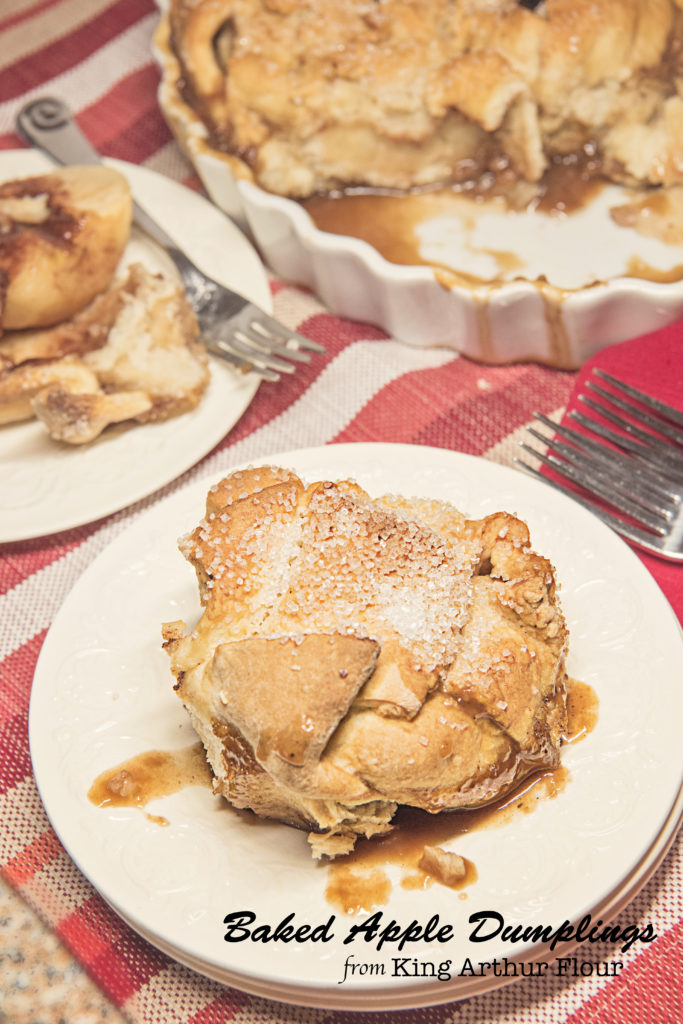 It's funny how seemingly random choices and decisions made really are not random at all.  Again, Tracey and I create the baking schedule for these posts several months in advance.  Back in July when I slotted in Baked Apple Dumplings this week, I'm fairly sure that what was on my mind was that fall is apple season and I should make something with apples.  Now that it is October and time to make the apple dumplings, my thoughts around them are completely different.
It is hard for me to believe that I am approaching the third anniversary of my dad's death, October 17, 2014.  And, he actually passed away on a Friday making this whole scenario even more poignant for me.  My dad loved anything apple.  He ate a fresh apple almost every afternoon, sometimes with a little cheese, as a snack.  In fact, the knife that he used to slice his daily apples was still sitting on the side table next to his chair after he was gone.  As a treat, he wanted apple pie or apple dumplings.  He had discovered some kind of frozen apple dumplings that he was ordering from Omaha Steaks, or someplace similar.  That way he didn't have a whole pie sitting around; he baked one dumpling at a time.  It was a gift to me to have the opportunity to bake for him on my visits during his last few months.
So this week as I am making Baked Apple Dumplings, my dad is on my mind.  I wish that he was here to share some of these Baked Apple Dumplings with me.
There are three basic steps to making King Arthur Flour's Baked Apple Dumplings – the dough, the syrup, and the filling.  All are easy and can be done concurrently,    The dough is made first and put in the freezer  While it chills, the syrup is made and let to simmer for ten minutes.  While it's doing that, the apples are peeled, sliced, and cored. The apples are sliced around their "waistline; not in the direction that you think of when slicing pieces.  I used a melon "baller" to then scoop out the seeds in the center.  This leaves a nice well for the filling.  The apples are then coated with lemon juice to prevent browning.  The cinnamon filling is also mixed while the syrup simmers.  By the time you are finished, all of the ingredients are ready to be assembled.
The dough was divided in half when put in the freezer.  When you are ready to assemble the dumplings, remove half of the dough and roll it into a 12 inch by 12 inch square.  Cut the square into four equal parts.  Place an apple half in the center of the square and fill its center with a tablespoon of the cinnamon mixture.  The sides of the dough are then moistened to hold the edges together when they are folded up around the apple.  The ends of the dough are tucked into the center of the apple.  This process is repeated with all of the remaining dough.  The recipe makes eight servings.
I did have a little difficulty rolling the cold dough because it kept cracking.  Perhaps it was a little too dry either from not using enough milk when I mixed it.  The recipe calls for 3/4 to a cup, directing that you begin with the lesser amount adding a little at a time until the dough comes together.  I probably added two tablespoons beyond the initial 3/4 cup.  It's also possible that I had too much flour on my board when I started rolling out the dough.  As I worked the dough and it warmed, working with it became much easier.
The apple dumplings are placed in a greased baking dish, the syrup is poured over them, they are topped with sparkling sugar, and then baked for 45-50 minutes.  I did place my baking dish on a cookie sheet because I had this feeling that the syrup might bubble over and end up all over the bottom of my oven.  We all know that burnt sugar has a terrible smell and is the absolute worst thing to have to clean out of an oven.  I'm glad that I did this.  Now all I have to clean is a baking sheet, not the entire oven!
My family was pretty much standing in the kitchen with their forks ready to try the dumplings when they came out of the oven.  No one was disappointed!  They are delicious!  And, in the big scheme of things, relatively easy to make.  Many people serve Baked Apple Dumplings with a side of ice cream.  We are not big ice cream eaters, so we ate them plain and they stand on their own just fine.  And no one really needs ice cream for breakfast.  Oops!  Did I just say that?  Confession time.  We had the Baked Apple Dumplings for breakfast the next day.  They are breakfast food.  The dough is kind of like biscuits.  Fruit goes with any meal.  And the syrup is the repurposed brown sugar that you put on your oatmeal!  Think of it is  kind of a grown-up Pop-Tart and voila!  Baked Apple Dumplings are the perfect breakfast food. 🙂  If this line of thinking doesn't work for you, serve them as dessert with a scoop of vanilla ice cream.  Either way, this recipe will not disappoint!
from Tracey G.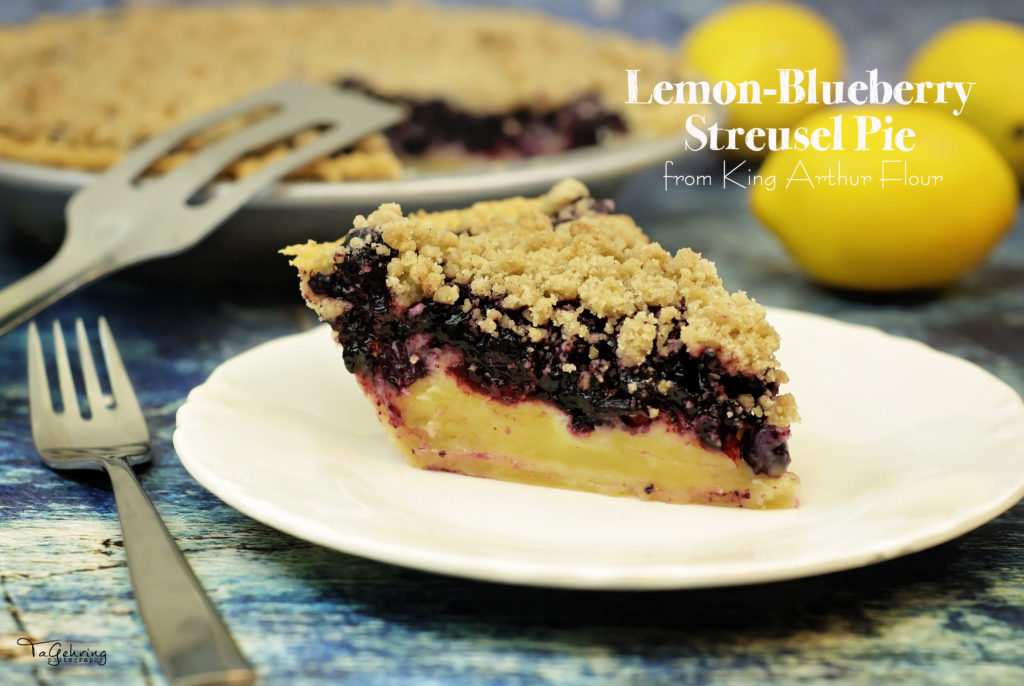 This time of year always turns me toward thoughts of my mom, she'll have been gone  for 5 years now on November 1st. Hard to fathom it's been that long! Time flies for sure, and I've noticed how life events become ways of marking time, like a calendar of sorts – sometimes it's measured by how old Harry is or was at the time of whatever I'm trying to remember, and sometimes it's marked by how long Mom's been gone. It's funny how that seems to happen.
But, anyway, with thoughts of Mom on my mind, when I chose this recipe from King Arthur Flour for Lemon-Blueberry Streusel Pie, it didn't dawn on me immediately that this pie is actually a combination of my favorite pie – blueberry, and Mom's favorite – lemon meringue, minus the meringue. It was when Kris and I were talking about what recipes we were making, and the recipe she had chosen brought along thoughts of her Dad, that I then mentioned that for me the anniversary of my Mom's passing was coming up as well, that it dawned on me she'd would've loved this pie! It's part of her all-time favorite, the lemon part! She loved any and all things lemon, and I must admit she did pass that love the lemon on to me too!
When I discovered this recipe, I was intrigued when I read it. A lemon pie layered by a blueberry pie – then topped off with a streusel topping. Sounded good to me and different, so it became my recipe for this week. It was very easy to do, it just has a couple steps along the way that might make it seem that it's bit difficult. I am here to say that it is NOT difficult at all! There are three parts: the lemon filling, the blueberry filling and the streusel. Each have their own methods, and are very easy. It doesn't have a recipe for a crust, but I used their recipe for Classic Single Pie Crust, and it was perfect for it, even though my pastry was less than perfect! I apparently didn't add quite enough liquid so it ended up a bit dry and falling apart as I tried to get it rolled out and in the pie pan, lol. Oh well, the patches didn't show once it was filled and it still tasted yummy!
So once you have your pie pastry sorted out and partially baked, you start on the lemon filling. It's a combination of butter, lemon juice, small amount of cornmeal, cornstarch, salt, sugar and eggs. Once it's mixed up, pour into your prepared crust and bake for about 20-25 minutes on the bottom rack of the oven. It will still be a bit wobbly when you pull it out, but as it sits and cools it is still cooking and doing it's thing.
The recipes moves on, once the lemon layer is out of the oven, to making the streusel topping. The topping is a simple combination of flour, melted butter, sugar, vanilla, cinnamon and salt tossed together to form irregular crumbs.
Next up is the blueberry filling. Here you have you an option to use either fresh berries or frozen. I used frozen as that's what I had on hand. You combine the frozen berries with sugar, a bit of salt and thickener. Now, if you use fresh berries you're to toss the berries, still wet from washing with the other ingredients. They specify for them to be wet still, or if using frozen, you toss the frozen berries with the other ingredients and allow to thaw, stirring occasionally to mix it all properly.
When the lemon filling is almost done (cooled) you start cooking your berries just until they're bubbly then spoon them gently over the fairly cool lemon filling layer. Top the whole off with the streusel topping crumbs and bake for another 15-20 minutes or until the topping is lightly browned. When it's reached that stage, remove to a rack to cool completely then it gets refrigerated to set. It doesn't specify how long to "chill to allow the pie to set", but I imagine until it's completely chilled. I let mine sit overnight due to the fact I wouldn't have time to get it's photo the day I made it.
As for how it tastes, this is by far one of the best things I have ever eaten. It's such a simple combination of lemon and blueberries, but it's a fabulous taste creation with the two. I know my mom would have loved this pie as much as I do! I have decided it's going to be my go-to pie/dessert thing. It's also beautiful when cut for serving, the colors are lovely – but the taste is even lovelier! I can't describe how wonderfully they all go together, the streusel topping was the wild-card for me –  I knew I'd love the lemon/blueberry combination, but was really unsure if I'd like streusel with the whole thing. I would like to say that I wouldn't like it any other way – it's just too perfect as it is. This kind of reminds me of a pie you might find at an obscure diner, thought up by some creative cook needing a dessert. I am so glad I ran across it, and every time I eat a piece, I think of Mom, and really wish she were here to enjoy it with me because I know she would, and I have a feeling she'd ask me to make it often!