from Kris B.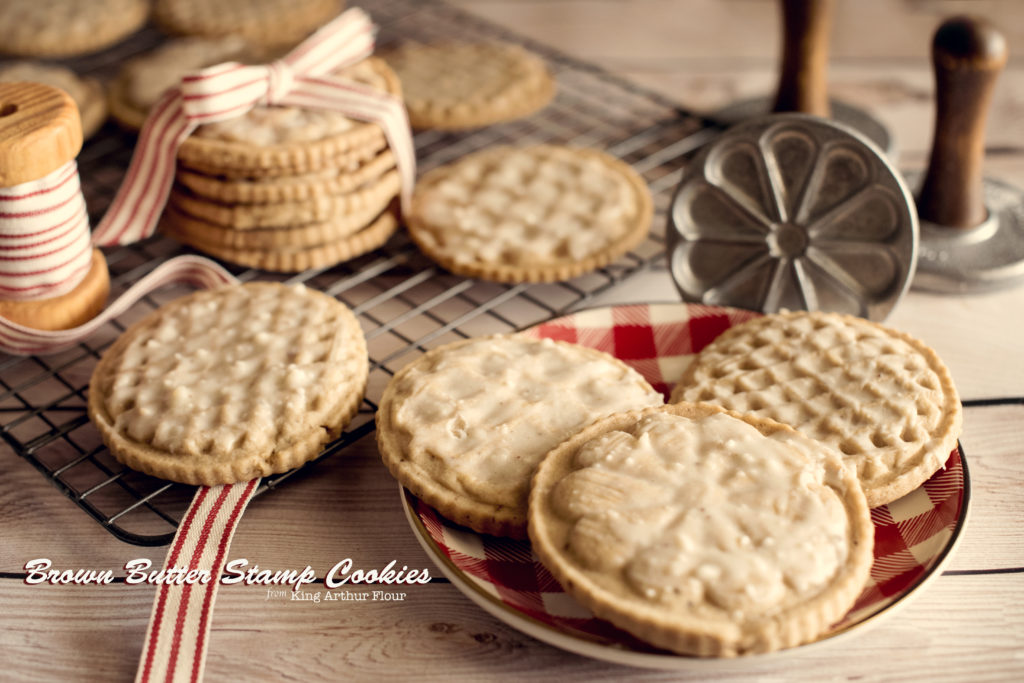 I'm beginning to think that Santa has a pretty good deal getting all those cookies while he is out delivering  toys all night!  I am loving trying new cookie recipes this month, though I do wonder, if Santa delivers to the houses with the biggest chimneys last.  I know after three weeks of baking and eating cookies taste-testing cookie recipes, some of the smaller chimneys might prove problematic for me right now!
First of all, here are a few important things that I need to tell you about this week's recipe:
Brown butter is the best secret ingredient in baked goods.
People who make stamped cookies are people who like pretty cookies but are terrible at piping and working with flow icing.
The above are the reasons that I was drawn to trying King Arthur Flour's recipe for Brown Butter Stamp Cookies this week.
Making this recipe does require a little bit of forethought.  You must make the brown butter and let it chill for two hours before making the cookie dough.  And, the recipe calls for whole wheat pastry flour, an ingredient that proved difficult to find locally and I didn't allow myself enough time to order it directly from King Arthur Flour.   Though I try to make a recipe exactly as written the first time I make it, that was not possible this time.  Rather than the directed mixture of the whole wheat pastry flour and all-purpose flour, I used all-purpose for the total flour amount.  I suspect that this made for a more dense cookie.  Whatever the impact, the cookies are delicious as I made them.  I am going to order the whole wheat pastry flour and try this recipe again.  It's a learning experience! 🙂
Once the brown butter is made, the cookie dough goes together like any other cookie dough.  The flour(s), salt, and baking soda are whisked together and set aside.  In a mixer bowl, the butter is creamed.  Then the sugars, egg and flavoring (either Vanilla-butternut flavor or vanilla extract).  The flour mixture is then added and mixed until it is fully incorporated.  The dough is then divided in half, flattened into two disks, and chilled for at least an hour.
To make the cookies, working with one disk at a time, roll the dough on a lightly floured board.  The instructions say to roll to 1/8 to 1/4 inch thickness.  I had more success with the thicker dough.  It was easier to handle and held the stamped image better after baking.  Once rolled, use a round 2 3/4″ cutter to make the individual cookies.  Transfer them to a parchment lined baking pan.  The King Arthur Cookie Stamps fit perfectly on the cookies.  Dip them in flour, shaking off the excess.  Center the stamp on the cookie and press down firmly and evenly.  Carefully lift the stamp from the cookie.  I first tried to use the King Arthur Flour Starry Night Cookie Stamps, but that was not very successful.  Their designs are not as deep as the patterned Cookie Stamps so as the cookies baked, the imprint disappeared with even the minimal rise of these cookies.  My lack of success with these particular stamps may also be because I rolled my dough to thinly with the first few cookies that I made.  Since I have to make these cookies again so that I can try them with the whole wheat pastry flour, I may also try the Starry Night Stamps again.  They will make beautiful Christmas eve cookies.
The cookies bake for 14-16 minutes, until they are lightly browned.  Once cooled, they are brushed with a simple glaze consisting of confectioners sugar, milk, vanilla, and a reserved TBS of the browned butter.  This is brushed onto the cookies and allowed to set.  I think that my glaze may have been a tad too thick – something else to keep in mind next time.
Despite all of the things that I am hoping to do differently/better the next time I make them, these cookies are a big hit at my house.  The recipe makes two dozen almost 3″ in diameter cookies.  These cookies are an excellent addition to your holiday cookie gift boxes or as a  of your family's celebration.
From Tracey G.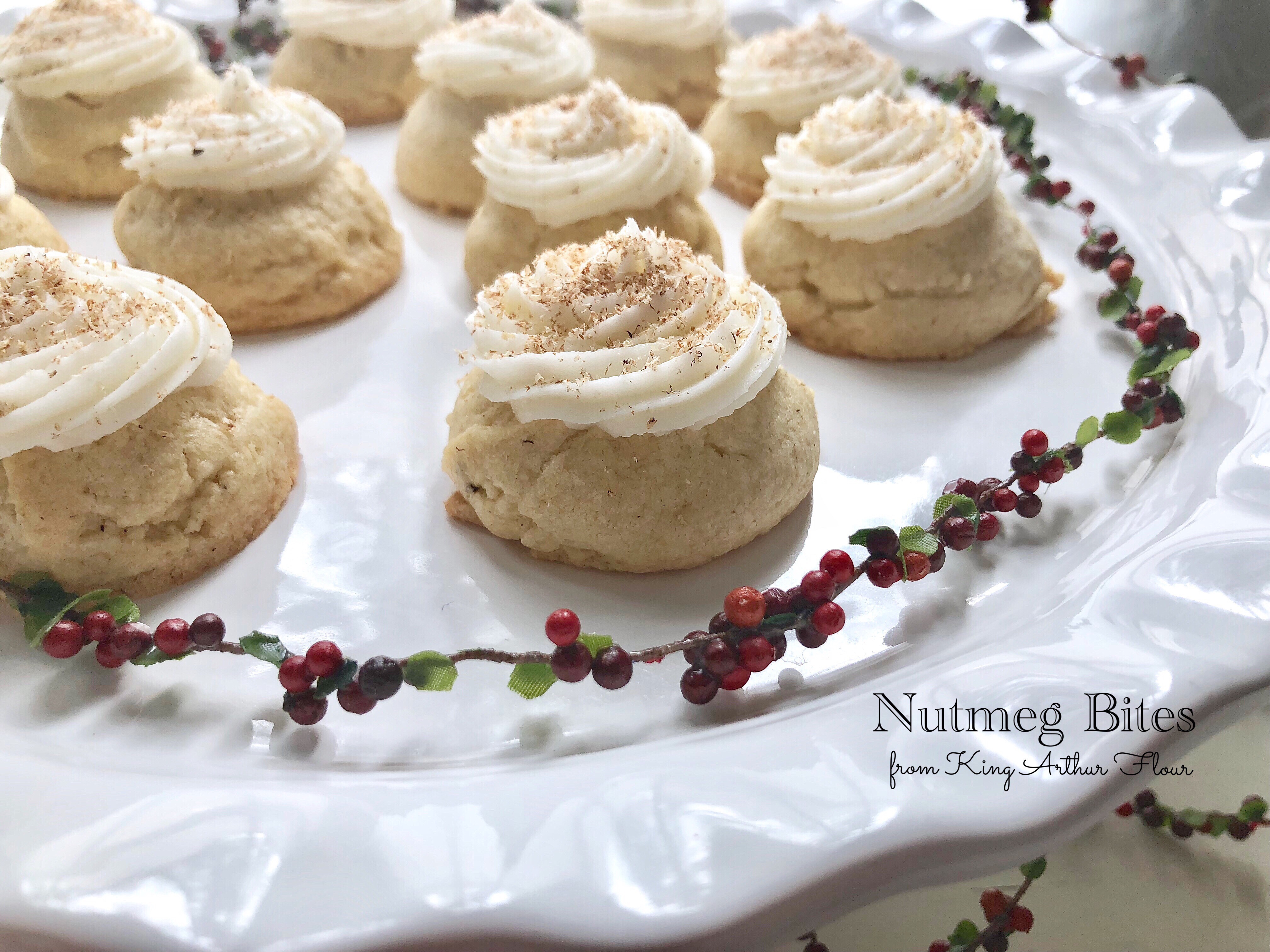 I'm in total agreement with Kris as I too am loving this month of cookies!! They're not only tasty little bites of goodness, but they can be fun and easy to make!
I found this recipe for Nutmeg Bites From King Arthur Flour, right off the bat when looking for an easy, get-it-done-for-the-holidays kind of treat. One that would be good to serve guests, put on your cookie tray for a swap or party, or to give as a gift.
If you love nutmeg and/or egg nog as I do, you'll love these cookies! The very simple dough consists of: butter, sugar, flour, an egg and vanilla – and of course, nutmeg. The ingredients for the dough are unceremoniously all added to the bowl and mixed up. It's a rather dry dough that might seem like it won't come together, but it does. And if yours just isn't behaving, you can add a little milk to help it become cohesive.
The dough is dropped by tablespoonfuls onto a parchment lined cookie/baking sheet and baked for 10-12 minutes at 350 F. They do say a heaping teaspoon-sized cookie scoop works well here, but my scoop is about a tablespoon, and made my cookies a wee bit larger, lol, which of course altered my bake time and do forth. But that doesn't affect the yummy taste at all, just more to enjoy!
So, as if they aren't tasty enough, you now top them with a buttercream that you make from powdered sugar, butter and rum. You add enough rum to make a smooth and spreadable frosting. I didn't want to use alcohol, so I went with the suggestion they give, to use a bit of cream (or I'm sure milk would work too!) and rum flavoring, so that's what I did. I then sprinkled more nutmeg on top as garnish and as an extra bit of nutmeg oomph, lol. 🙂 You can either spread frosting on as they direct or my way – and pipe it on. For me, piping it on is faster than spreading frosting on for me, so that's the way I chose to go. 😉
I absolutely fell in love with these cookies and they are another recipe to add to my book, as they're as easy as can be and taste wonderful as well.
Happy Holidays!!!