Tags
baking, breakfast, Chocolate, easy, gluten free, gluten free baking, gluten free muffins, King Arthur Flour, King Arthur Flour baking mix, King Arthur Flour Gluten Free baking mix, King Arthur Flour Gluten Free Muffin Mix, muffins, pancakes
from Tracey G.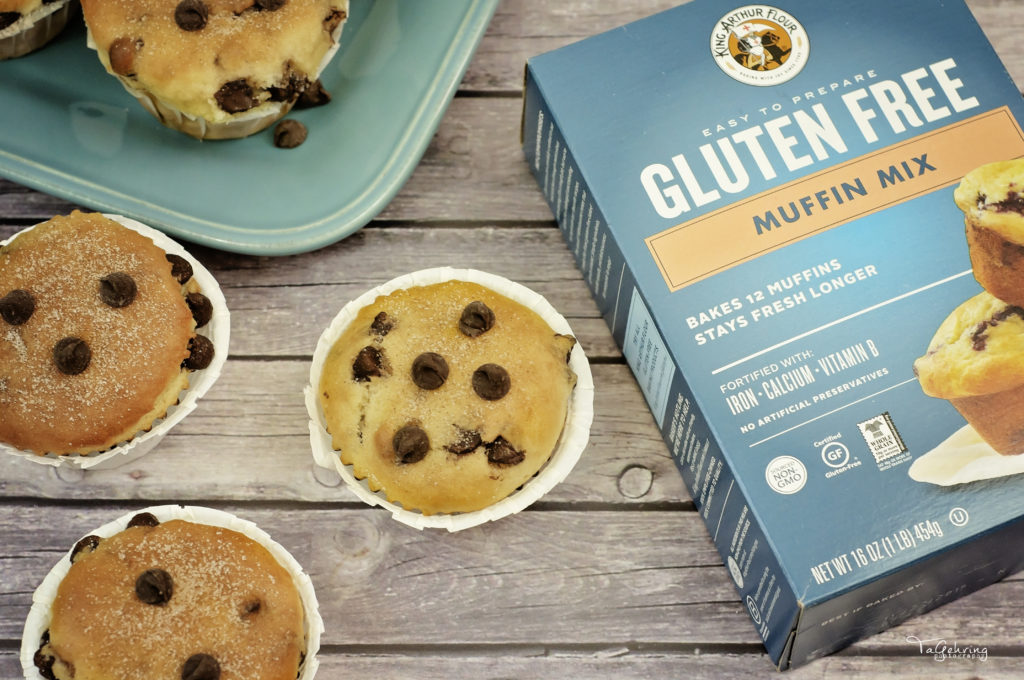 This week I opted to try a gluten-free mix. I like to try the gluten-free mixes whenever I can, because I think if I don't have to eat them for my health, but want to eat them because they taste good, then it's a win. And that's how it is with this particular mix from King Arthur Flour. It's in their line of gluten-free mixes, and it's a muffin mix. Meet King Arthur Flour's Gluten Free Muffin Mix.
It's a basic, plain mix that you can customize any way you like. I make fruit muffins all the time, and wanted to go a bit different with this, so I made chocolate chip. That said, chocolate chip muffins are not my first choice for muffins, but I thought Harry might enjoy the change-up. Well, let me say I LOVED these things!
Very simple to make, you use either butter or oil – I used oil due to trying to cut as much cholesterol as I can these days, especially in places where the butter flavor really won't be missed, etc. I did use the 3 eggs the directions call for, 1 cup of milk and then you have your add-ins, which shouldn't be more than 1 1/4 cups. That's it. It all comes together easily, and bakes up lovely.
This is easily one of the best muffin mixes I've ever tried, gluten-free or not. The end result tasted like something I'd buy from a store, and I don't mean that in a cheap-tasteless way, lol. I mean that in the way of those big beautiful muffins or baked goods treats you just know are yummy, but not figure friendly, but an excellent treat just the same. And these are it. They stayed fresh for a great amount of time, made nicely sized muffins and there wasn't one left. Over the course of a couple of days, they disappeared fast.
Whether you need to eat gluten-free or not, do give this Gluten Free Muffin Mix from King Arthur Flour a try, you won't be disappointed.
from Kris B.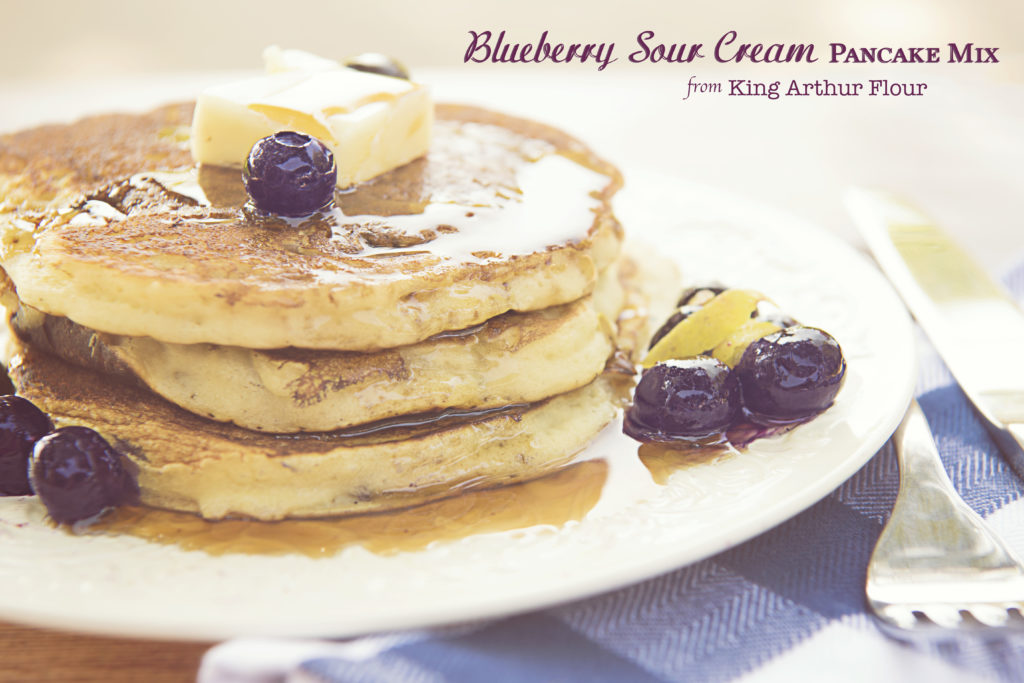 Only I could be led down a rabbit hole, or two, by a boxed pancake mix!  This week I made King Arthur Flour's Blueberry Sour Cream Pancakes from their line of boxed mixes.  For most people, pancakes from a box should be a no-brainer.  This mix calls for the addition of 2 eggs, 2 cups of milk, and six tablespoons of either butter or vegetable oil to the mix.  For some reason, I got hung up on the either/or between the vegetable oil and the butter.  Which is healthier?  Which makes for a better tasting pancake?
I started by looking at the nutrition labels for both the butter and the canola oil.  Butter has 100 calories per TBS to canola's 120.  But, canola oil has 1g of saturated fat and 0 cholesterol to butter's 7g of saturated fat and 30g of cholesterol in the same one tablespoon.  Butter adds more flavor to a recipe than does the oil.  Canola oil adds more fat to the recipe because it is 100% fat whereas butter contains liquid and is only about 80% fat.  Therefore, using butter in baked goods will often result in a more dense, more dry final product.  When following a recipe that specifies that you use either butter or oil, substitutions can be made taking into consideration the difference in fat content between the two.  For example, a recipe that call for 4 TBS of oil would need almost 5 TBS of butter.  Since the King Arthur Blueberry Sour Cream Pancake Mix called for an equal amount of either, the assumption is that the batter is fairly tolerant and you'll be successful either way.
So what did I do?
I made my pancakes using the canola oil instead of butter.  Why?  The primary reason is that I use almond milk instead cow's milk almost exclusively.  Whole cow's milk has around 8g of fat per cup, almond milk only has 2.5g.  Baked goods need fat so I opted for the oil over the butter to help compensate for the fat that I was not getting in my milk choice.
Once I climbed out of this hole, the making of the pancakes was simple.  Mix all of the ingredients, pour them by 1/4 cup scoop onto the hot griddle and cook until done.  The instructions on the box say to cook the pancakes at a medium-high setting.  I had better success cooking mine on medium.  I don't know if this had to do with my fat and milk choices; I'm not even going to try to figure that out right now!
The King Arthur Flour Blueberry Sour Cream Pancake Mix makes 22 pancakes each made from a 1/4 cup of batter.  And they are delicious…especially with some fresh summer blueberries and a touch of grated lemon peel…and of course, butter (because I didn't use it in the batter) and syrup.
Then came the second rabbit hole…
I wanted to photograph the pancakes with syrup on them and I wanted the syrup to be "pretty" as in cascading over the side of the stacked pancakes.  We all know that syrup   soaks into hot pancakes almost immediately.  I had already figured that I would shoot cold pancakes and cold syrup to try to avoid the soaking in of the syrup before I got the photo I wanted.  On a whim, I decided to do a Google search to see if there were any tricks that might help me to achieve the look that I was after.  I was not prepared for what I found.
First let me say that there is nothing "real" about professional food photography!  The photos may look good, but you would not want to eat what is on the plate.  Just saying…  I did find a trick that addressed the exact issue about which I was concerned…how to keep syrup from soaking into your pancakes.  Easy solution: spray your pancakes with a water-repelling fabric spray.  Seriously?  What a waste of delicious pancakes!!!  There was no way I was going to do that!  Once these pancakes had their picture taken, they were becoming dinner.  Yes dinner.  Breakfast…its what's for dinner many nights at our house.  Did I get the beautifully dripping syrup in my image.  Nope.  Did I eat the pancakes?  Yep!
Most people either really enjoy food photography or they don't like it at all.  The reason that many people are turned off by it is because they say "my photos never look as good as other people's."  That very well may be true; but not because you are not a good photographer, but rather because you are shooting exactly what is in front of you.  Food.  Just food.  No water-repelling spray or glue or cardboard or shoe polish…all the things that professional food photographers use to make the stuff they want us to eat more photogenic.  Remember this too when you are cooking and your rendition of the recipe doesn't look like that in the cookbook!
All that said, I must now say that all of the photos that Tracey and I post here are of food that is 100% edible and most often is consumed shortly after its photo is taken.  Neither one of us is willing to waste food.  And, we are much to honest to spray our pancakes with water-repelling spray or top our pies with mashed potatoes intended to look like unmelted ice cream.  What you see from us is real food that is cooked, photographed, and eaten by real people.
Happy cooking, eating and photographing!