Tags
apples, baking, bread, brown sugar, cake, dessert, easy, gluten free baking, King Arthur Flour, oats, snack, whole wheat flour
from Tracey G.
This cake has become a favorite around here, so I was happy when this week's topic came around to Whole Grain, and I could share this one! You of course can use all-purpose flour, and actually it's listed first in the ingredients. But I go with the "or White Whole Wheat" option, I like knowing I'm sneaking in a bit more nutrition in a super yummy delivery system! And the Old-Fashioned Apple Cake with Brown Sugar Frosting,  from King Arthur Flour, is definitely yummy!! And also, if you're needing to bake gluten free, they recommend replacing the all-purpose/White Whole Wheat flour, with KAF's Gluten-Free Measure-for-Measure Flour!
This cake has a nice texture, thanks to the bits of apple in it, and it's apple pie-esque flavor is thanks to the apple pie spice that's used. Then, it gets topped off with a fantastic brown sugar frosting, that you partially cook to create. And admittedly, even though it calls for  nuts, I make with or without. Depending on my mood and their availability in my kitchen. One of my favorite aspects of this cake is that it's baked in a 9×13″ pan AND served out of the pan too. It doesn't get any easier or any more casual than that!
When you begin putting it together, it's batter is very stiff. But once you add the chopped apples, and start mixing, once they start to add their juice to it, it starts to resemble more of a cookie dough or brownie batter. For me, it depends on how juicy my apples are as what kind of batter I end up with. Spread it in your prepared (greased and floured) pan, and smooth it. They recommend using wet fingers to do so. When it comes out of the oven about 45 minutes later, you put the pan on a rack to cool completely.
To make the Brown Sugar Frosting, you melt the butter in a small saucepan, and add the brown sugar and salt, and cook, while stirring to melt the sugar. Now, the milk gets added and you bring the mixture to a boil. The next step, is adding it to a mixing bowl and letting it cool for about 10 minutes. After the 10 minutes you add the powdered sugar and vanilla, and beat well. At this point you can adjust thickness – if it seems too thin, add more powdered sugar etc. As soon as it's made, spread it on the cake, while it's still warm.
At this point, there's' nothing left to do but serve it up and enjoy! I think I'd be happy to have this cake around all the time, and no one ever makes a peep about it being made with White Whole Wheat flour, there's never any complaints and it goes fast!! If you've got some apples you want to use up and in a fun and tasty way, do give King Arthur Flour's recipe for Old-Fashioned Apple Cake with Brown Sugar Frosting a try, you won't be disappointed!
from Kris B.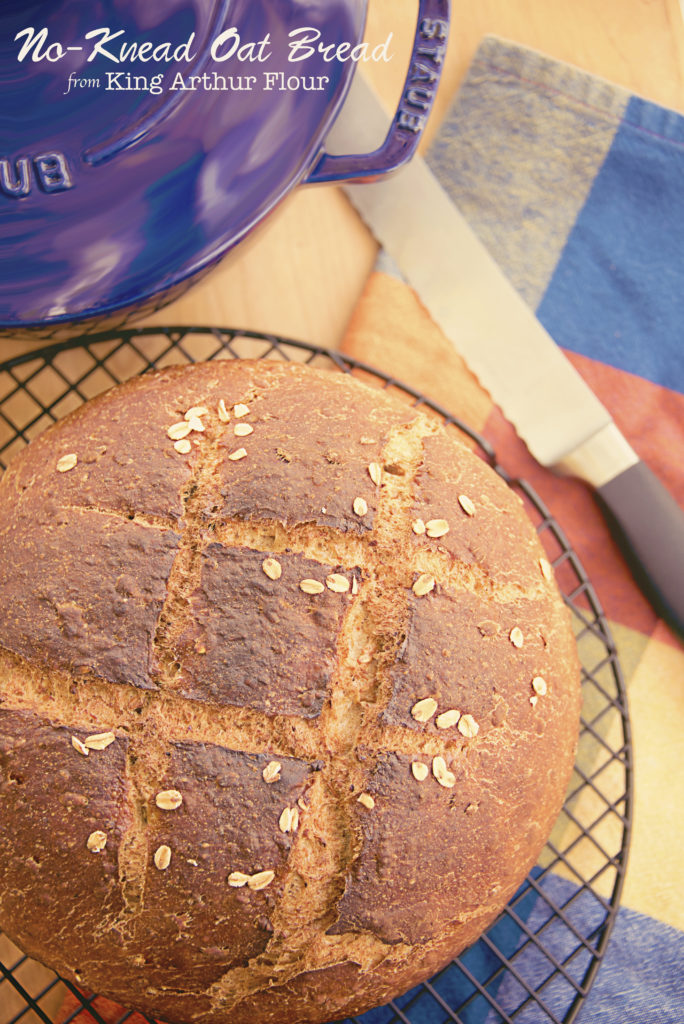 I always tell my students to "read all of the words" when it comes to test taking and studying. This week, I should have heeded my own advice. As Tracey and I were mapping out our schedule for the fall, I was guilty of judging a book by its cover…er, a recipe by its name. As I have said before, I am good for making anything that involves oats, so this week's No-Knead Oat Bread found its way into the recipe schedule no questions asked.
I knew that I was going to be away on a retreat this weekend. One of my "gifts" to the community was to bring a big pot of soup for one of our Saturday meals. Perfect! I'd make the bread to go along with the soup; but, that meant that I'd have to bake the bread the Thursday before writing my Friday post and then be prepared to leave town the next day. I had the time to do that even though it was pushing everything until the eleventh hour. I had a plan.
And then I got home from school at 2 pm on Thursday ready to make bread.
For the first time, I read ALL of the words of the recipe. Right at the top is says:
Plan ahead for this easy bread; an overnight or all-day rise gives a terrific flavor.
Uh oh. As I continued reading, the recipe said that an eight hour rise was sufficient. It was 2 pm. I needed 30 minutes to get the dough made. Now it's 2:30. An eight hour rise brings us to 10:30. OK. That's not too late. Then shaping and another hour rise. 11:40. And then bake for 50-60 minutes. 12:40 am. That's doable. I can watch the couple TV shows from the week that are on the DVR and I can knit. All will be fine. I can take the photos first thing in the morning.
Things went as planned. Whew! And I went to bed with the smell of freshly baked filling the house. The only thing that kept me from wanting to eat the bread right then was that at this point I had been awake for twenty hours and was most certainly ready for bed.
When I awoke and got ready to begin again Friday morning, I realized another minor issue with my plan. I didn't want to slice the bread for the photos because I wanted it as fresh as possible for the weekend's meal. And if I didn't slice the bread, then I couldn't taste test it. I figured I could work around the photo issue, but was it reasonable to write a post about a recipe that I have not personally tasted?
Maybe I can sneak just a little bite. No one will notice, will they?
Ok. This bread is delicious and so easy to make! Oats are always good. Add to that a mixture of all-purpose and whole wheat flour and brown sugar for a subtle hint of sweet and, in my opinion, you get perfection!
All the ingredients are mixed together in an electric mixer bowl. They then sit and think undisturbed for at least eight hours. Then, the dough is shaped and placed in the covered baking pan of your choice. (I used a cast iron Dutch oven.). Let it rise for another hour. To bake, place the bread in a cold oven that is then turned on to 450 degrees. The bread is baked for 45 minutes covered and then another 5-10 uncovered.
I think next time, I will make this at night and bake it's Friday thing in the morning. It will make delicious toast. Have the butter and red plum jelly ready!