Tags
baking, cinnamon, cookies, cream cheese, dessert, easy, gluten free, gluten free option, King Arthur Flour, King Arthur Flour Bakealong Challenge, King Arthur Flour Gluten free, King Arthur Flour Gluten Free Flour, King Arthur Flour Measure for Measure Flour, pastry, raisins, snack
from Kris B.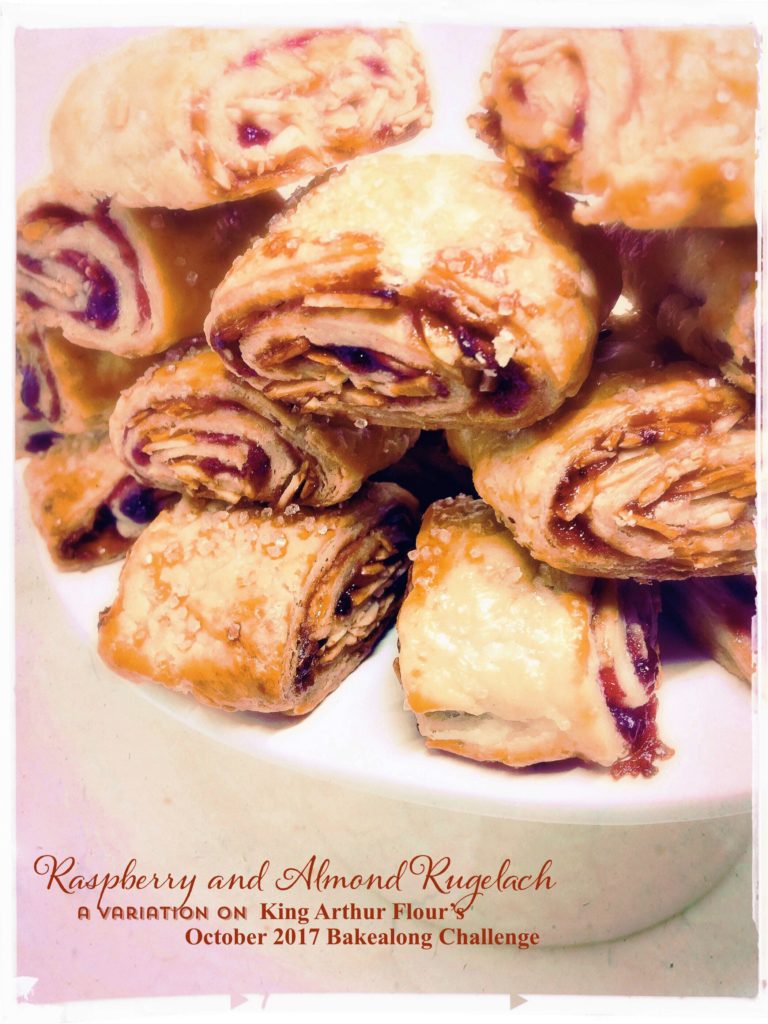 Several weeks ago, I wrote about being a rule follower.  Apparently this week I am embracing my rebellious side.  Not only did I not follow the recipe as written, I also took this week's photo with my phone camera.  Just so you know, Tracey and I together made a conscious decision to work outside our usual parameters with this week's images.  We had a conversation about both feeling like our food photos were becoming more and more uninspired and boring.  We came to the realization that perhaps that's what happens when you have taken as many food photos as we have.  How many creative ways are there to photograph cookies or a loaf of bread or a piece of pie?  And on the King Arthur Flour Bakealong weeks, there is an extra challenge in that we attempt to each photograph the week's offering differently.  So this week, in an effort to spice things up a little, we agreed that we'd shoot our recipe photos and edit them using only our phones.  I think this may have been a subversive plot of sorts.  Tracey got the new iPhone and was just looking for a good excuse to try out all of the new camera options. 🙂
My photo was taken with the phone's resident camera and then I edited using Hipstamatic and Rhonna Designs.  In some ways, editing the food shots with my phone proved more difficult than I thought it would be.  I was hoping that I could "snap and app" and call it done.  Many of the phone filters tend to over-process images.  That is the last thing you want with a food photo.  Food needs to look real, edible, and delicious when you are finished!  Hopefully I came close to that with my edits because the truth is that I was not at all happy with my photos when I was taking them.  I think that may have been a result of my overall feeling that I lacked any semblance of serious creativity at the time.
When it came to actually making the Rugelach, I followed the dough recipe as written, but opted to use a raspberry and almond filling that consisted of 1/2-3/4 of a cup of seedless raspberry jam and a cup of sliced almonds.  Also, rather than making the three disks of dough and slicing them into twelve wedges each to make individual pieces, I rolled the dough into four 12×8 rectangles, spread the filling on top of each one, rolled the rugelach jellyroll style (rolling the long side), and then sliced each rolled rectangle into nine equal pieces. The slices are roughly 1 1/3 inches each.
This rich pastry, especially with the raspberry and almond filling, is a favorite at my house.  It is a good thing that I finally decided that I could use one of my original photos because the Rugelach was disappearing quickly.  I am learning to figure out more quickly the look I want for my photos because I often have hungry people breathing down my back ready to be the taste-testers for the week's recipe!
With the holidays fast approaching, this is a perfect recipe for the office brunch or lunch, your holiday party, or gift giving.  Visit the King Arthur Flour recipe site for even more filling options for your Rugelach.
Happy Baking!
from Tracey G.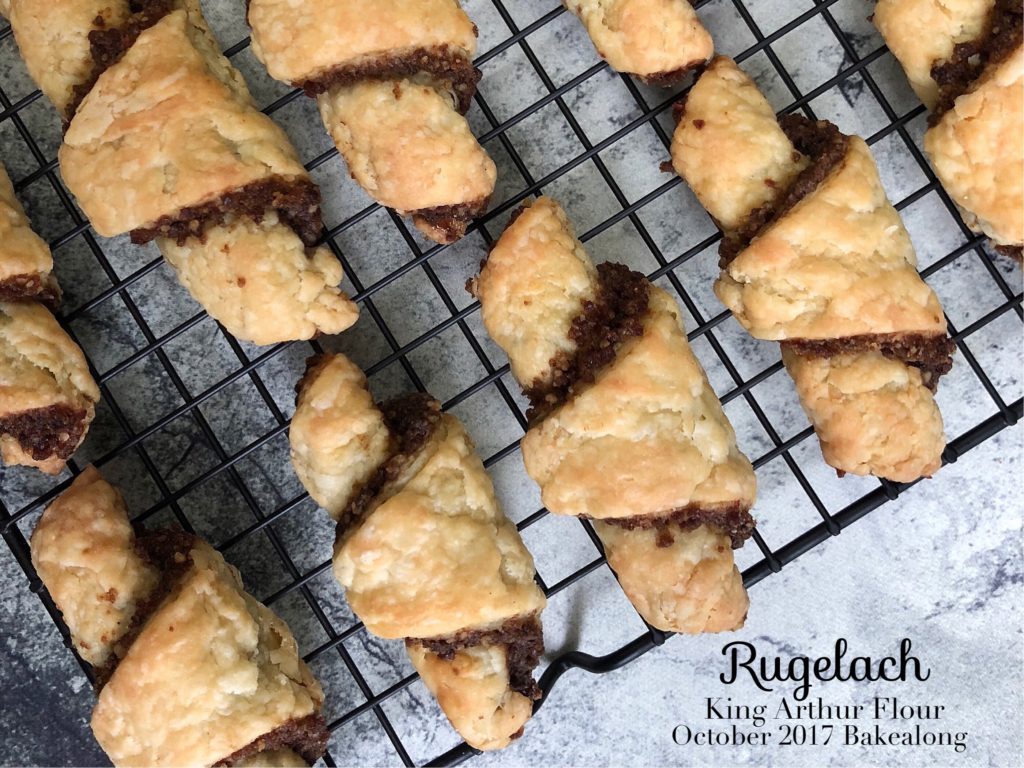 Last year for Christmas, I was looking for a fast, filled-cookie, that was like these fig things I used to make. The fig cookies were a bit of work, and for some reason figs became hard to find in the grocery. So I was on the hunt for something reminiscent of that, but with easily-obtainable ingredients and time-saving. I found the Rugelach on the King Arthur Flour website. The raisin filling with the seasoning etc, was a lot like the fig cookie! And since that flavor/style cookie is a favorite in the family, I decided to try it. I should say right now – I do not like raisins, lol. Oh, they're ok on their own occasionally or in Raisin Bran cereal but that's as far as it goes for me, do not bake them in cookies etc! No! But then I tried this recipe, and the raisins in combination with the nuts, cinnamon and brown sugar is a wonderful thing. I was um, actually "quality" taste-testing it with a spoon, which is definitely something for this anti-raisin person!
Needless to say, I was super duper excited to see the Rugelach recipe as the October Bakealong! It's yummy and crazy easy. Once you get "rolling" on it (yes, pun intended!) you can crank them out fairly quickly. One thing I noticed though, is that they've updated the recipe since I printed mine out last December. They've included optional dried fruits to use instead of just raisins. I followed my old print-out, so I was chuckling when I thought I was being clever with my dried cranberries in one batch as they are now included in the dried fruit options. Oh well, at least I'm glad to see I'm on the same page with them and the recipe! There was another difference, the original recipe called for cutting the circle of dough into 8 triangles, and now it's been changed to 12. I did 8, makes a great size for going with a cup of coffee! But next time, I will try 12 for some smaller sized fun, and probably make some in  the style Kris went with as well!
The dough combination of flour, butter, cream cheese, sour cream and a bit of salt is one of the easiest pastry doughs I've ever worked with. After making it, you divide it into 3 pieces, shape into disks and refrigerate for bit. While my dough was in the fridge, I whipped up the filling in my little 3 cup food processor. Once your dough is chilled, you roll it out one piece at time, into a 10-inch circle. Brush the dough with water (or in the updated version they recommend trying Boiled Cider or a warmed jelly or fruit preserve if you like), then sprinkle on 1/3 of the filling, lightly pressing down. Cut the circle into 12 or 8 wedges, and roll up from the wide end, then place them on a parchment lined baking sheet for easier clean up. If you like you can now brush them with milk (or cream) and sprinkle with Coarse Sparkling Sugar, I didn't because for one thing, it wasn't in my version of the recipe (it is now included in the updated version) and for another thing – no one but me around here likes the crunchy sugar! Bake 25-30 minutes or until golden brown. Serve warm or cooled – either way they are wonderful and will disappear quickly! I am so glad I made a double batch, at least I had them for a day or two, lol!!
This is a recipe that I am so glad I'd found last year, it's one that has found a permanent home in my bag of Holiday baking tricks, lol. Everyone loves it – and I am definitely going to experiment with other fillings and even the suggestions of savory fillings that KAF shared as jumping off points in the their blog post Baking Savory Rugelach. You do have to give these a try – shaping is easy either way you go, the way Kris did hers or the way I did mine, you can't go wrong!
And if you're baking gluten-free: They recommend using their Gluten Free Measure-for-Measure Flour!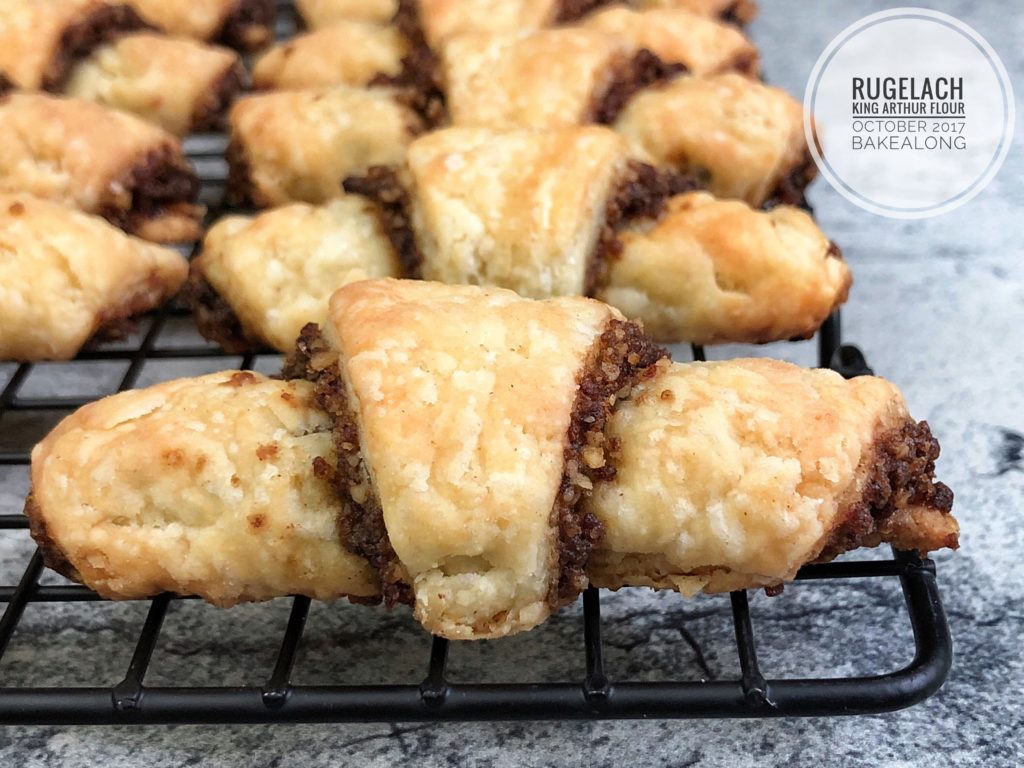 P.S. Yep, I'll admit it – part of using the phone for photos was wanting to put it through its photo capabilities trials! And the other part was just to switch it up as Kris said – needed to try a different avenue! For my photos, I went with my native camera and my Snapseed app for tweaking the brightness/sharpness. Then I added the text for the one in my Rhonna Designs app, and the the close-up shot I added the text and graphic while I was still in Snapseed! 😉