Tags
apple, apple pear pie, baking, dessert, double crust pie, easy, ham, King Arthur Flour, pastry, pear, pie, quiche, savory, spinach
from Tracey G.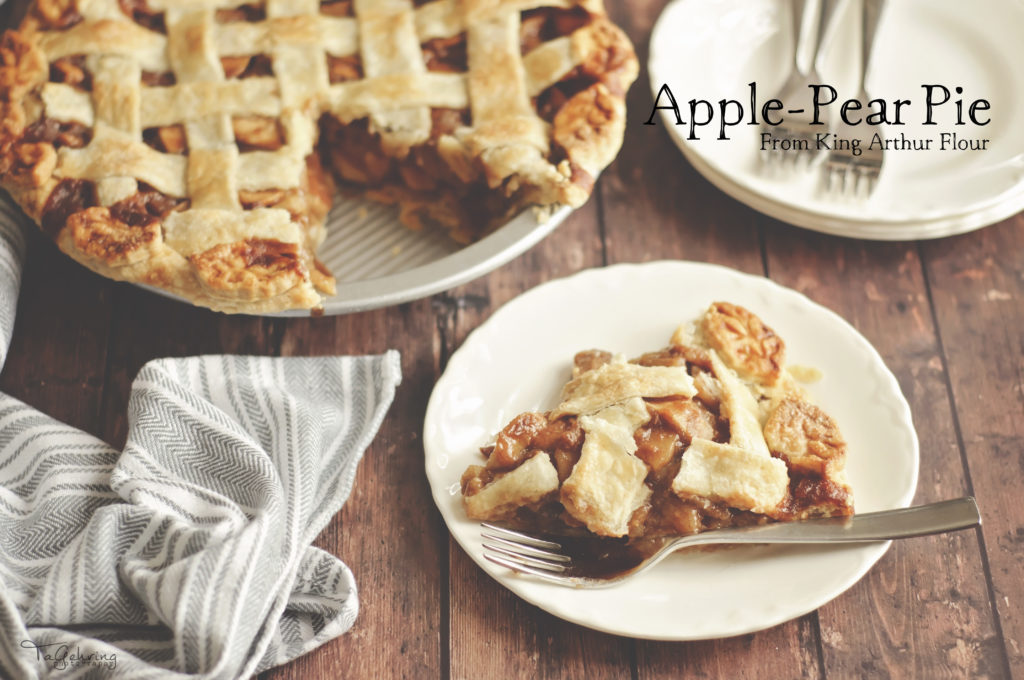 I love apples. I love pears. It's a toss-up for me as which I like better, and I honestly don't think I could choose!! I saw this recipe for Apple-Pear Pie from King Arthur Flour and, unfiltered first thought was "why didn't I ever think of that combination?"! I don't even think I got any further in my recipe search for this week's Pies, Tarts & Turnovers category! I saw this one and it was an immediate "this one!!" sentiment.
It's a really easy recipe – nothing fancy, just a straight-forward fruit pie. You have your choice as to what double crust pie pastry recipe you use, if you have a favorite use that. If you don't here's the one I used with great success, it's KAF's Classic Double Pie Crust recipe, and it hasn't failed me yet. I've used it whenever I need a pie pastry recipe, as it's easy and it's always been a joy to work with. I've made it with all-purpose flour and with KAF's Pastry Flour Blend and it's worked beautifully with either.
The longest and most "work/effort" of this recipe is the readying of the pears and apples! I did it all by hand instead of getting out the peeler-corer-slicer thingy, and it did take a bit of time to do.
Your apples and pears are then tossed with the dry mixture of seasonings, sugar and thickener. The dry mixture is a combination of cinnamon (I didn't have the Madagascar Cinnamon they call for, but used instead the Vietnamese Cinnamon I have on hand), ginger, sugar, salt and Instant ClearJel. I did look up on their Pie Thickener Chart that in the case of apples, and it looks like cornstarch can be use measure for measure in substitution of the Instant ClearJel if you don't have it. I used the Instant ClearJel, so I can't say if I had good luck with anything else for this particular recipe.
After the fruit has been tossed with this mixture, you add lemon juice and vanilla to the bowl, mixing them in well. In a saucepan, you melt 4 tbsp butter and add the fruit filling mixture to the pan to cook for about 10-20 minutes until the apples and pears start to soften and their juices start to thicken up. This then gets cooled completely.
Once it's cooled, into your prepared pie pan it goes, placing the top crust however you desire (I did a lattice-style top crust), brushing with milk and sprinkling with Coarse White Sparkling Sugar OR, regular granulated sugar like I did, because the boys don't care for the crunch of the big sugar crystals. Once you have that done – it's into the freezer with the unbaked pie! I've never frozen a pie partially before baking it, but as the saying goes, there's a first time for everything! You pop it into the freezer for 15-30 min until firm. Now, after this bit of freezing time, it gets baked. The temperature starts off at 425° F for the first 15 minutes, then it's turned down to 375° F for an additional 50-60 minutes. All that's left is to allow it cool completely before serving – then eat!
I absolutely loved this pie – not only is it two of my favorite fruits, but the combination of ginger, cinnamon and vanilla are wonderful. I'm pleased to have this Apple-Pear Pie recipe to add to my pie recipe collection – it was a great combination of flavors all the way around. Only thing that would maybe make it better – eating it warmed up with vanilla ice cream!
from Kris B.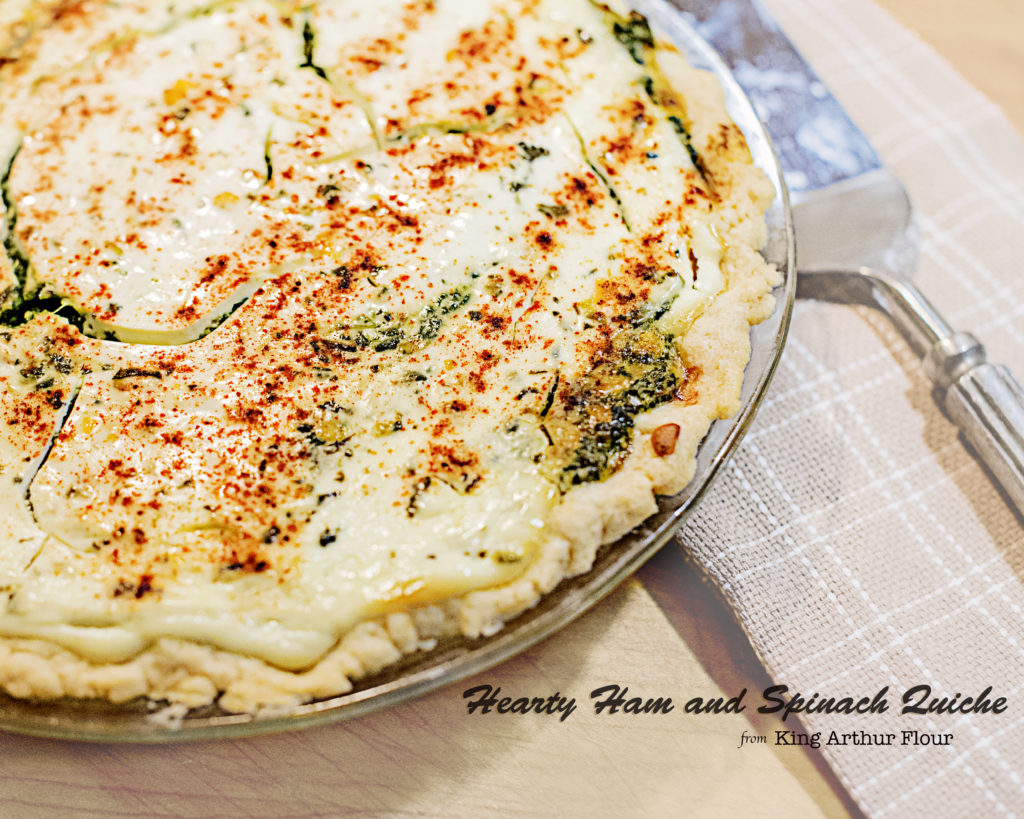 Food processor blade – 1: Me – 0.
I chose this week's offering of Hearty Ham and Spinach Quiche because I was short on time this week and needed my recipe to serve as both a meal for my familyand a subject for my post. Also, I was intrigued by this pie's crust because it requires no rolling!!!
Little did I know that the most difficult part of the recipe, at least for me, would be washing the food processor blade before I even started baking.  My daughter had used it the night before, so the blade was is the dishwasher dirty. I pulled it out of the dishwasher without incident, but I was not so lucky once I got it the sink and added soap. Yep. It slipped and sliced the top of my finger. Upon hearing my explicative that rang out from the kitchen, Weber's first words were, "Does it need stitches?" Sharp instruments and I have a dicey reputation in the kitchen. (Pun intended.). I am happy to report that I did not need stitches, only multiple layers of pressure wrap were necessary.
My daughter was kind enough to finish washing the blade. 🙂
Once I got my finger wrapped and found some food service gloves, I continued on with the making my pie. From this point on, it was smooth sailing. No choppy seas! Lol!
As I said, the crust for this pie is made completely in a food processor. The ingredients are mixed, rolled into a log that will fit through the food processor's feed tube, and then chilled overnight. When you are ready to make the actual crust, the dough is fed into the food processor's feed tube and grated using the coarse grate blade. To assemble the pie, the grated dough is pressed into a nine inch pie plate. Super easy! I am all for a pie crust that does not require rolling…if it tastes good, which this one did!
The filling, minus the ham and sour cream, is also mixed using the food processor. The ham is layered in the bottom of the pie plate, followed by the spinach mixture, and then topped with a thin layer of sour cream. I have to say that I was not so sure about this sour cream layer when I was assembling the pie, but once it is cooked and all of the flavors meld together, the whole is much more impressive than the sum of the parts.
This pie can also be made ahead of time or even frozen and reheated.
I suspect that the crust recipe used here could be used with almost any of your favorite pies. I am excited about the idea of a crust that I don't have to roll! Give it a try!