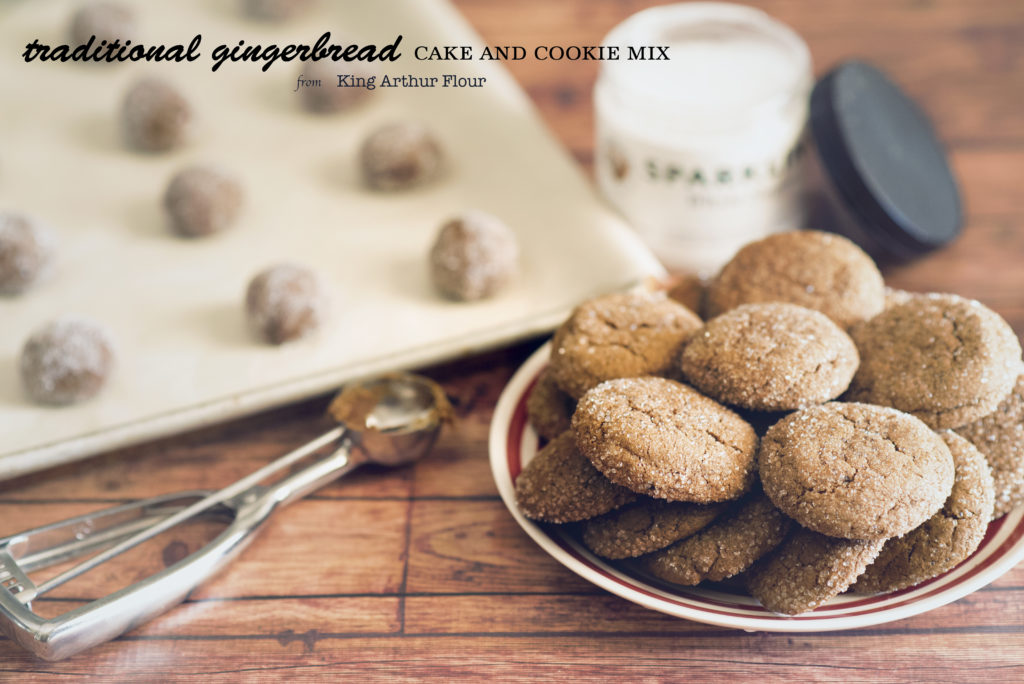 As we approach the hectic holiday season, mix it up takes on a whole new meaning! Decorating, holiday events, shopping, on top of all of the "regular" life's stuff make for crazy times. Though we enjoy holiday baking from scratch, sometimes you need a "lifeline" in the form of a mix when it comes to an unexpected gift or a need for a last minute gift. With King Arthur Flour mixes, we are here to help!
This week, I am baking with King Arthur Flour's Traditional Gingerbread Cake and Cookie Mix. What a versatile mix! Notice the cake or cookies in the name. It can be used to make either, or both.  And, as an added bonus, if you choose to make cookies, you have a choice between rolled and cut shapes, or drop cookies. This is almost certainly a "must have" mix to keep in your pantry just in case!
I probably should have ordered two boxes and tried both the cake and the cookies, but at the time I was ordering, I was in a cookie mood. Based on their delicious taste though, I do feel confident in saying that the cake would not disappoint!
It doesn't get any easier than dumping butter, egg, water, and the package of mix in the mixer bowl and turning it on! If you make the cake, the recipe uses vegetable oil instead of butter.
As I said, I made the sugar topped drop cookies. I used a cookie scoop (approximately 2 TBS…it didn't have a measure on it) and dipped the balls in King Arthur Flour Sparkling White Sugar. They are then placed on a greased or parchment lined baking sheet, flattened a bit, and baked for 12-14 minutes. I got two dozen cookies.  Mine were bigger than the box suggests.
Really, it doesn't get any easier!
King Arthur Flour's Traditional Gingerbread Cake and Cookie Mix
King Arthur Flour's Traditional Gingerbread Cake and Cookie Mix – 6 pack
from Tracey G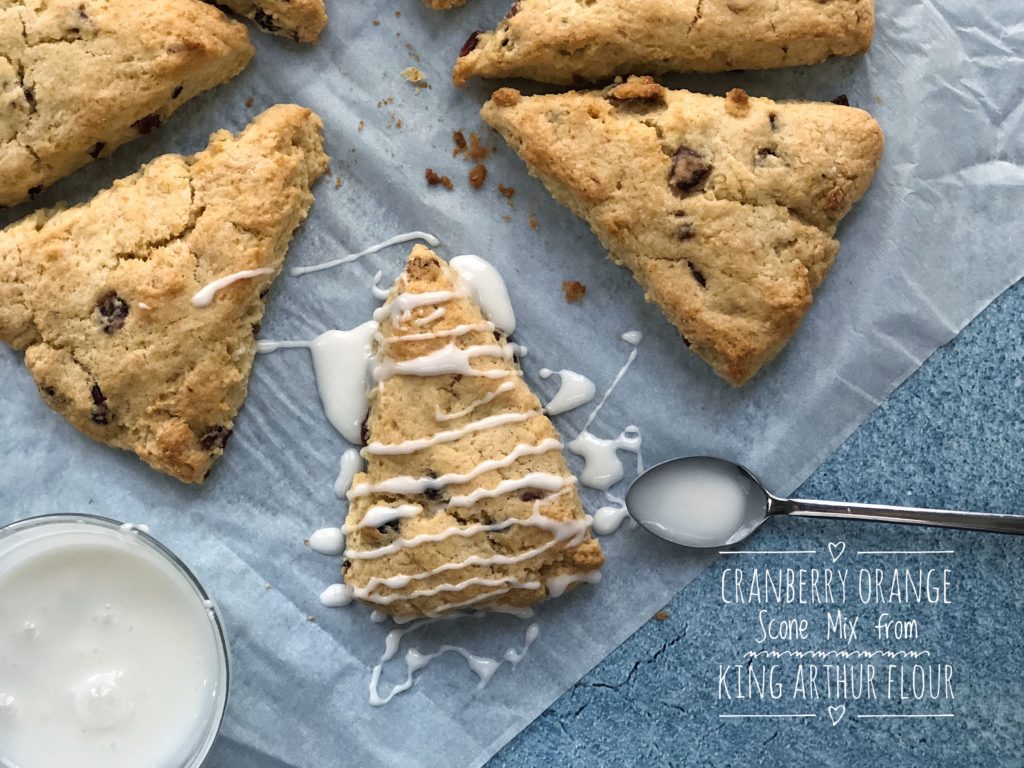 I had bought this King Arthur Flour Cranberry Orange Scone Mix so I could compare it with the homemade version of Cranberry Orange Scones I'd made back in September. I wanted to see if a mix could be as yummy as a homemade version of the same item, and I am happy to report that yes, this mix performs admirably! It's every bit as good as the homemade version – I have been thoroughly enjoying them! And, as per suggestion on the box, I made up a quick icing/glaze to gild the lily with and it just ups the "yum" factor in my opinion!
It's a very, and I mean VERY simple mix to make. It requires a few ingredients from you, such as salt, butter, milk and an egg. The salt gets mixed into the mix, the butter then gets cut into it (I used my pastry cutter for that) and then you combine the 1/2 cup of milk with the egg, and add it to the dry ingredients in the bowl, and mix until just combined. At this point, you have two options, you can either use a scoop/spoon/measuring cup and make "drop" scones, or you can pat into an 8-inch circle and cut into wedges, 8 to be exact. I chose to pat mine into a circle, purely for the aesthetic reason – I like my scones shaped into triangles!
Now, you bake for about 15 minutes, or until lightly golden brown. Cool for at least 5 before eating or glazing then eating. I chose to mix up some glaze, and, I then "glazed as needed". Their glaze recipe on the box calls for powdered sugar, orange juice and orange zest. I chose to just go with simple glaze from powdered sugar, milk and a smidge of vanilla extract. And let me say it was pretty darn yummy with that, lol.
That about sums up my experience with the KAF mix for Cranberry Orange Scones. There's really not much to report on the taste/texture other than they are easy to make, quick to bake and delicious to eat – I don't think any more needs to be said!
King Arthur Flour Cranberry Orange Scone Mix
You can also check out the page they have for using any scone mix of your choosing to make some other yummy treats as well! Soc check out: "Scone Mix Magic"
I'd also like to add a little note here that in honor of Black Friday and Cyber Monday, Kris and I have decided to add an extra little "goody" to our Sift Magazine Giveaway – have a peek at the post to find out!! We think you'll like it! 😉