Tags
apple, breakfast, cinnamon, coconut, coconut cupcakes, coconut frosting, cupcakes, doughnuts, Essential Goodness Mix, King Arthur Flour baking mix, King Arthur Flour Essential Goodness mix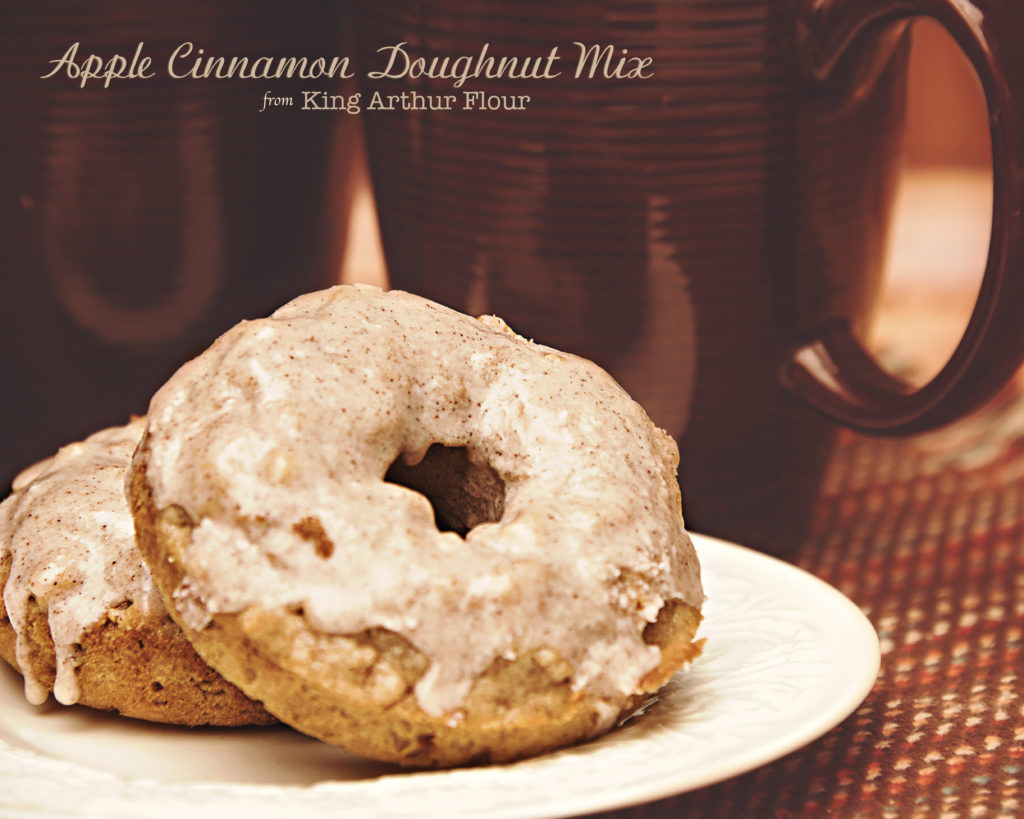 Before I get going on this week's mix, Apple Cinnamon Doughnut Mix from King Arthur Flour, I have to get something off of my chest.  As delicious as these things are, by definition, they are not doughnuts.  "Real" doughnuts are deep-fried.  These are baked, not deep-fried, which is a good thing because I don't deep fry anything at home.  I don't each much fried food, but when I do, I want it to be worth the fat and calories and cooked properly.  I save the occasional order of sweet potato fries or chicken tenders for a meal out.
Since King Arthur Flour's Apple Doughnut Mix does not really make doughnuts, the nerd in me tried to figure out a better name for them.  The best that I could come up with is  torus muffins.  The word torus comes from geometry.  It is a "surface of revolution generated by revolving a circle in three-dimensional space about an axis coplanar with the circle.  If the axis does not touch the circle, the surface has a ring shape and is called a torus of revolution.  A bagel is also an example of a baked torus.
Now that we have that clear, there is not too much to this week's mix. To the mix, eggs, milk, and butter or vegetable oil are added.  The ingredients are mixed, poured into a doughnut pan, and baked for 8-10 minutes.  I found that baking for eight minutes yielded a more moist "doughnut," which is my preference.
Each boxed mix comes with two individual pouches that each makes a half-dozen doughnuts or twenty-four mini doughnuts.  The one potential stumbling block with this mix is that you do need a doughnut pan.
Once baked you can add your own toppings to your doughnuts torus muffins.  The recipes for various options are included on the box as well as on the King Arthur Flour website.  I made the Easy Vanilla Glaze to which I added some cinnamon.  My glaze did not run and make a pretty topping, but it tasted good! 🙂  Other options include a cider glaze or just topping sugar or cinnamon sugar.
For those of you whose nerdiness tends toward etymology rather than geometry, I have something for you too.  Torus is the Latin word for cushion.  Now this all makes sense!  All of these torus baked goods – bagels, torus muffins, and real doughnuts – provide a torus for my clunis!!!
from Tracey G.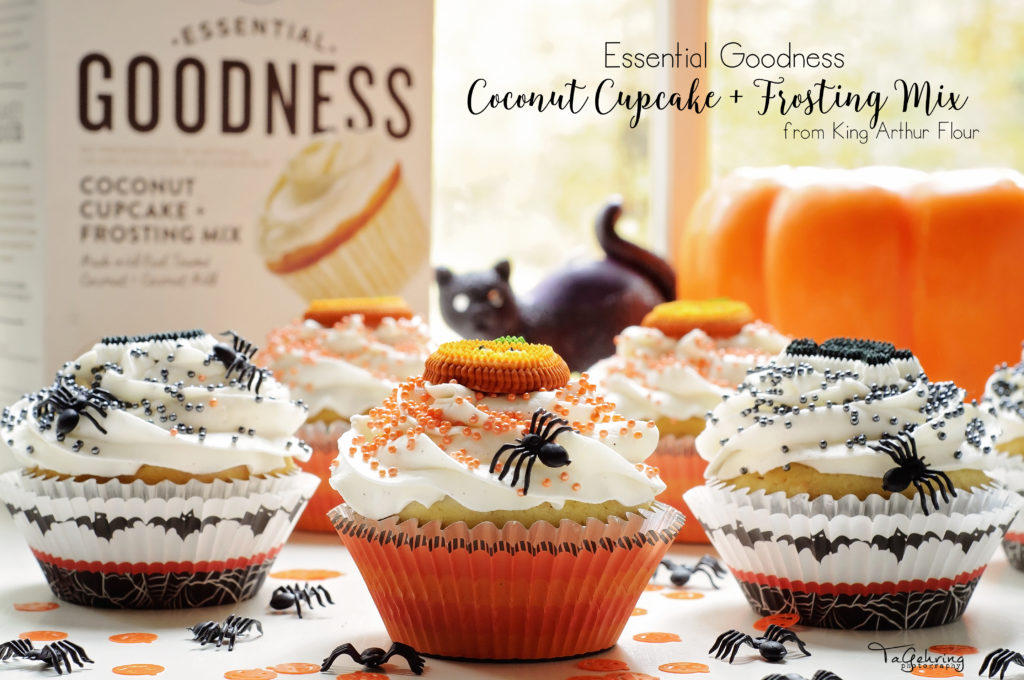 First, I'd like to say that this was the perfect week for our Mix Food Friday to land – it's been hectic! I had Harry's class Halloween party to make treats for by this Friday, and help out at the party too. So, trying to make sure that everything was accomplished in a timely manner was important all the way around – especially to my sanity! And a mix always (well, most always!) fits the bill for get-it-done-quick.
I chose the Coconut Cupcakes + Frosting Mix from the King Arthur Flour Essential Goodness line. That's the line where they donate a bit of the proceeds from the sale of the mix, to donate a meal to Feeding America.
Since I was making cupcakes this week for the mix offering and I was in the Halloween spirit  – I transformed them into fun treats for home or for a party! These cupcakes with their yummy white vanilla and coconut milk frosting are wonderful blank canvases for any way you want to go! Change up sprinkles and cupcake wrappers and you could do any holiday or celebration you wanted, quickly and easily. Sky is the limit with these lovelies!
The mixes are super simple to prepare, and involved ingredients I always have on hand anyway – butter, milk and an egg. Butter, milk and the egg for the batter, and butter and a couple teaspoons of milk for the frosting mix. That's it. The cupcakes are easy to prepare and bake, and the frosting mix is a snap to put together. Let me say here too about the frosting mix – not only is it yummy, but it makes a generous amount as well. I didn't even use all of it in the frosting of mine, and I wasn't shy about piping it on!
If you want to try something a little different – these coconut cupcakes are wonderful. I could've eaten the cake plain, it was nice and moist, and, I could've eaten  the frosting out of the bowl with a spoon and been happy. But combine the two together and it's fabulously scrumptious happiness!
P.S. If you visit the Coconut Cupcakes + Frosting Mix product page, they have some fun twists on other things you cam make using it!