Tags
baking, cookies, dessert, easy, King Arthur Flour, King Arthur Flour Essential Goodness Lemon Bar Mix, King Arthur Flour Essential Goodness mix, King Arthur Flour Mix, King Arthur Lemon Coffee House Cookie Mix, lemon, lemon bars, mix, snack
from Tracey G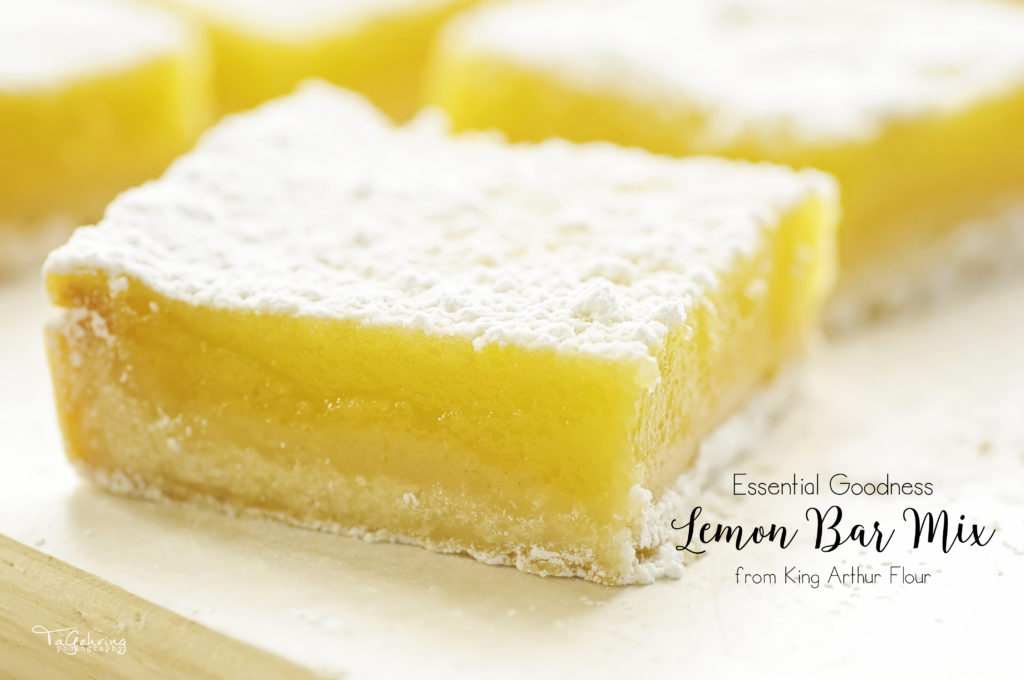 As Kris and I have said numerous times, it's fun and rewarding to bake from scratch, but there are times when that's not possible or you just don't have the energy to  – but yet, you still want a treat or you have company coming, or you need a quick donation to the school/church/club bake-sale etc. That's where mixes can save the day – and if it's a good one, you can feel confident using one! And if it's really good, they may never even know it came from a mix!!!
This mix from King Arthur Flour, the Essential Goodness Lemon Bar Mix is one of those really good mixes. In fact, you'd be hard pressed to detect that they were from a mix! Which is great, because I know not everyone is like me – I have to have fresh lemons around at all times, I go into a panic if I don't have at least 4 in the fridge, lol, and having this mix around – you don't need to have fresh, but it sure tastes like you did!!
Which, as just a tidbit here, I'd done some research a long time ago and read an article on how to keep lemons fresh longer, and it said to put them in a zip top bag and then in the fridge – so I tried it, and it worked. Now that's where they go immediately when I get home from the store with them. I usually write the date on the bag, and let me say I know I've kept some for at least a month, and in great shape!
To make the Essential Goodness Lemon Bars, the only ingredients you provide are butter, eggs and water, plus some powdered sugar to dust them with for garnish/decoration etc. The mix does the rest.
The butter gets mixed with the crust ingredients, pressed in the pan and then baked for 20-26 minutes. While it's baking, you mix the filling ingredients together, which is where your eggs and water provide their service. When you pull the crust out, you pour the filling over the hot crust and pop it back into the oven to bake for about another 20-22 minutes. When they come out, you allow them to cool at room temperature for an hour, then you have to cool them for at least an hour in the refrigerator (or overnight) before cutting them. You can dust them with powdered sugar right before serving them if you like!
When we got to taste-test them, the "these-taste-like-homemade" sentiment was unanimous. They were extremely yummy and it's a mix I plan on keeping on hand for whenever a treat is needed – either for fun or for necessity! And, for some extra fun, they also provide some other twists for using the mix to make other treats!
Here are some helpful links:
Essential Goodness Lemon Bar Mix Catalog Page
Essential Goodness Lemon Bar Mix Product Page
Essential Goodness Lemon Bar Mix – Easy Lemon Meringue Bars
Essential Goodness Lemon Bar Mix – Zesty Lemon Coconut Bars
from Kris B,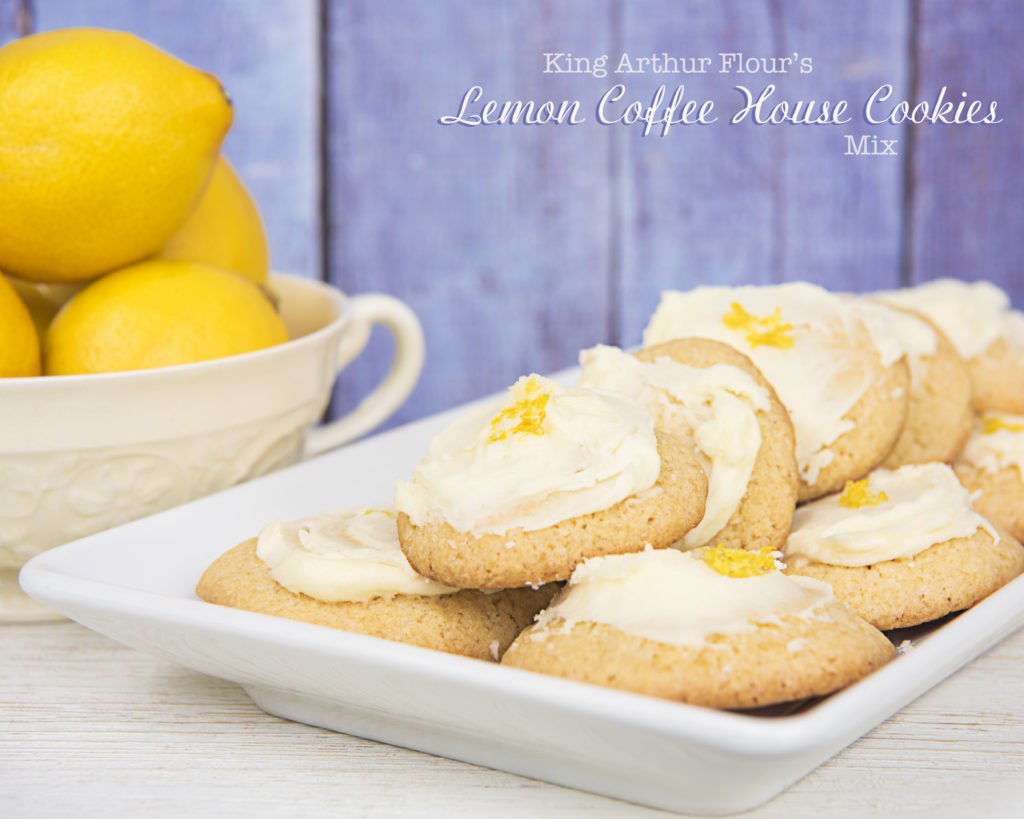 As Tracey and I were looking at our calendars and making our weekly schedule, I was elated to see that Mix It Up Friday fell during my first week back school.  Re-entry into the new school year was particularly difficult this year because for the first time in many years, I did not teach summer school.  I was completely free for three months.  I discovered during that time that I could probably adjust to that lifestyle twelve months out of the year without too much effort. 🙂
My time management skills were somewhat lacking this week, so I didn't get to make these cookies until Thursday afternoon, after having seen 5am four days in a row for the first time since May.  Needless to say, I was a little tired, but also excited to try the King Arthur Mix fro Lemon Coffee House Cookies.  There is something about lemon that seems energizing and invigorating.  Or maybe that's the way I think about all cookies…
Whipping up these cookies is a short, sweet, and to the point process.  Place a stick of butter and half of the cookie mix in a bowl and mix on high for two minutes.  Add an egg, two tablespoons of milk, and the remaining cookie mix to the bowl, mixing until all of the ingredients are combined.  I used my Kitchen Aid stand mixer so I didn't even expend any energy controlling the mixer during the mixing process.
Once mixed, the dough is scooped out by tablespoonful onto waiting parchment lined baking sheets and then placed in the oven, which was preheated to 375 degrees, and baked for 12-16 minutes and the edges are a golden brown.
Once out of the oven and completely cooled, the cookies are iced using the included icing mix.  The icing mix requires the addition of a 1/2 stick of butter and a tablespoon of milk.  As with the cookie dough, the icing is mixed with an electric mixer.  I simply spread the icing on each of the 20 cookies using a spatula.  If you want to be fancy, you could pipe it on.  I did add a bit of lemon zest atop the icing because I had the lemons with which to do that.  Is it necessary?  Nope.  These cookies have a full and refreshing lemon flavor that comes from both the cookie itself and the icing.
I tried to photograph the cookies Thursday evening.  By that point in the day/week, I had run out of light, energy, and enthusiasm for the project.  Though I used artificial lights for this somewhat feeble attempt, the photos I took did not do the cookies justice.  The mission was scrubbed and I decided I would try again this morning.  The biggest negative of this scenario was that the one cookie that we split right after they were iced was the only one that could be eaten until I re-shot the images of the cookies.
Let me just say that all of the waistlines at my house were better off when the cookies were off-limits!  Once I had a photo I could live with and released the cookies to the masses, half of them disappeared almost immediately.  Yes.  I am just as guilty as my husband and my daughter in helping them disappear!
As Tracey said, we do like to bake from scratch, but when that isn't convenient, having a tasty made-from-scratch tasting mix on hand can save the day.  The Lemon Coffee House Cookie Mix definitely fits that bill!!