from Kris B.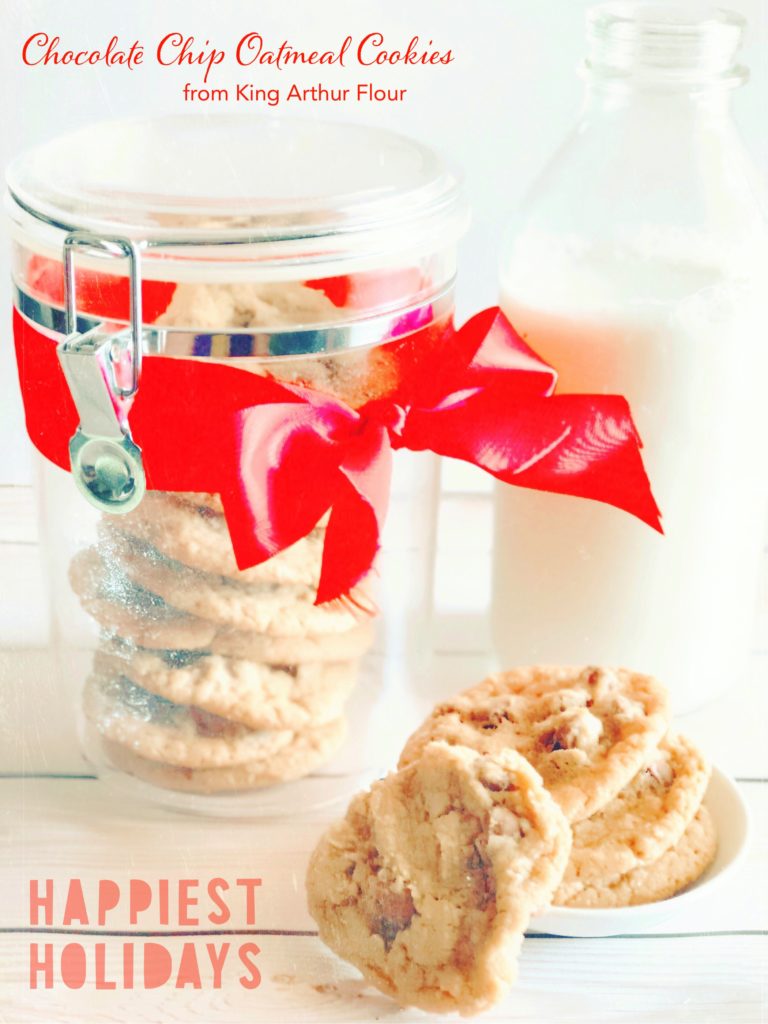 Sometimes when it comes to cookies you just have to go with the old tried and true.  This week it is Chocolate Chip Oatmeal Cookies from me.  This particular recipe was King Arthur Flour's 2015 Recipe of the Year.  There is nothing fancy, nothing unique, nothing special about these cookies.  They are just delicious.  How can you go wrong with oatmeal and chocolate chips?
We were having some work done at our house this week and I wanted to make something to take out to the crew.  Making the Chocolate Chip Oatmeal Cookies seemed like a good choice for them.
The only "time sensitive" thing about making these cookies is allowing time for the eggs and the butter to come to room temperature.  Ither than that, it's about not making them too far ahead of their intended event because they seem to disappear quickly>  Lol!  Aside from that, the process is your standard cookie-making routine.  Cream the butter and sugars.  Whisk together the dry ingredients.  Combine the wet and dry ingredients.  Stir in the chips.  And voila!  Cookie dough!
I did make one slight alteration to the recipe.  It calls for 3 cups of chocolate chips.  I used only two, which is what comes in a standard bag of chocolate chips.  If you are a huge fan of chocolate chips, by all means use three cups, but for my liking, two was plenty.  Many of those who left comments on the King Arthur website about this recipe mentioned reducing the amount of chips used.
Another oddity in this recipe is that it says that it makes 20-100 cookies.  That is a huge variation!  I used what I call a standard cookie scoop, one that makes an approximately 2 1/2 cookie, the size where a dozen cookies fit perfectly on the cookie sheet.  I ended up with 40 cookies.  I'm not sure how you would get 100 cookies from this recipe. And if you only get twenty cookies, they are going to be Texas-sized!
If you need a last-minute easy batch of cookies, these will fit the bill.
Thank you to all of you who take the time to read our posts and share your thoughts and experiences in the kitchen.  We appreciate each of you and thank you for your support.
We wish you and those you love a joy-filled holiday season.
from Tracey G.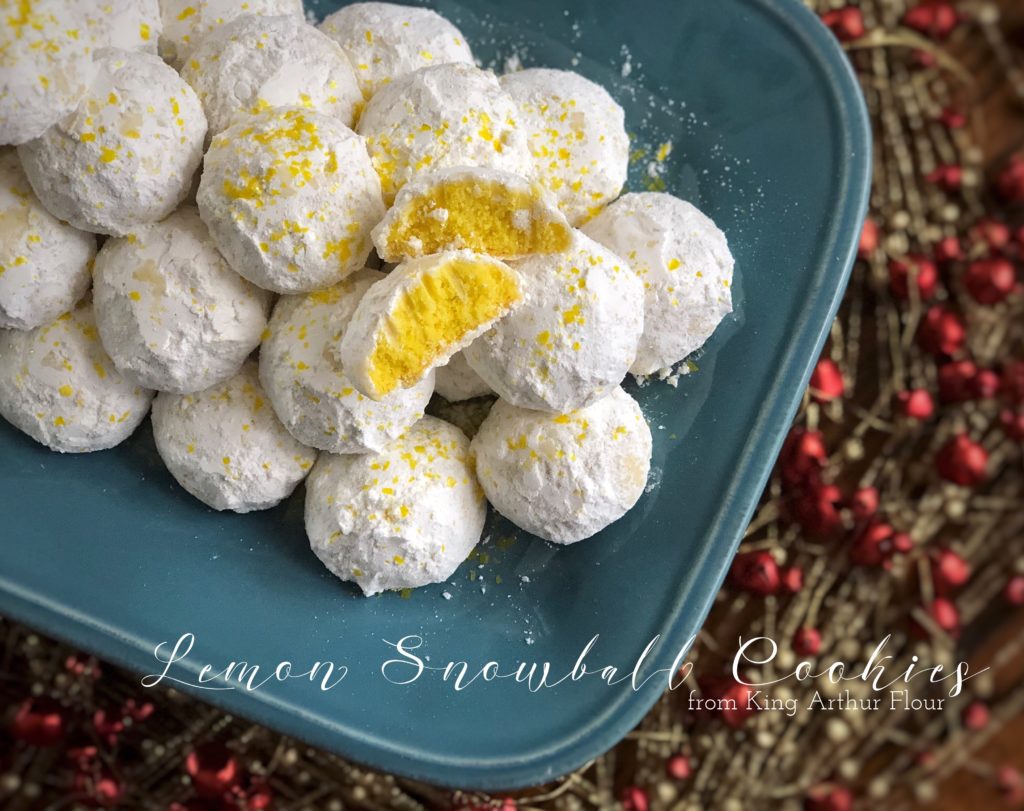 I have been making a version of Wedding Cookies probably since I was  teenager. I remember eating Archway-brand Wedding Cookies out of the package and falling in love with them. Then I remember the search to find a recipe I actually liked for them, and once I did I've made them ever since. No variations.
Then, I saw this recipe for Lemon Snowball Cookies from King Arthur Flour, actually last year. I was in search of some new Holiday cookies to make for gift-giving and my mom-in-law loves lemon (just like myself and my mom did too!), so these seemed a natural choice – my favorite style and favorite flavor! A variation on my Wedding Cookie!
It did require one specialty item from King Arthur Flour though – Lemon Juice Powder. So, I bought it. You get a pretty good sized container of it too. I also discovered it really comes in handy when you don't have any fresh lemons for juice on hand as well – it's saved a recipe more than once for me, lol. It also lists Lemon Oil as a first choice ingredient or you can use the second choice of lemon zest. I happened to have the lemon oil, so I used it, which is another handy little item that I'm glad I purchased from KAF, and a little goes a long way! I love it when I open that bottle and get a whiff of that wonderful lemon smell!
So, anyway, these are built the same way as the Wedding Cookies, but they're lemon flavored – and the powdered sugar they're rolled in is flavored with the Lemon Juice Powder, and THAT's what really sets them off and makes them sing!
The cookie ingredients consist of: flour, butter, powdered sugar and bit of salt. The coating is powdered sugar and Lemon Juice Powder. You form the dough into 1-inch balls and bake about 12-15 minutes. When you take them out of the oven, you have to let them sit on the cookie sheet for a few minutes as they are very fragile, before you roll them in the powdered sugar. I cooled them on a rack, then after they were cooled, they get rolled one more time in the powdered sugar. I should also add here that I did add a bit of yellow food coloring and some yellow cake sparkles to the powdered sugar they're rolled in – it was purely for the fact I am making a traditional Wedding Cookie this year, so this helps tell them apart! 😀
The final step is – EAT! And they are yummy, if you like lemon, you'll love these. As I said, I made them last year for Holiday goodies, and I was asked for the recipe for them at one point. They're easy – and at this time of year, that's a major consideration of mine when I'm planning out the baking schedule and plan.
The only problem I've found with these, is that the powdered sugar is a dead-giveaway that you've been snitching cookies if you're not careful! 😉 So, be careful!
Happy Holidays!!!!!!!
xoxo