Tags
baking, bar cookies, bars, Chocolate, cinnamon, cookies, dessert, easy, Hermits, King Arthur Flour, molasses, peanute butter, pretzels, raisins, snack
from Tracey G.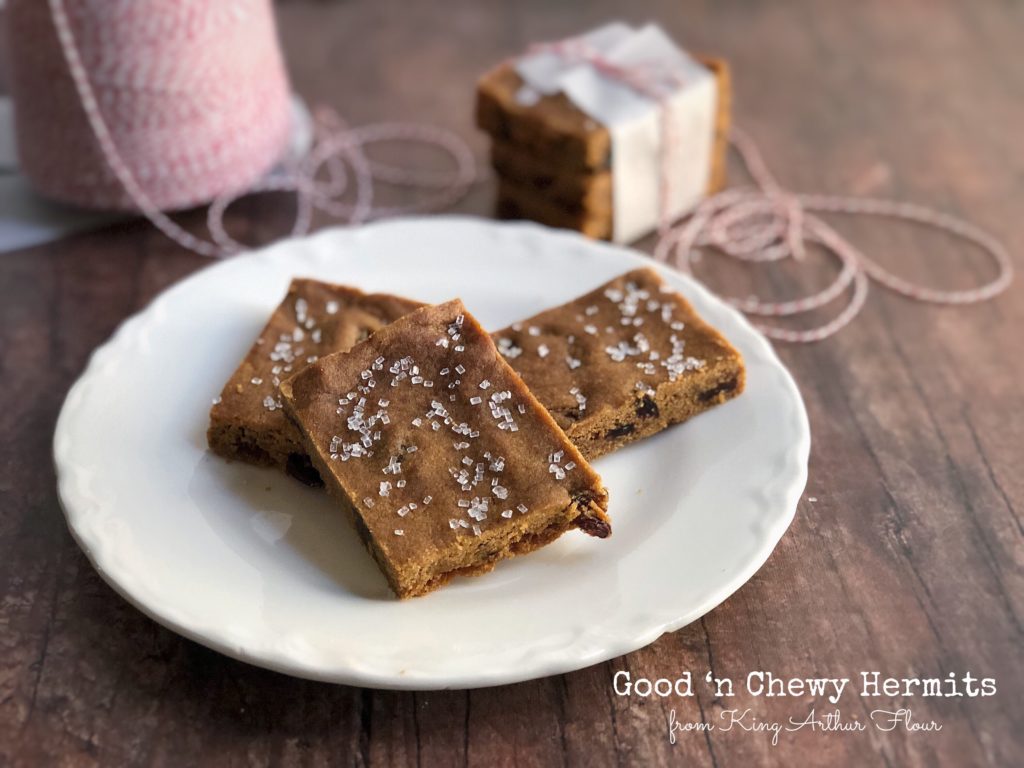 I have no idea how I have survived this long without these things!! I am so glad I chose the Good 'n Chewy Hermits recipe from King Arthur Flour, in this our first week of cookies for the month of December! They were so darn easy, and turned out so well, that they have earned a permanent place in my recipe repertoire!
I really started my cookie recipe search with nothing in particular in mind. I knew I wanted something yummy (a given), easy to put together AND made with stuff I had on hand. That was my only criteria. In my perusing, I ran across this recipe, and as I read it, I mentally checked off the ingredients – and I had everything needed! Add to that my love of molasses, and I was all in.
I will also say right now, again for the record – I do not like raisins in baked goods. I like raisins, but not in any kind of chocolate chip or oatmeal cookie, etc. It was after eating these Good 'n Chewy Hermits that it dawned on me, I like them in certain baked goods, along with a certain spice profile – cinnamon, clove, nutmeg, ginger etc. (first noticed this with the Rugelach filling!). I was skeptical about them in this recipe, since it qualifies as a baked good, and sort of cookie thing, lol, but I absolutely love them and can not imagine these bars without them!!!
The history behind them is rather fun, that they're a New England favorite that have been around for a VERY long time. I can see why – they are fantastic! They mention that due to their excellent keeping qualities, back in the days of clipper ships, many a tin of these accompanied sailors on their way around the world!
This recipe calls for basic ingredients: sugar, butter, vegetable shortening, flour (they also state that you can use their White Whole Wheat Flour instead of all-purpose), salt, baking soda, molasses and raisins. The spices used are: cinnamon, nutmeg, cloves and ground ginger. It's put together the way any cookie/bar recipe is, starting with creaming the butter and sugar etc. After you get all the ingredients combined, you pat the dough into a greased 9×13 baking pan (they do give you other pan size ideas/options in their Baker's Tips after the recipe).
Bake the bars in a 350° F oven, for about 25-30 minutes in a light colored pan or 20-25 minutes for a darker pan – just until the edges start to pull away from the sides. I baked mine exactly 25 minutes, in a light colored pan, and while they were still so yummy that they were eaten up quickly and they had a fabulous chewy-goodness, I think I would back down to maybe 20 minutes in my oven next time so they are a bit softer. They do warn about over-baking and I can see how easily it can happen and ruin the texture you're looking for. Jeremy said they reminded him of gingerbread, and of course they do, they have that same flavor profile.
I had wanted to add KAF Sparkling Sugar to them before I baked them, and I forgot. So I sprinkled some on them as soon as they came out of the oven (only half because the boys in my house don't care for the crunchy sugar), and it didn't stick very well, lol. Oh well, next time I'll remember. Or maybe not. Either way, they won't last long – they'll be gobbled up fast.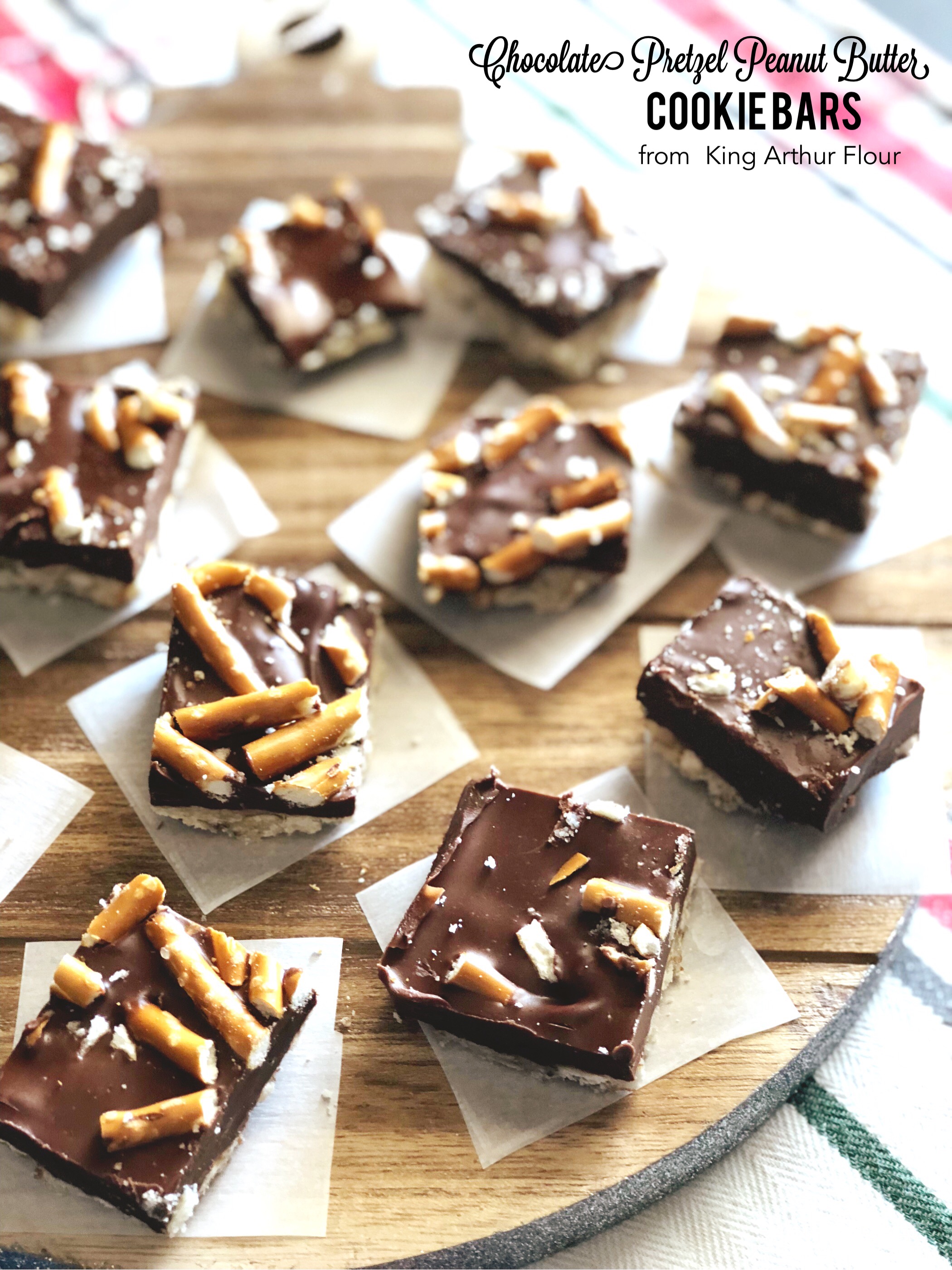 I am heading into the final stretch of the semester (next week is final exams) so I needed a SUPER simple recipe for this week, one that would keep from hitting the other kind of bars!  It doesn't get much easier than the Chocolate Peanut Butter  Pretzel Cookie Bars!  There is nothing about these cookie bars that requires any kind of talent or even culinary skill to make.  All you need is a few ingredients, most of which are kitchen staples at my house, and about an hour to mix things up, bake the cookie crust and allow the whole thing to chill and set.  And you are done!
These Chocolate Peanut Butter Pretzel Cookie Bars consist of a bottom "cookie" layer, a middle layer of chocolate and peanut butter, and then a top layer of pretzel pieces.  The cookie layer is a mixture of all-purpose flour, crushed pretzels, a touch of confectioners sugar, and a stick of butter.  All of these ingredients are mixed together and pressed into the bottom of a parchment lined 9×13 baking dish.  It is then baked in a 350 degree oven for 10-12 minutes.
Two cups of semi-sweet chocolate chips and a cup of peanut butter are melted together in a double boiler.  Once the chips are completely melted, this mixture is spread evenly on top of the cookie base.  This is then topped with pretzel pieces.
The cookie bars need about 30 minutes or so in the freezer to set and then can be cut into individual servings.  The recipe makes approximately 40 pieces.
These Chocolate Peanut Butter and Pretzel Cookie Bars are a tasty mixture of salty and sweet, but not too sweet.   Because they are made with basic ingredients, they can be put together quickly to take to an impromptu holiday gathering or to fill a last minute gift need.  And how wrong can you go with chocolate and peanut butter?
Happy holiday baking to you all!