Tags
baking, cinnamon, cookies, dessert, easy, King Arthur Flour, King Arthur Flour baking mix, molasses, muffins, pumpkin, pumpkin spice, snack
from Tracey G.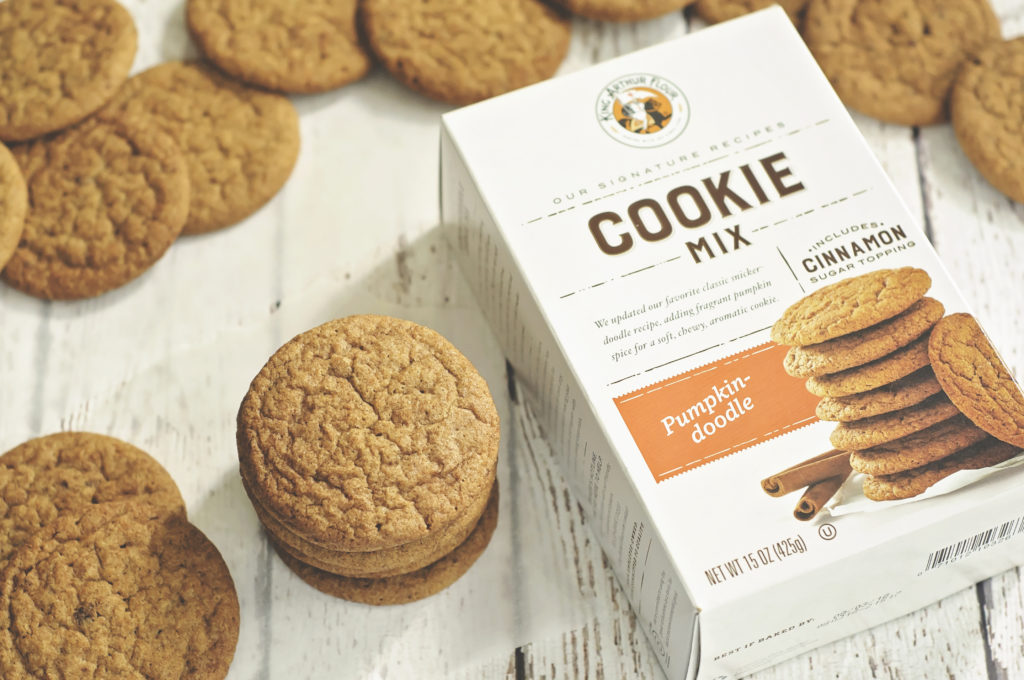 Nearing the end of September, I'm still thinking apples, but also starting to think pumpkin! So, when I saw the King Arthur Flour mix for Pumpkindoodle Cookies, I decided I needed to try them! I love Snickerdoodles, and in my opinion the addition of pumpkin and spices could only add to them – and I was correct!
This mix was super easy to pull together, all it required of me, by way of ingredients, was a stick of butter and one egg. That's it! The cinnamon-sugar to roll them in before baking is provided for you, which was a really nice inclusion.
You blend the mix along with the butter and egg, and it does come together quickly. Once you have a smooth dough, you scoop by the tablespoonful and roll them in the cinnamon-sugar mix. I used my cookie dough scoop to make them, and it was super easy to get them from the bowl, to the cinnamon-sugar and onto the baking sheet – and lastly, into a 350° F oven for about 13-15 minutes. When the cookies come out of the oven, they cool on the cookie sheets for 15 minutes. I then transferred mine to a rack to finish cooling.
We all enjoyed these immensely – both Harry and Jeremy have pretty much demolished the whole batch between the two of them, I think I've had maybe at the very most, 3 out of the 22 I got out of it. It says it makes 20, so I was pretty close –  I guess I got a couple bonus cookies, lol. They are reminiscent of a molasses cookie  with the addition of pumpkin, plus pumpkin pie spices, and then the coating they received of cinnamon-sugar gave them the Snickerdoodle trait. They were not dry at all, but moist and chewy and have kept their chewy texture. I absolutely loved this Pumpkindoodle Cookie Mix – it's simple, easy to prepare and yummy to eat, what's not to love?
from Kris B.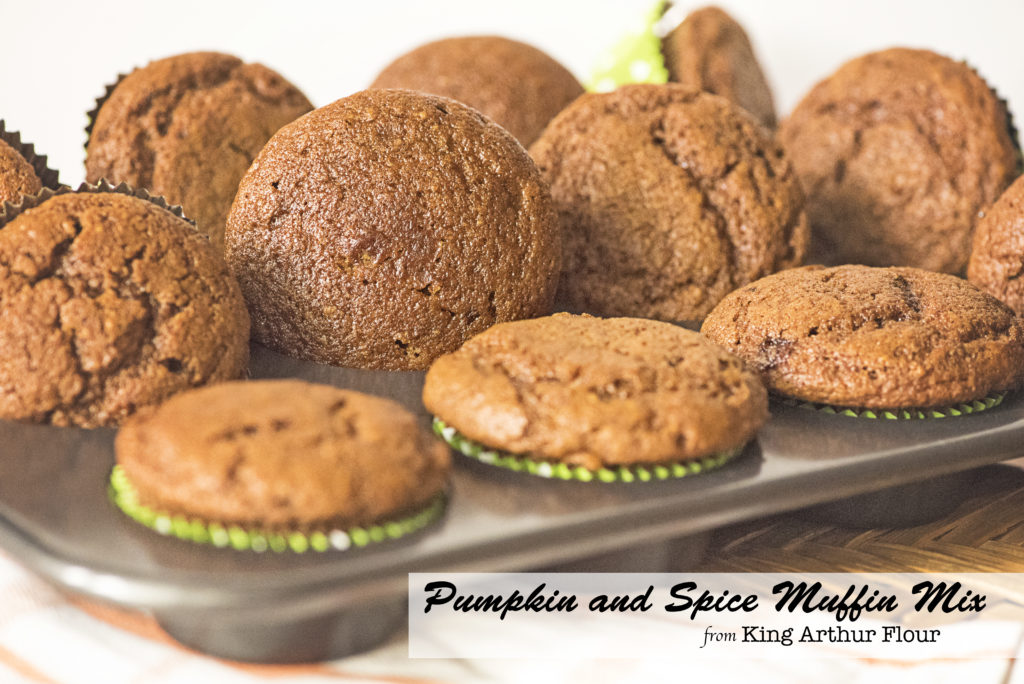 I am not one of those people who is beating down the door at Starbcucks when the Pumpkin Spice Lattes return each fall.  Yes, I do like pumpkin spice…a lot, but I much prefer it in baked goods rather than coffee.  Cinnamon, cloves, allspice…those are the flavors of fall to me.  Admittedly, my favorite baked pumpkin spice recipe is one for pumpkin bread given to me by my mom, but I was willing to give King Arthur Flour's Pumpkin and Spice Muffin Mix a try.
Despite that this mix says right on the box "Do not eat raw mix, dough, or batter," I ate a spoonful of the batter as I scraped the bowl.  I was surprised by a heavy molasses taste.  It wasn't bad; it just wasn't what I was expecting.  The flavor is somewhere between traditional pumpkin bread flavors and gingerbread, leaning more towards the gingerbread.  In very small, faint, vertical text, King Arthur does say next to the name on the box that molasses is a signature ingredient in these muffins.  Once you know to expect molasses rather than cinnamon and allspice, the muffins tasty.
Requiring only the addition of three eggs, a cup of water, and 1/3 of a cup of oil, to the contents of mix, the batter for the muffins comes together quickly.  It can either be made into a loaf or muffins.  The instructions say that the box makes a dozen muffins. I got fourteen standard muffins.  As with Tracey and her cookies, this was bonus week!
These muffins are great with coffee and fruit for breakfast, as a sweet treat after lunch, or as a snack any time of day.  Like the traditional "pumpkin pie" spices, molasses too is one of those flavors that, to me, says fall.  Being that fall is my favorite season of the year, I am for anything that reminds me of cooler temperatures and the colors of the changing leaves.
Happy fall, everyone!