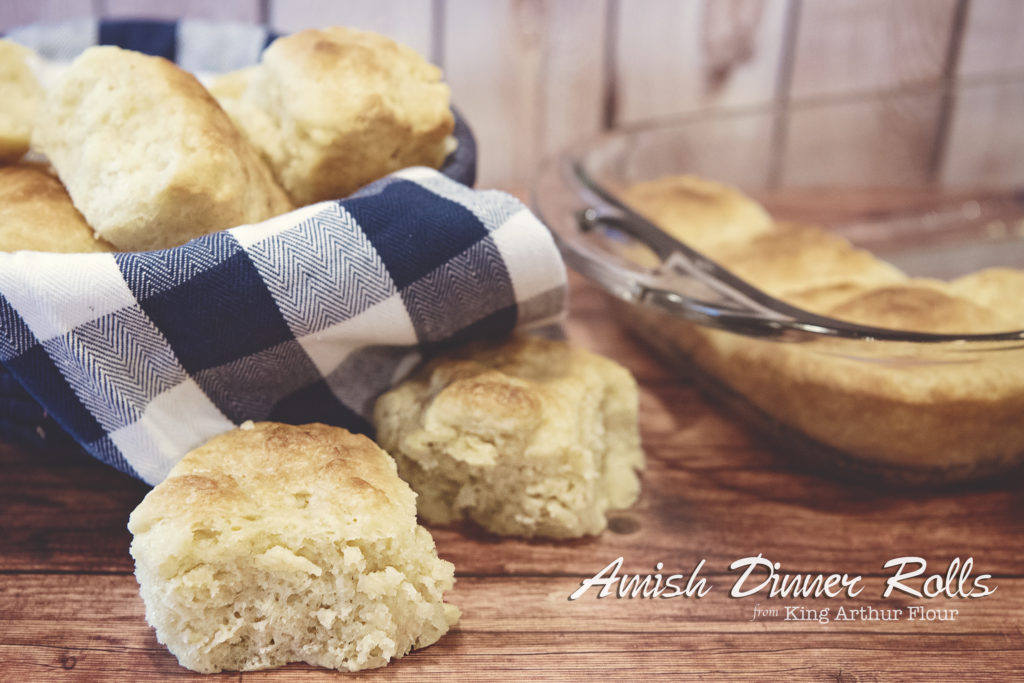 I love it when bread recipes roll around in the Food Friday rotation.  When it comes to my own weekly bread baking, I tend to stick with my tried and true recipes, the ones that I know won't disappoint me and that I've made so many times that I don't have to think too much when I make them.  Week's like this, however, force me out of my comfort zone and demand that I try something new.  With this week's recipe for King Arthur Flour's Amish Dinner Rolls, I am most grateful for the nudge to make something new.  These are by far the best dinner rolls that I have ever made!
What's their secret?  Mashed potatoes.  Yep.  The recipe calls for a cup of unseasoned mashed potatoes.  A good-sized russet potato yields about a cup of mashed potatoes.  I used a bit of whipping cream and hand mashed the potatoes.  The potato starch makes for a tender bread with a light crumb.  Using potato also extends the "shelf life" of your bread, keeping it soft for several days.
The process of making the Amish Dinner Rolls takes several hours; that is due to two longish rise times, ninety minutes to two hours, rather than many and/or difficult steps.  In fact, these rolls couldn't be any easier to make.  All of the ingredients – flour, mashed potatoes, salt, sugar, yeast, eggs, butter, and water – are all mixed together and left for their first rise.  The dough is then gently punched down and the individual rolls are formed, 16 large or 24 small.  I made fifteen because they fit in my pan better. 🙂  Once shaped and placed in the pan, the rolls rise again.  They then bake for 20-25 minutes.
If baked in a 9×13 pan, the rolls rise together and touch, making them almost like a pull-a-part bread.  They can also be placed on a larger pan so that they bake as individual rolls.  When baked such that they are touching, the sides of the rolls remain soft and unbronwned.  My preference is to bake them this way, but to each her/his own. 🙂
Despite having made hundreds of loaves of bread in my lifetime, I did learn something new today.  The recipe calls for these rolls to be baked in a 9×13 pan.  I don't have a metal 9×13 pan; I only have glass.  I always bake my loaves in metal pans.  I had to stop and look up to see what impact baking in glass would have on my rolls.  As it turns out, glass pans cook hotter than do metal pans.  I read several discussion on this issue.  Most agree that when baking bread in a glass pan, the cooking temperature should be adjusted downward, some say 25 degrees and others say ten percent.  This left me in a quandary because I know that my oven is cooler than the temperature reads.  The recipe calls for the Amish Dinner Rolls to bake at 350 degrees.  Because of the "character" of my oven, I went ahead and used that setting.  I ended up baking the rolls for the full 25 minutes.  The good thing about baking in glass is that you can monitor the browning of your bread on both the tops and the sides.  I am always grateful for a day when I learn something new!
When all was said and done, the Amish Dinner Rolls received two thumbs-up from everyone at my house and a request that we have them with our Thanksgiving meal followed.  Easy enough!
If you are looking for a nice roll to offer with your Thanksgiving meal, I strongly recommend these!  Just remember to save a cup of mashed potatoes before you add all the delicious seasonings!
Who knew that the secret ingredient in fantastic homemade bread would be potatoes! We promise not to give away your secret! 🙂
King Arthur Flour Amish Dinner Rolls
from Tracey G.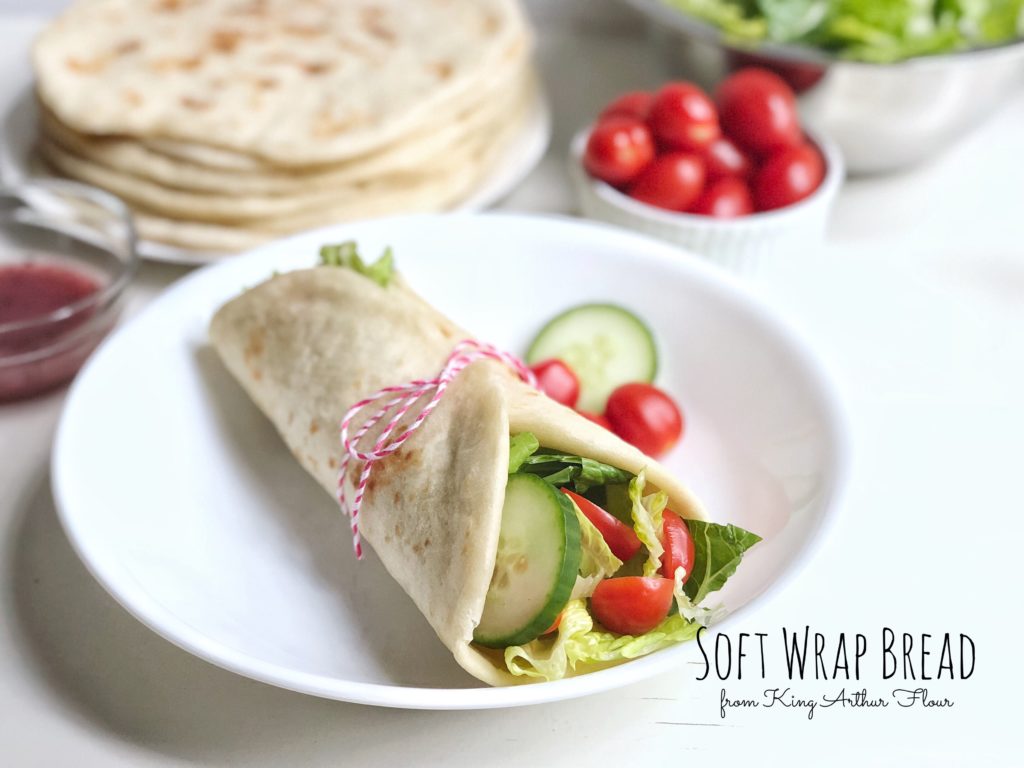 This recipe intrigued me right from the get-go, there was just something that sounded seriously fun about making flat bread, especially SOFT wrap flat bread! I'd never attempted it, and it sounded pretty darn easy to do. So, I took on the task of making King Arthur Flour'sSoft Wrap Bread.
It's a little different, in the way it's done – part of the flour is "cooked" with boiling water, then allowed to cool a bit before you add the rest of the flour and ingredients. This does take a little extra time, so I had to plan ahead a wee bit. Not a lot of extra time, but there's this cool-down, then a rise, then a rest to factor in.
Basically, what you do is add boiling water to the majority of the flour and mix it up until it's smooth. I stopped the mixer occasionally to scrape down the sides, just to make sure it was mixing as it should. Once you've done that, and it's combined well, it gets covered and allowed to cool for about 30 minutes or so. While that's doing it's thing, you combine the rest of the ingredients, which includes: the remaining flour, potato flour or potato flakes (I still haven't purchased any potato flour, so I used my instant mashed potato flakes), salt, yeast and vegetable oil.
Add this to your flour/boiling water mixture and it gets kneaded now into a soft dough. I used my stand mixer for this and it's stated that you can use your hands, bread machine's knead setting/cycle or a stand mixer. It took a little bit of time, but it all came together just as it was stated it would. Now comes the rising time. I just covered my mixer bowl and set it in my oven for the hour it called for.
Once it's risen, you divide it into 8 pieces, approximately 3 ounces each, and let them rest for 15-30 minutes. I allowed them to rest for the full 30 minutes. After they've had their little break, you roll each piece out into a 7 or 8 inch circle. I had no troubles rolling them out at all, the dough was so nice to work with! I did use my KAF silicone rolling mat, and only had to use the lightest dusting of flour while rolling. I found they rolled better with very little extra "rolling" flour. But regardless, the dough was smooth and easy to shape and roll, it was actually quite a bit of fun! And the key is the potato flour/potato flakes and the "cooking" of the flour with the boiling water – that really helps the dough be one that's easy to work with and roll out.
Once you get a few rolled out, you start dry-frying them in a skillet. It's mentioned that you may have to adjust the heat to get the right balance for cooking them – not too hot to burn outside, but leave a raw center or alternatively, too cool to where you have to cook them for too long and they dry out. I was lucky, for some reason I hit the right temperature from the start and they cooked up easily into the wonderful little soft wrap flat breads they're meant to be! You cook them until they puffed and flecked with brown spots. The Flourish blog article on them and the recipe they use them for, states that if they develop large bubbles, you can just flatten them out or allow the steam to escape via a small puncture, as they are supposed to be flat breads and not pitas.
When all was said and done, I had some that stayed liked a pita, and some that were solid, but it didn't matter, they were still deliciou, soft and "wrappable" around any filling! They are good plain on their own or filled/wrapped around something. I am once again of the opinion that I can't believe I made these in my own home – they  are easy, and freezable so I can have them ready and waiting in my freezer! I did make a double batch and it was really easy to pull off, it made 16, and they've been so good with anything, that I have a feeling none of them will actually make it to the freezer this go around!! I know I will be making them as often as I need them and will keep a supply in the freezer – there is no reason to buy this sort of thing ever again, with just a bit of my time, I created something I like much better than any of the store-bought versions!!
This recipe for  Soft Wrap Bread falls under the "you've gotta try this!" category for me!! They're crazy easy and yummy. Seriously, you've got to try this!