Tags
almond flour, baking, butter, chai, cookies, dessert, easy, King Arthur Flour, shortbread, snack, spiced, vanilla
from Tracey G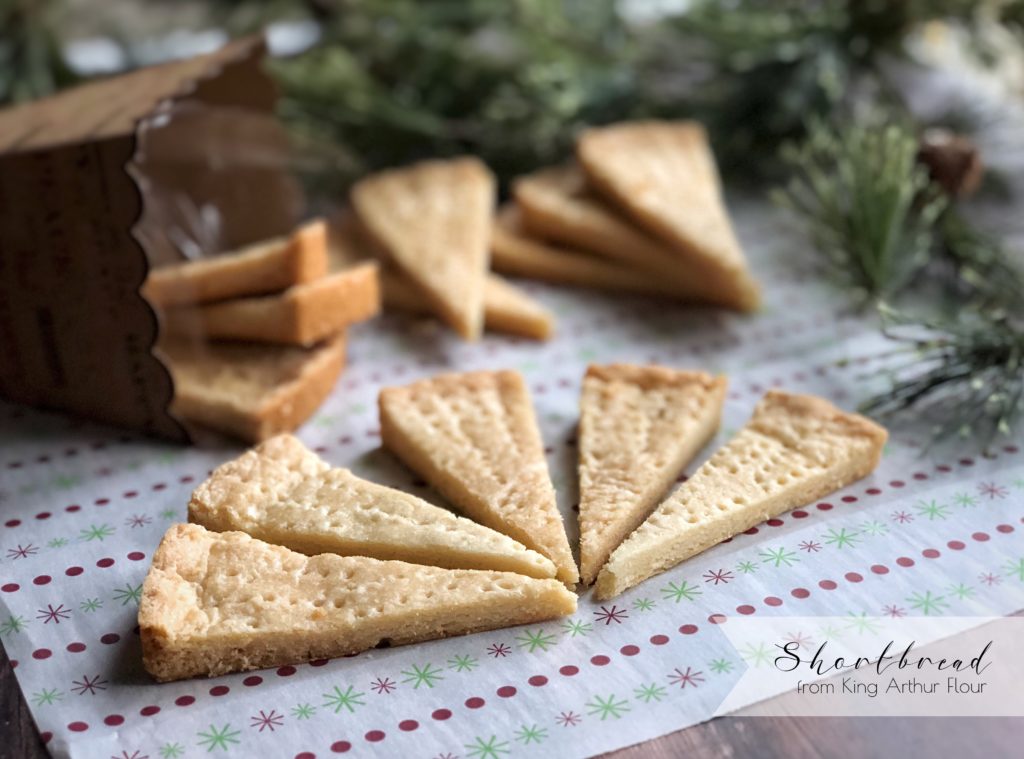 I guess sometimes the easier something seems like it's going to be as in – "Oh this is going to be easy!", that right there should be an alarm bell to me personally. Don't get me wrong, my 2nd cookie offering for December IS easy, it was the baking I had a spot of trouble with. King Arthur Flour's Shortbread, is delicious AND easy. Best part is it's made with things I always have on hand, always! They also featured this recipe in one of their Flourish blog posts! It's entitled "A Solstice Celebration: Shortbread"
Not only did I choose it for ease of preparation, but as a nod to my current obsession with all things Outlander, lol. Shortbread, notoriously associated with Scotland, is a traditional treat this time of year. It's one made to mark the Winter Solstice, New Year's Eve (Hogmanay) and New Year's Day. So, simple, tasty and a traditional-type baked good – everything a girl could dream of!
It's quite possibly one of the easiest things I've ever made. In fact, I kept going back over the recipe to make sure I wasn't missing something, or skipping a step somewhere. But nope, I was on track and correct. The ingredients are: flour, butter, powdered sugar and flavoring of your choice. Their recipe uses a combo of vanilla and almond – I just chose to use vanilla. But you can flavor anyway you like!
After getting it all mixed up, you press into the bottoms of 2, 9-inch cake/round pans. I only have 8-inch pans, so that's what I went with.
Now, my difficulty in this recipe came from that, lol. Mine took a bit longer to bake to get the right doneness. Unfortunately, I had pulled them out a wee bit too early, turned them out of the pan (they looked done!) and proceeded to cut one of the rounds into the prescribed wedges. It wasn't done. It was a bit too soft and under-baked. Luckily, I was able to flip the uncut one BACK into the pan, and pop back into the oven, and the one I'd cut, I pieced back into its pan, and popped it back in the oven as well. Fortunately none of this harmed the final product! The only issue I had, was that I broke a couple wedges as they were super bendy still while warm. Which, speaking of pliability, that's why you're to cut them into wedges when they come out of their pans – you get nice clean cuts while they're still warm, so they are pretty little wedges.
These poor things didn't stand a chance around here. I think Jeremy had one pan completely gone the first day – they are so good!! And as suggested, you can top them as well with whatever you desire – jam, sweet sauces etc, if you so choose. I know that here, they will be eaten plain, and quickly!!!
from Kris B.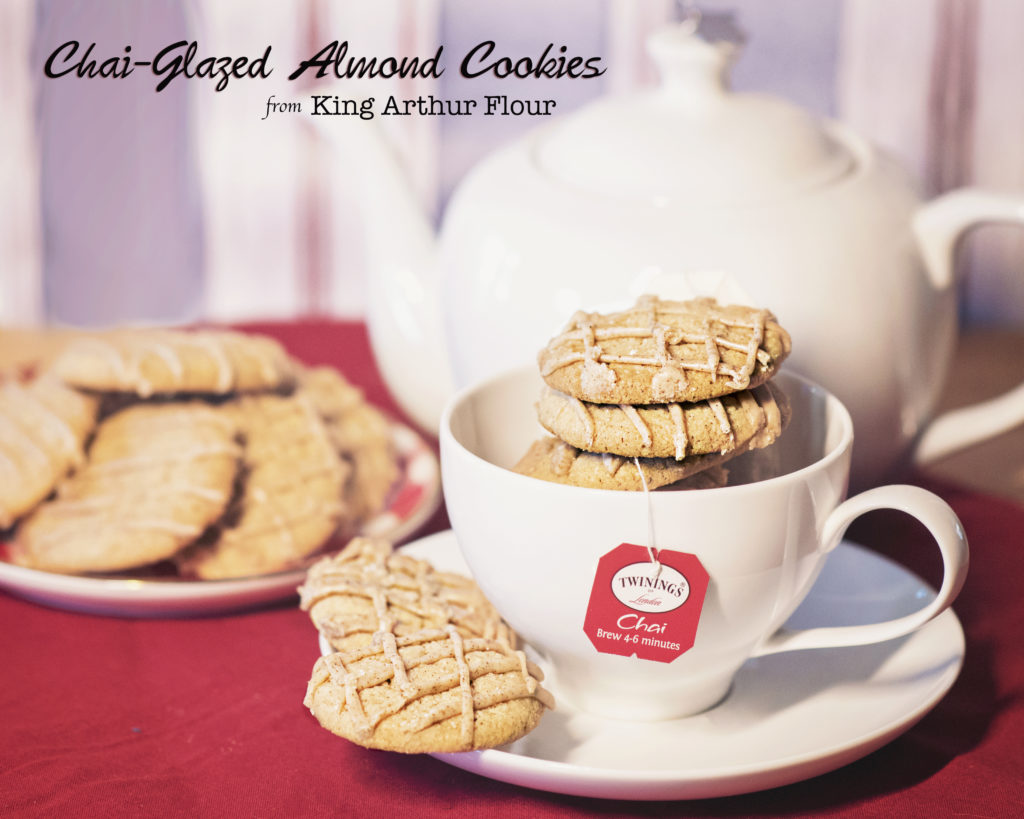 I am loving our month of cookie recipes!  When it comes to sweet treats, I think that cookies are my all-time favorite…probably because they are the perfect complement to a nice hot cup of coffee or tea.  And as I get older, I seem to be moving away from a love of all things chocolate, to a preference for spiced flavors.  This is why I was drawn to King Arthur's recipe for Chai-Glazed Almond Cookies.
The dough for these cookies consists of all-purpose flour, almond flour, sugar, baking soda, baking powder, salt, vanilla, butter, and chai spice.  You can use a store-bought chai spice or make your own, which is what I did.  The spices include cinnamon, ginger allspice, cardamon, and black pepper.  To make the cookies, all of the ingredients except the two flours are mixed together first.  Then the almond flour followed by the all-purpose flour are added and mixed until incorporated.  The dough comes together quite easily in a stand mixer.
The cookies are then shaped using a tablespoon scoop and placed on a parchment lined or lightly greased cookie sheet.  They bake for 13-16 minutes, until they are golden brown.  The cookies then cool on a rack.
Once completely cooled, the cookies are ready to be glazed.  The glaze consists of confectioners sugar, salt, butter, vanilla extract, a little milk, and more chai spice.  It can either be drizzled or piped onto the cookies.
The Chai-Glazed Almond Cookies are delicious.  They definitely do no disappoint in the taste department.  I do have to say, however, they are not the prettiest of the holiday cookie choices because the glaze is brown due to the added spices.  They fall into that category of the dreaded "brown food" that Tracey and I so often joke about.  I'm not sure there is anything to be done about that with these.  So, when you get ready to serve them, find your prettiest holiday plate on which to serve them! 🙂  And remember, never judge a book by its cover or a cookie by its color. Lol!
Another thing about these cookies…if you share them at a gathering, you may want to place a note with them indicating that they contain nut flour.  Allergies and food sensitivities these days are a big issue.  Since the cookies themselves don't contain nuts, they may be seen as safe by someone who normally avoids nuts.
All that said, if you are a spiced cookie lover or a chai spice fan in general, these Chai-Glazed Almond Cookies are a light and tasty treat  Try them!