Tags
appetizer, blue cheese, cheese, dessert, easy, King Arthur Flour, mousse, savory, shortbread, snack, strawberries
from Tracey G.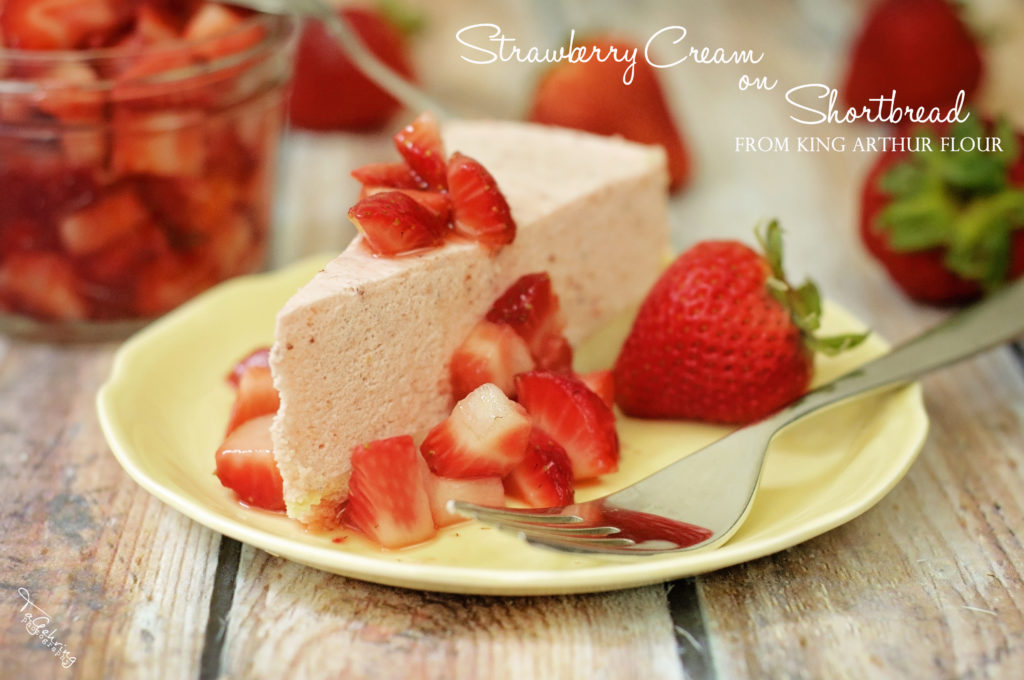 I absolutely love June – it's one of my favorite berry seasons – strawberry!!! We have a few local u-pick berry farms, and this time of year people go pick, then sell them on the sides of the road for a nominal cost.  Totally worth it to me to not have to do the work to reap the rewards of fresh, local berries with flavor! Much more reasonably priced than the grocery store berries and way tastier too, since they weren't picked and shipped across country to me, lol.
So, I found this recipe for Strawberry Cream on Shortbread in King Arthur Flour's Mixed Bag recipe category under "Fruit Desserts". As soon as I saw it I knew I had to make it! But I didn't have any fresh berries to work with, the local sellers hadn't appeared yet – I was rather bummed until I read in Tips From Our Bakers, to feel free to use frozen berries! Yes! I was good! I always have them on hand, either ones I've frozen myself or store-bought frozen strawberries. Game on! It worked out perfect – I had everything I needed to make this on hand! They even have a Strawberry Cream on Shortbread walk-through as well!
The recipe is easy to follow and the ingredients are simple. Perfect combination! For the crust you need: Butter, powdered sugar, salt, flour and vanilla. The filling ingredients are: strawberries (fresh or frozen), lemon juice, sugar, plain gelatin, water and heavy whipping cream.
Mix all the ingredients for the crust, and press into your prepared pan. And here you have a choice, either a 9-inch square or a 9-inch round springform pan. Since my 9-inch square pan was busy, and I wanted a prettier presentation – springform it was! The crust took a few extra minutes to bake, but no big deal.
While the crust was cooling, I made the berry-mixture. In a blender you combine the berries, sugar and lemon juice. After you soften and melt your gelatin in the water by heating gently either in microwave or on the stove, you add it to the blender. Blend until it's all processed well together. You then refrigerate the berries, stirring every 15 min until they are moundable on a spoon. They said approximately 45 minutes, but it wasn't quite that long for me. When they are ready, you whip your cream until stiff peaks form. Then, you carefully fold your berry-gelatin mixture into it thoroughly, and spread on your cooled crust. Refrigerate until ready to serve and give it time to set.
To serve you can garnish it with fresh berries or crushed sweetened berries – or both! This is most certainly something I will make again, and likely often since I can use frozen berries. This was one of the best desserts ever and it's super easy!! I also noticed that by using fresh chopped strawberries to garnish, that their juice in combination with the shortbread crust, was very strawberry shortcake-esque!! Wonderful! I will be making Strawberry Cream on Shortbread a permanent entry into my recipe book!!!
from Kris B.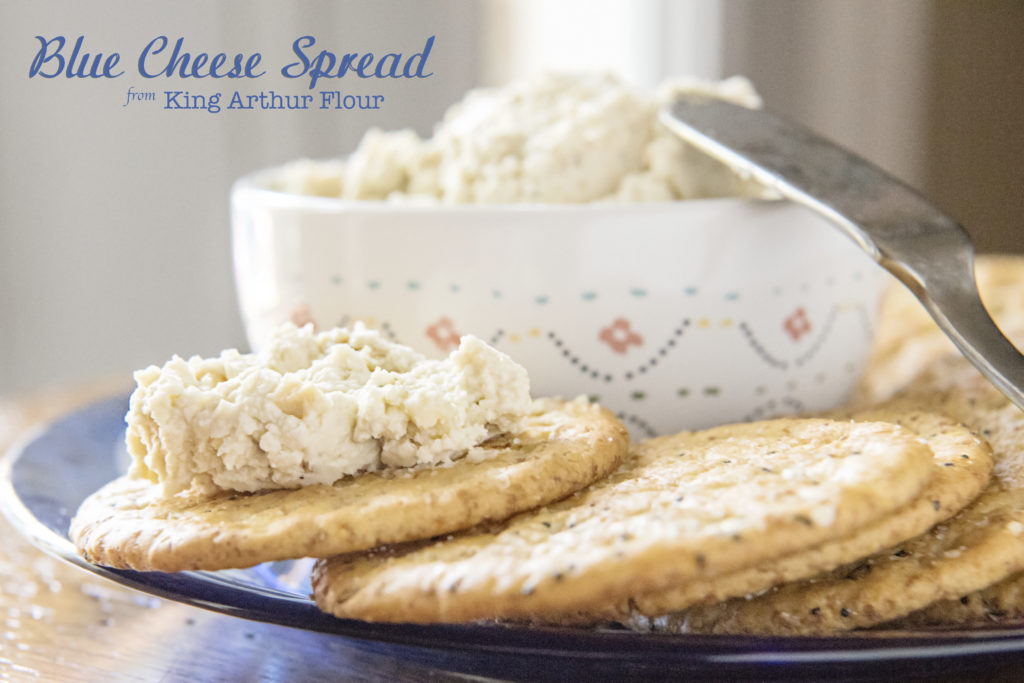 Let's just chalk this week's recipe up to an exercise in self-realization.  I must say at the outset, I don't like blue cheese.  That, however, is not part of the week's self-realization; I already knew that thanks to a bout of food poisining caused by blue cheese salad dressing while on a college wind ensemble tour over thirty years ago. I still carry a grudge!  So why then did  I choose to make a Blue Cheese Spread?
I may have mentioned in a previous post that my husband and I spent our honeymoon in Vermont.  In addition to enjoying a day on the King Arthur Campus in Norwich, VT., we also spent a day on Bonnieview Farm with the Urie family making artisan cheese.  As a reminder of our fabulous time on the farm, we now subscribe to a monthly delivery of cheeses made on Bonnieview Farm.  It just so happens that this month, we had an abundance of blue cheese.  Because I don't eat it at all and even Weber, who likes blue cheese a lot, can only it so much of it at a time, I needed to find some way to use it.  This is how I ended up with King Arthur Flour's Blue Cheese Spread, a recipe found in their Mixed Bag collection.
The Blue Cheese Spread is simple to make.  Cream cheese and honey are combined using a mixer until fluffy.  Then the crumbled  blue cheese, thyme, and freshly ground  pepper are added.  Heavy whipping cream is then used to thin the spread to achieve  the desired consistency.  I didn't mind making this recipe because Weber did the part I wasn't keen on; he crumbled the blue cheese.
Here's where the real moment of truth occurred for me.  I had a hard time photographing the cheese dip in a way that it looked minimally palatable let alone delicious.  Despite trying different angles and dishes and garnishes, it just never looked "right" to me.  I finally realized that the reason I couldn't "make it work" is because I had no relationship with the food itself.  I always choose recipes for things that I will enjoy eating.  My "reward" for making and then shooting the food is then getting to eat it.  I know.  Sad. But oh so true.  This is probably an indication that I would not ever make a good professional food photographer.  You want me to photograph oysters???  I don't think so!
Despite all that, the word from Weber, who does like blue cheese, is that the Blue Cheese Spread is quite tasty.  The one thing that I might do differently is add more thyme.  It is barely noticeable in my recipe.  Also, I probably should have made the accompanying crackers, but I couldn't muster the enthusiasm for that either.
My final word on this recipe is that if you like blue cheese, try it!  Word on the street is that it's quite good.
Blue Cheese Spread from King Arthur Flour