from Tracey G.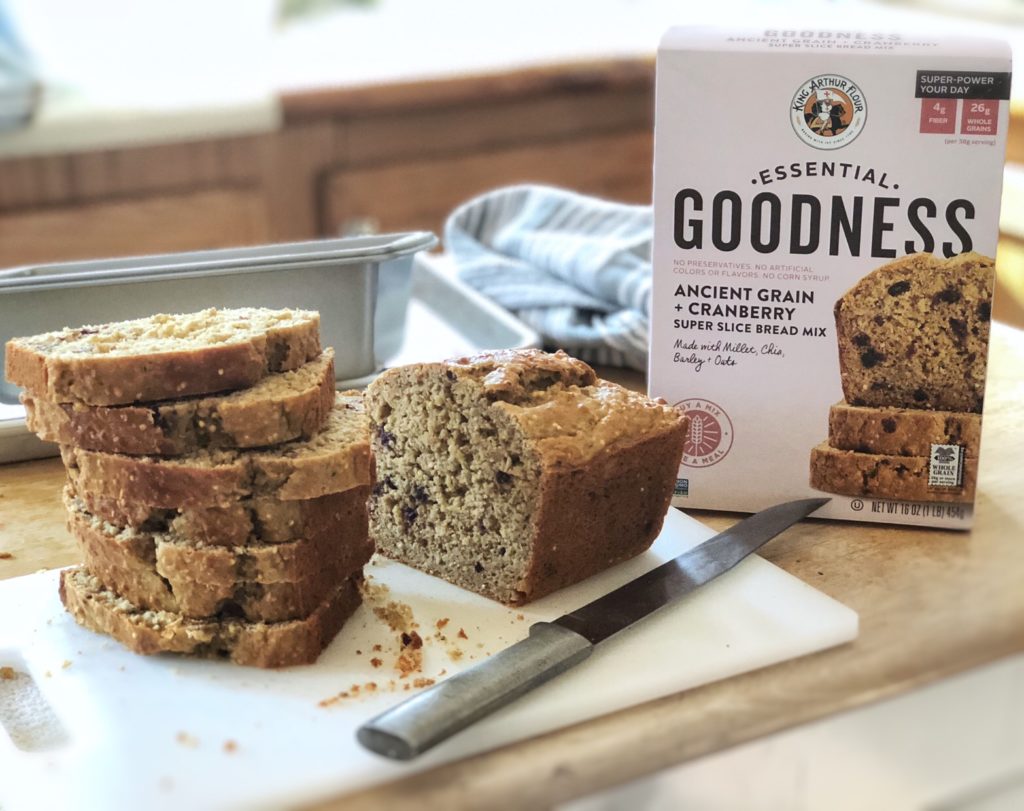 Essential Goodness Ancient Grain + Cranberry Super Slice Bread
I love quick breads – usually I make them as muffins as they are easier to tote around, but I decided to go loaf-style with this Essential Goodness Ancient Grain + Cranberry Super Slice Bread from King Arthur Flour. I went loaf-style just for something different, and I'm glad I did because a change is kind of fun, even when it's something as small as that.
This mix is a good-for-you kind of food. It boasts 26g of whole grain, and 4g protein – without the additions you can add if you so choose to boost it. The box offers a few different suggestions on what you can add. From Greek yogurt, nuts, protein powder to bananas. The Essential Goodness Ancient Grain + Cranberry Super Slice Bread Product Page also offers some other alternatives for reducing fat, making it dairy free etc, not to mention the other ways to use the mix or shape it differently.
Simple Ingredients and Customizable
The ingredients you provide are as simple as you want them to be:
1/3 cup vegetable oil or melted butter
4 eggs
1 cup milk
But as stated earlier, the box offers some alternatives and additions. I opted to use the addition of Greek yogurt to boost the protein in my version. That made my actual ingredient contribution:
1/3 cup vegetable oil (I am watching cholesterol so I skipped the butter in light of all the eggs)
4 eggs
1/2 cup milk
2/3 cup Greek yogurt.
No Fancy Mixing
You simply dump it all together in a bowl, mix it up and pour it into a greased loaf pan, or 12 muffin cups. The loaf bakes for 45-55 minutes, and mine fell in the middle of that spectrum at 50. Cool in pan 10 minutes, then finish out of the pan on the rack until completely cool.
The End Result
I was eager to try this, with all the different grains, seeds and cranberries I had a feeling it would be something I'd really enjoy, and I was right! It's yummy, not too sweet with a hint of cinnamon, the dried cranberries are add a sweetness (and a bit of tartness) and the seeds are a fun crunch. I have enjoyed eating it immensely!! This would make a great breakfast – either at home or on the go, or a quick pick-me-up snack in the afternoon to keep you going.
Once again, another outstanding mix that totally tastes homemade!
from Kris B.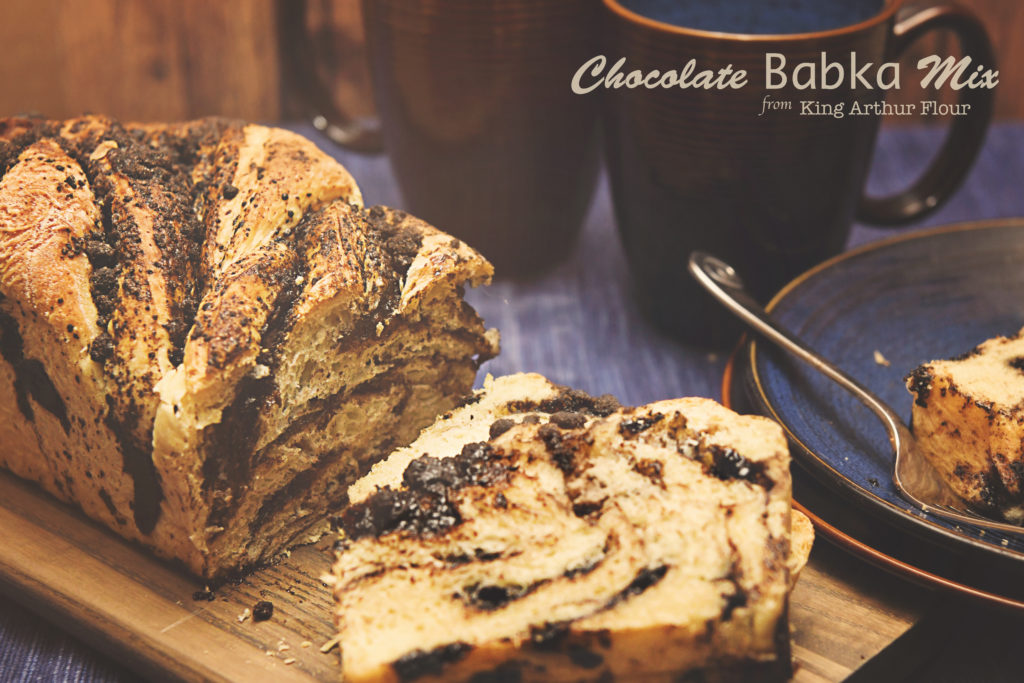 Chocolate Babka Mix
The whole month of January has been mixed up for us!  For me, having the flu the week before my spring semester started has had me behind in everything all month.  As we try to get our feet back under us, mix-it-up week is just what the doctor ordered.
I decided to give the Chocolate Babka Mix from King Arthur Flour a try.
Because the Chocolate Babka is yeast bread, it takes longer than you might expect when you think a mix from a box.  To make the dough, the included mix and yeast packet are combined with 4 TBS of butter and a cup of lukewarm water.  I mixed and kneaded mine by hand.  The instructions say that extra water can be added 1 tsp at a time if necessary.  I found the dough to be quite sticky.  I definitely needed no extra liquid.  Once mixed and kneaded, the dough rises until doubled.  This took about 90 minutes.
As the dough is nearing the end of this first rise, the chocolate filling is mixed.  The filling consists of a packet of chocolate that is included in the mix and 2 TBS of melted butter.  When mixed, the consistency of the filling mixture is like that of wet sand.
On a well-floured board, the dough is rolled into an 8×20 rectangle.  The chocolate mixture is spread evenly over the dough.  The dough is then rolled on the short side into a long.  Once rolled, using a sharp knife, the dough is cut in half along the seam.  With the cut sides up, the two pieces are twisted together.  My dough tried to fall apart once it was cut.  I worked quickly to twist the two pieces before it had a chance to completely flatten itself out.  The twisted loaf is then placed in a greased 8 1/2 4 1/2″ loaf pan for its second rise.  The dough should rise to just above the pan.  My second rise also took about 90 minutes.
The load is then baked for 30-35 minutes.  I baked it the full 35 minutes.
And there you have it!  A delicious, somewhat decadent, Chocolate Babka!