from Kris B.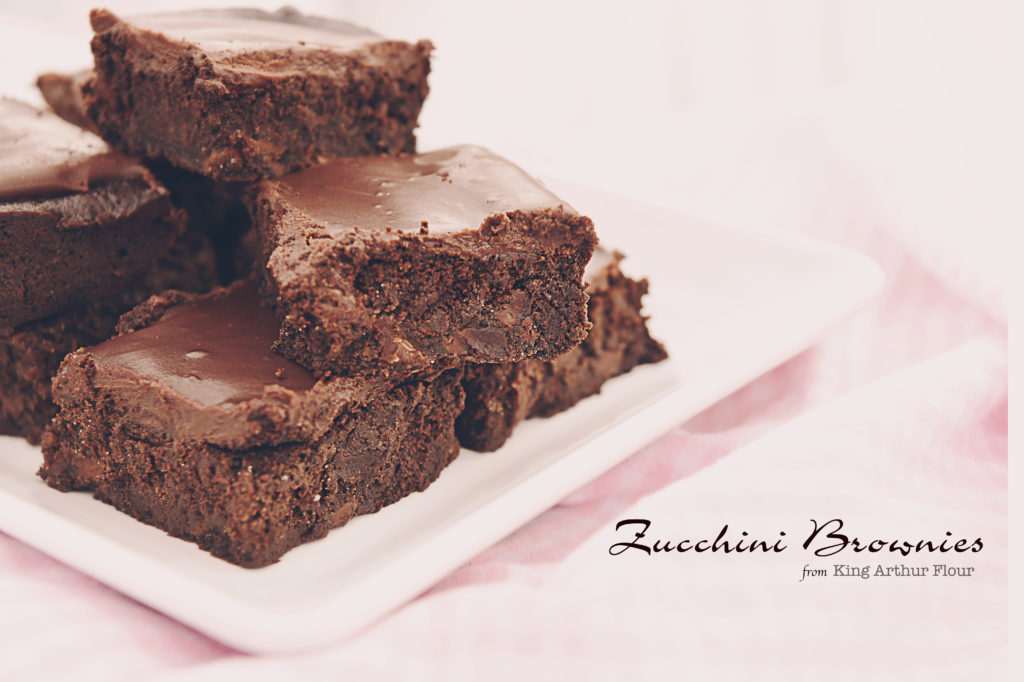 Zucchini Brownies
Friday mornings at my house are the best.  My daughter is off.  I don't have to be at school.  And, Mr. Retired is always home.  This is the one day a week that we can all sit at the table together, drink coffee and eat breakfast, and discuss the goings-on in the world.  At our house, we still get an actual newspaper that we enjoy reading with our morning coffee.  It often provides fodder for our Friday morning family conversation.
Today there was a story about a Girl Scout in San Diego, California who set up her cookie selling operation outside a marijuana dispensary.  She sold 300 boxes of cookies in six hours.  In response to hearing about this girl's successful entrepreneurial  endeavor, my twenty-eight year-old daughter said, "If the Girl Scouts really want to increase their cookie revenue, they should start selling edibles."
This same (adult) child of mine then asked me what I was making for this week's blog recipe.  I told her that I was making Zucchini Brownies.  She said to me, "I don't know why people ruin baked goods by putting stuff in them that doesn't belong."
Clearly we have an issue at our house in getting from point A to point B. 🙂
Last week I mentioned that we all can use more fruits and veggies in our diets.  When I saw King Arthur Flour's recipe for Zucchini Brownies, I thought why not.  Let's give this a try.  
Unlike most zucchini bread recipes, which use grated zucchini, this Zucchini Brownie recipe uses pureed zucchini.  In fact, the batter is made entirely in a food processor.  First, the zucchini is pureed with melted butter, eggs, and vanilla.  Then, the dry ingredients – flour, sugar, cocoa powder, espresso powder, baking powder, and salt – are processed in. Once all of the ingredients are fully incorporated, chocolate chips are added to the batter and pulsed a few times, just enough to break them up a little.
The brownies are baked at 350 degrees in a 9×9 pan for 25-30 minutes.  I did check my brownies at the 25 minute mark; it took the full thirty minutes for the center to get completely done.  Once out of the oven, the brownies cool completely before then being frosted.
The frosting for the Zucchini Brownies is a simple mixture of chocolate chips and milk or cream that are melted together in the microwave.  The recipe makes enough frosting for a thin layer that does not overpower the brownies themselves.  After frosting the brownies, they are placed in the refrigerator for an hour to allow the frosting to set.
So, the taste…
The truth is that on its own zucchini has little taste.  When eaten as a side vegetable, it picks up the flavor of the spices and other food with which it is combined.  In this case, chocolate is definitely the over-arching flavor, but my daughter and I both agree that there is sort of an "earthy" after-taste to the brownies.  It's not bad.  I have to wonder, though,  if I would notice it if I didn't know that the brownies contain zucchini.
This brings me back to my daughter's question of why add ingredients that don't really belong.
I love brownies and I also love zucchini.  And though the two work OK together in this recipe, I have to be honest here and say that I would rather eat my zucchini with dinner and have a "regular" brownie for dessert.  If you have to sneak vegetables into someone's diet, this recipe is an excellent way to do it.  And, it does make for a moist and chewy brownie.  But if, like me, you enjoy both zucchini and chocolate each in their own right, I'd skip this combination.  Enjoy them as the chocolate and zucchini separately.
It all comes down to "Why?"
King Arthur Flour's Zucchini Brownies
from Tracey G.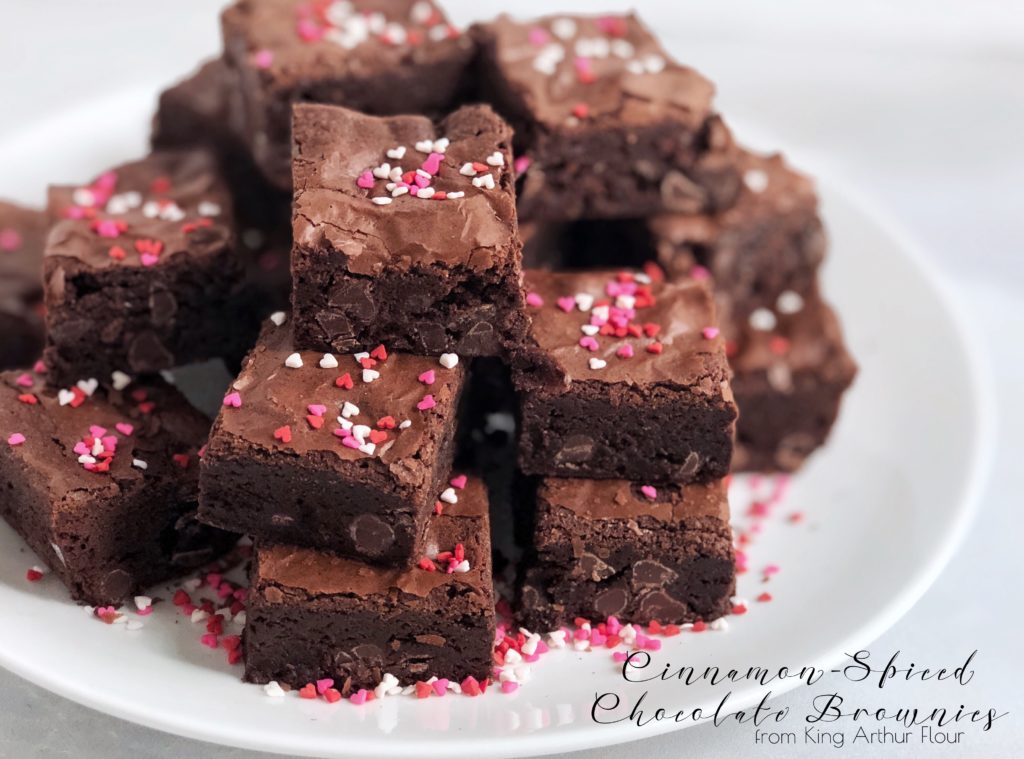 Cinnamon-Spiced Chocolate Brownies
This week being my dreaded root canal appointment week, I wanted an easy-to-do and easy-to-eat option, as the reason for my needing the root canal, is a broken tooth that's temporarily filled and therefore, my food choices are limited, ugh. I didn't want to make something I couldn't eat (i.e. crunchy, sticky, chewy etc), so, Brownies jumped right out at me – easy and easy to eat!
I found this recipe for the Cinnamon-Spiced Chocolate Brownies at the King Arthur Flour website, and I knew I had to try them. My usually brownie recipe includes cinnamon, so I wanted to see if this was better (or worse I suppose).
This recipe was easy to put together and involved ingredients I had on hand.
Ingredients:
unsalted butter, melted
sugar
All-Purpose Baking Cocoa, or Dutch-process cocoa
salt
baking powder
espresso powder, optional
ground cinnamon
Mexican vanilla extract, or your favorite vanilla extract
cinnamon oil, optional
eggs
Unbleached All-Purpose Flour
semisweet chocolate chips
To start, you melt butter in a saucepan, add your sugar and stir until heated through. At this point, you add your cocoa powder, cinnamon, baking powder, salt and espresso powder (which is optional). Then add your vanilla. It also calls for a bit of cinnamon oil, but that, like the espresso, is optional. I didn't have that on hand, so I didn't use it.
Once you have that put together, you whisk in 4 eggs. Then stir in flour and lastly, fold in your chocolate chips. Spread in your prepared 9×13-in. pan, and bake for 34-36 minutes.
I think mine went the full 36 minutes and were just right, for once. Usually I have a tendency to over-bake my brownies for some reason, so I pleased with myself that I didn't do that with these. Once they cool completely, you can cut them up and enjoy!
I love cinnamon hint, but Jeremy thought it was too strong for his tastes. So, maybe next time I'll back it down to the amount I use in my old Brownie recipe and see how that goes, or no cinnamon at all. But I do know that this recipe is replacing my old one – it seemed to come together much easier, and involved things I always have on hand, which is definitely a plus!!